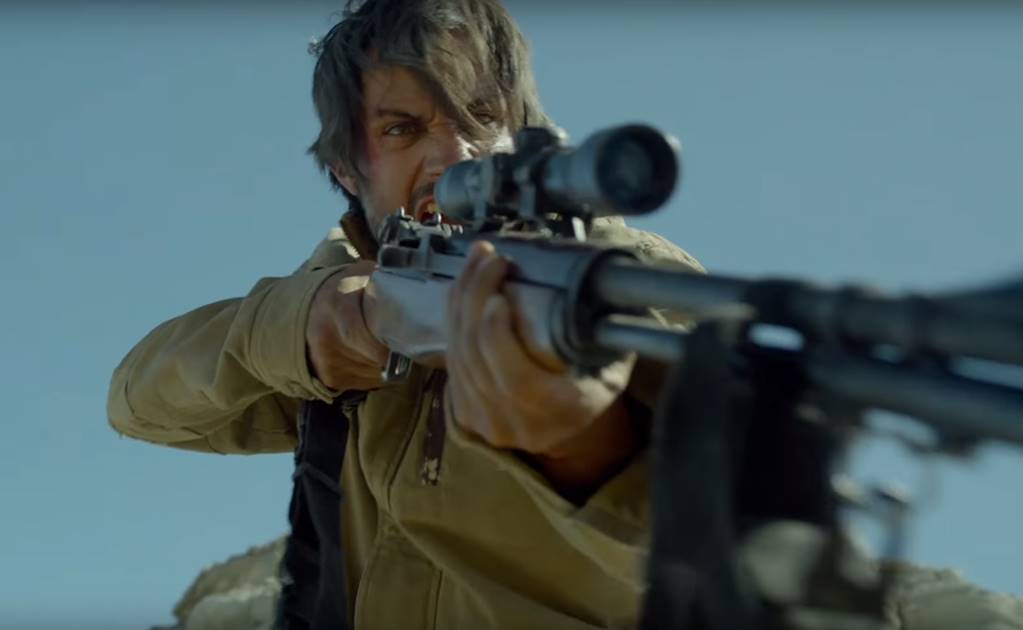 Mexican writer-director Jonás Cuarón brings us on a roller coaster ride in Desierto.
---
"Welcome to the 'Land of the Free'," mutters Jeffrey Dean Morgan in character as Sam, a nightmarish racist vigilante on the US-Mexico border. He's just shot dead a group of Mexicans and Central Americans as calmly as the rabbits he went looking for.
Desierto revolves around two pairs of characters, the vulnerable migrants Moisés and Adela, and the menacing, whiskey-swigging Sam and his bloodthirsty dog Tracker. Moisés – whom actor Gael García Bernal describes as a superhero – is kind to his companions, who soon dwindle to just one, Adela, after Sam's impromptu massacre. The duo must then outwit Sam and Tracker while braving the many natural dangers of the desert. 
Along the real US-Mexico border, similar journeys are made by hundreds of thousands each year, with many perishing in the attempt. Thus far, thirst and exhaustion are the prime killers, but violence and vigilantes really do exist. It's a truth as merciless as the landscape, which the film's incongruous teddybear – carried everywhere by Moisés – serves to highlight.
Mexican writer-director Jonás Cuarón wants audiences on the edge of their seats from beginning to end, a goal he achieves with brutal effect. This is his second feature as director. Jonás co-wrote 2013's Gravity with his father Alfonso, who co-produced Desierto alongside uncle Carlos. The older Cuarón brothers made the acclaimed Y tu mamá también, which starred a youthful Bernal.
Desierto was conceived as "an action story with a conscience" in 2008, way before anyone but The Simpsons had predicted a Trump presidency. Nevertheless, the final stages of the film's production and its US release in October 2016 coincided with the current president's vitriolic anti-immigrant campaign. According to Bernal, Desierto shows "what happens when someone legitimises the rhetoric of hate." Sam is hate speech personified, making uncomfortable viewing for those of us whose societies have failed to respond humanely to the migrant crises on both sides of the Atlantic.
Bernal is enthralling as ever and Alondra Hidalgo as Adela makes a creditable change from her dubbing career, but it's Morgan who steals the show. He's chilling as Sam, whose relentless quest to murder is as inexplicable as it is callous. An irredeemable villain, he's all the scarier for it.
Cuarón succeeds in creating an intense thriller, and laudably attempts to expose the plight of male and female immigrants and their varied motives. He also touches on the injustices perpetrated against Central Americans by Mexican traffickers, and the cowardice behind xenophobia.
What's more, Desierto avoids common pitfalls of the genre; the characters' peril is never the result of contrived blunders and the gore is starkly realistic. The sparse script is supported by a soundtrack of eerie pulses and bullet-like bursts, plus a dog whistle which will make you cower in your seat.
The film's compelling acting and technical excellence cannot be impugned and it's undoubtedly a worthy subject for a socially conscious picture at this time, but I can't help wondering whether for many, the important message will be smothered by the visual savagery.
4/5 stars
Desierto opened in cinemas on March 9.
---
By Christopher Outlaw