Latest counts after the May 18 tragedy reveal 92 dead to date, many more still missing
---
At least 92 people have been killed and many more are still unaccounted for following a landslide in the municipality of Salgar, Antioquia which occurred in the early hours of May 18.
The landslide came after days of heavy rains caused the Liboriana River to burst its banks, sending huge amounts of mud down a ravine and into the town.
Salgar Mayor Olga Osorio told RCN Radio "the rush of mud and water tore down everything in its path". She added that the town of Santa Margarita was more or less "wiped off the map".
Santa Margarita is one of four towns that make up the municipality of Salgar.
Over 350 emergency workers were sent to the zone to search for survivors, establish temporary housing, evaluate the extent of the damage and deliver drinking water. They have also been providing medical assistance and psychological counselling to the distraught communities.
Zulma Osorio, a Salgar government secretary, told local media that the tragedy is of such a grand scale that "the community has completely collapsed".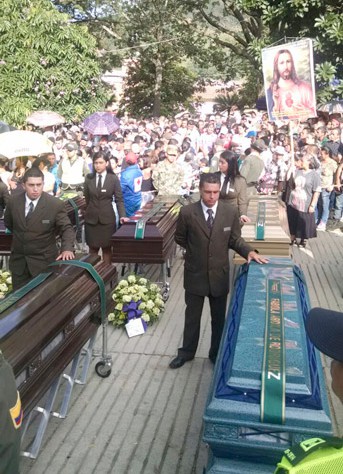 President Juan Manuel Santos declared a state of emergency and travelled to the affected area to meet with local officials.
Speaking in Salgar, Santos said, "No one can bring the deceased back to you, that is something we deeply regret. But we have to get through this disaster and look to the future with bravery and strength".
The government has committed economic assistance of around $16 million COP ($6,500 USD) to everyone who suffered damage in the landslide. Furthermore, Santos has promised that the government will provide new housing and supplies to the hundreds who lost their homes in the disaster.
According to the Ministry of Housing, 232 families – 783 people in total – have experienced some degree of damage to their houses as a result of the landslide. Of these, 146 homes were completely destroyed.
On May 22 a funeral service was held in Salgar's main plaza for the first 33 victims of the landslide, amid ongoing searches for the missing. Thousands of people attended, including the governor of Antioquia, Sergio Fajardo; former president and Senator Alvaro Uribe; and Colombia's National Police chief, Gen. Rodolfo Palomino.
On the same day as the funeral, and just as authorities announced there was no chance of finding any further survivors, a glimmer of hope emerged.
An 11-month-old baby was found buried in mud over 500 metres from where he had been sleeping when the landslide swept his home away.
Twelve of the baby's relatives, including his mother, had been killed in the tragedy.
Donations for Salgar can be made to the following Bancolombia account:
Cuenta de ahorros número – 24542391932
Nombre – ´Juntos por Salgar´, administrada por la Fundación Bancolombia con el NIT 890.980.724
---