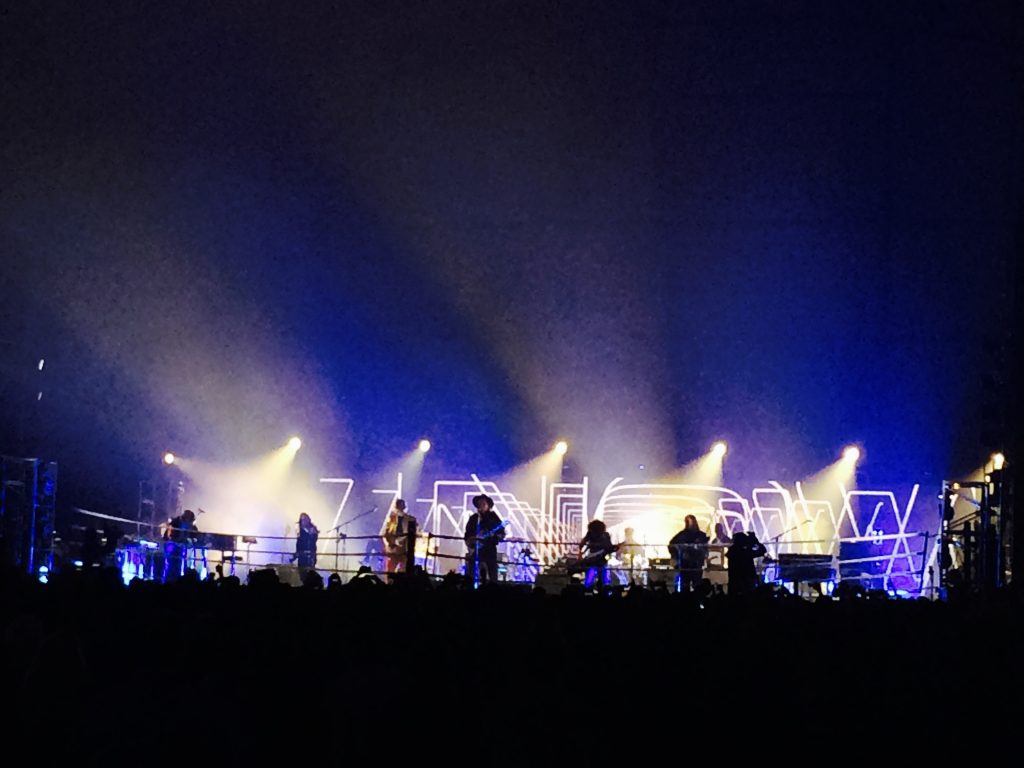 For the first time ever indie-rock band Arcade Fire played in Bogotá, bringing their infectious energy and career-spanning song-set to stage in the capital this week as part of their "Infinite Content" tour.
Any doubts or mixed reviews about their latest album Everything Now were quickly forgotten as Win Butler, Regine Chassagne and their crew kicked off the night with their opening title track, creating a rumba in the crowd. The song explodes with a piano and violin melody, carrying a nostalgia for seventies disco music, and yet the 21st century indie voice of Win Butler allows the song to be both Everything and Now, at the same time. Their on-stage energy and immediacy sparked an instant eruption of dancing and singing from the Colombian crowd.
The excitement the band received when they showcased new tracks such as Creature Comfort and Put Your Money On Me, indicate just how quickly these anthem-like songs have become instant hits. Even Regine Chassagne's hauntingly high melodies in Electric Blue had the audience mesmerised.
Throughout the evening Win Butler and Regine Chassange took turns in sharing the spotlight, highlighting the genderless and unified front of the band. Win rocked his trademark cowboy hat, and Regine broke hearts as she effortlessly grooved around her bandmates in her blue leather jumpsuit, reminding us of her talented ability to play every instrument on stage. Neither remained locked to the stage however, and the delighted audience surged forward as Win entered the crowd to sing Wake Up, and Will Butler, on drums, marched to the back of the crowd during Rebellions.
Arcade Fire did not disappoint as they spilled their emotional and musical range by launching into older tracks from albums including Funeral (2004), Neon Bible (2007), The Suburbs (2010) and Reflektor (2013).
Sprawl II, from their Grammy Award winning album The Suburbs, was a particular favourite, with its beating pulse and loveable melody. The epic voltage of No Cars Go, adventure inspiring Neighborhood #1 and the eclectic Reflektor all made delightful appearances too.
Arcade Fire have never been the type to shy away from bold and weighty subjects such as human mortality, existential angst, and religion. Celebrating their new album, which riffs on our infatuation with technology, here in Colombia, captivated their grandiose songwriting skills, and ability to brave new ground for the band. From their dance ballads, to fuzzy synths, to their recent sarcastic odes to the modern world, it is clear Arcade Fire aren't finished evolving yet.
Bringing novelty, intensity, sheer enjoyment, and the ability to play a 22 song set list without a lull in excitement, is an immediate reminder of how Arcade Fire is still one of the best bands in the world.
As is a tradition with Arcade Fire performances, the band finished with Wake Up, a song that never truly ends. They were joined on stage for this final rendition with opening act, and Colombians own Bomba Estereo, who pumped up the crowd with their electro-tropical tunes, and Los Gaiteros de Ovejas, who accompanied Arcade Fire in the first few songs personalising the show to a Colombian dominated crowd. Wake Up's refrain was left shimmering around the tent, as the enormous band walked off stage to the audience ahhing and ah-ahhing until Win's hat was fully out of sight.
The live Arcade Fire still have it. The concert was Everything at once, and Everything now. And I for one, was "infinitely" content.
Along with Arcade Fire, Colombia has seen a surge of indie overseas acts of late like Sigur Ros, The Strokes and The XX, with Radiohead and the Gorillaz expected in 2018. Crowd-investing platforms like Weeshing are also expected to help fans be more involved in coming indie acts in Latin America, promising a rich year ahead of more astonishing gigs like the one Arcade Fire played this week in Bogotá.