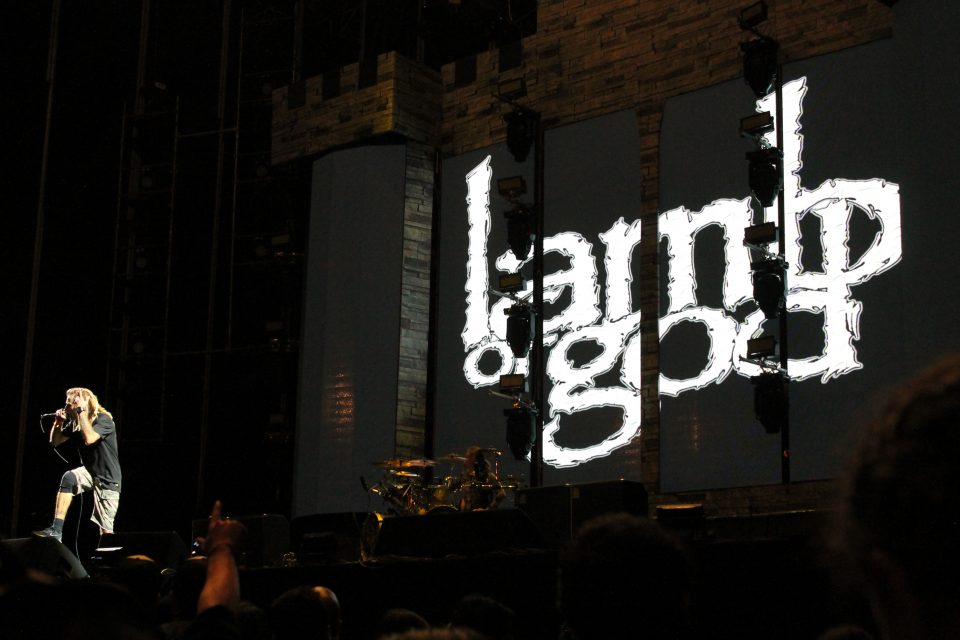 Superstars converge on Saturday's
Rock al Parque 2017

and Señor Vikingo gets to the heart of it like a butcher cutting open a hog. Sounds from Latin American stars Poker, Nervosa, Occultus, Herejía, Vein

as well as international heavyweights

Heaven Shall Burn

,

Death Angel

and Lamb of God rip through the audience.
---
"Give yourself another round of applause." Those are the words of Lamb of God singer Randy Blythe at the end of Saturday's Rock al Parque 2017. He's happy with the crowd, happy with the day. So why are so many people complaining? It's been a heavy day, full on and far out. My hair is so tangled that it'll take a week and four volunteers to comb it out. The numbers are low – 60,000 according to official channels, but the crowds are animated and alive, jerking with all the manic energy so typical of Rock al Parque. Someone tweeted us to agree that Rolos bitch too much about this great (free) festival. They were right – enjoy what you have, at least for one day.
Not one but two all-girl three-pieces have lit up the stage, the capital's own Poker, and Nervosa from Brazil. Poker are louder than Motörhead but less warty and not so dead. Their only sop to classic notions of femininity is the fabulous pink bass sported by Paola Rodriguez. The vocals are guttural and intense, the rhythms are brutal. Drummer Luz Silva summons magical strength to hit the drums like someone 20 times her size. Sepultura-esque rhythmic breakdowns pepper the set as they flit between musical styles, always underpinned by Laura Angulo's gutterally fierce vocals. Poker beer is pretty good, but the band is better.
Nervosa are on another level though. Singing bassist Fernanda Lira is a revelation. She's the best new performer I've seen in ages. Performer, because singing and bass playing is only the start of it. Her intensity is incredible as she lithely stalks across the stage before unleashing cries as though she were being ripped from the very bowels of hell itself. The focus is on her, and with good reason. She simply demands attention – strikingly attractive, yes, but it's the range of expressions flashing across her face that hold the eye. She knows it too, keeping the audience eating out of the palm of her hand.
A superstar she may well be, but Fernanda has a lot of time for press backstage. Touchingly, Nervosa and Poker pose for photos together and spend time deep in conversation. Rock and roll is an often misogynistic world and metal far worse. These women are striving to change opinions – although as Fernanda points out, "There are a lot of female rock groups in Latin America. A lot. It's something we should be proud of." She acknowledges that "in South America we have a lot of problems still, I know, machismo, sexism. Women have to show themselves and show that we too can do the same things, we have the same blood in us, we are just as strong." Not quite right: she's an example of a woman at least twice as strong as pretty much every man in the room. "We're happy to be part of this [movement of female bands]."
Guitarist Prika Amaral chips in "we struggled against [machismo] from the first moment. There were a lot of people talking in a macho way, saying that we weren't capable. They had to learn that we were. After five years, it's better, a bit, the people that criticise us are very few." She lays the blame at the door of ignorance. "In Latin America the problem is ignorance," echoing Lina's words, "But that can change as people learn. That's why it's important that bands have the opportunity to play festivals like this."
Having interviewed Heaven Shall Burn before the festival it's good to meet up with Maik backstage at Saturday's Rock al Parque 2017. He's happy, it was a good performance from them today. Like always, surprisingly clear and clean for what is highly aggressive death metal. He amenably poses for a photo, saying we're "the ones who deserve it most." It's nice to see Rob Cavestany from Death Angel, too. He asked me when we spoke earlier in the week if he could have a paper to show his mum, so it's time to fulfil that promise. After all, who wants to disappoint a mum?
For a supposedly weak lineup, there's a lot of talent on show. Occultus from Cali sound great from afar, extremely heavy, black and very Rock al Saturday. Herejía get chants going with their brand of fiery power on the second stage. Give local bands a chance, and they'll run with it. There's always a local legend high on the bill and the honour at Saturday's Rock al Parque 2017 falls to Vein. It's a great choice from the organisers. Brutally fast, they shred through songs at a pace that would frighten many bands. Criticism of the church draws huge cheers and circle pits open up like vast wounds on the skin of the park. Onstage with them is an artist, Chacón, who creates dementedly beautiful coal drawings as the band whirl in front of him, an oasis of calm among the fury.
After the gig, still-buzzing guitarist David Bermúdez, tells us how it went. "It was fucking fantastic man," he opens, "a great experience to play in front of so many people. We don't get the chance to do that every day here." Normally, Vein would play to 200 or 300 people, so this was a big change of pace. "When we get something like this, it's very different," he agrees. "It's exciting, you know, of course there's always a little bit of [nerves]. If you're not nervous, you're not doing it right. But it was amazing, it was something just indescribable." The lads were the last Colombian band to play on the day, too, and David is happy. "Yeah, that was quite a surprise, when we got the list it was like wow, check it out, just before Lamb of God. That was really good, and we had a chance to display everything we have visually. Probably that was one of the things that tipped the balance on our side, that we had a lot to show."
The presence of the artist on stage caught the imaginations of many, including Randy from Lamb of God. "That's something new for me, I've played in bands before but people really get by caught by that. Not only the sound, but also the visual aspect." Surely it's all downhill from here, after playing to thousands, I wonder, and David laughs in agreement.  "The next thing now is the album," he explains, "I'm the new guy in the band, the other guys have been together for a while now, but they never got around to putting their stuff together. The album will come out in October or November, and it's a big step for the band. Everything's really coming together." Then, he invites me to an afterparty at their bar – Infierno – on Carrera 13. Great musicians; great guys; great drinkers. So entertaining are they, as the drink flows, that I realise I've berked up interviewing Poker, also at the party. "It's a fucking great festival, man. Not perfect, sure, but this has been such a great day for us," says David at 3am. Amen to that.
Lamb of God close up the Saturday's Rock al Parque 2017 with a typically muscular show. They're delighted to be in Bogotá, and all the love they show to the audience comes back tenfold. There may be complaints about the lineup this year, but day one has smashed the ball so far out of the park that it's not even a ball anymore, just another mini-moon orbiting the planet and fruitlessly trying to get its hearing back.
---
Photos: Claudia Canizales