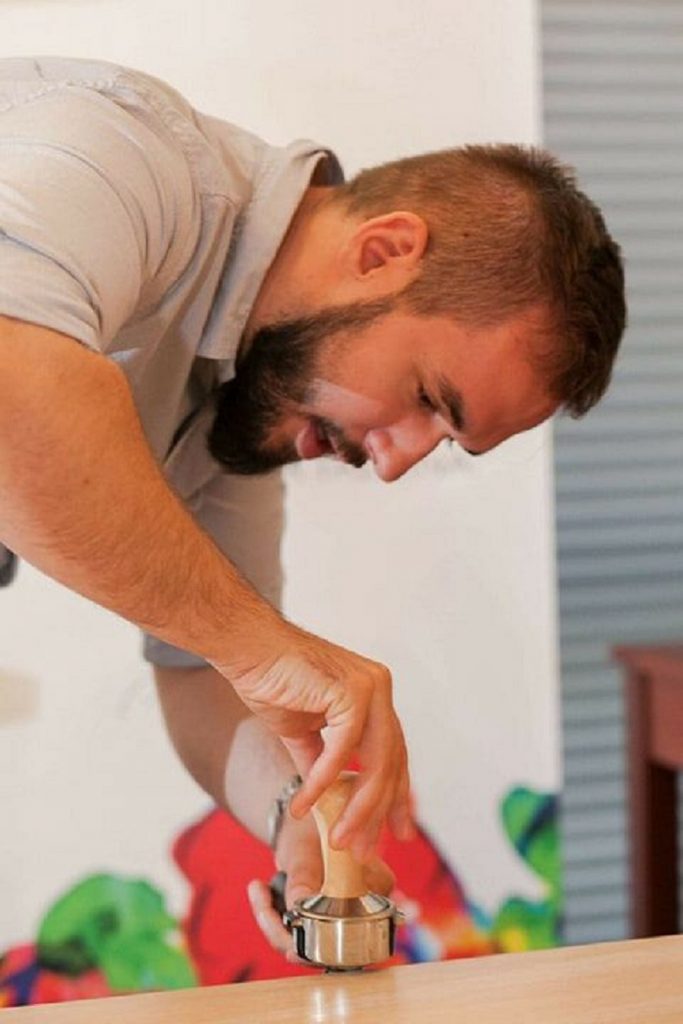 A Colombian has been crowned the king of this year's Barista and Farmer competition in a reality TV show that captures all the arts of coffee-making – from growing, harvesting and pulping to roasting, grinding and preparation.
---
A day spent absorbing every aspect of barista and coffee ­culture brought to mind a line from Kafka's The Hunger Artist: "Just try to explain to anyone the art of fasting! Anyone who has no feeling for it cannot be made to understand it." There is some truth to the notion that an artisan has a decidedly tougher time getting people to understand their work if they don't fully appreciate it, if they have no feeling for it, but the reverse is also true: a lack of understanding often results in a lack of appreciation for the art. This is something that reality show Barista and Farmer seeks to change.
If you need evidence of this lack of appreciation and understanding, look no further than the role of the barista. To you or me, the apron-clad, tattoo-riddled hired hand of hot drink handicraft whose glasses' thin frames betray their perfectly fine vision may be nothing more than a coffee jockey; a steward on standby set to serve shameless shoppers senseless syntheses of sugar and steamed soy. But if that's how we think of baristas, odds are that we don't hold coffee in particularly high esteem either. Francesco Sanopo, a three-time national barista champion from Italy is well aware of this fact. Citing a lack of basic coffee knowledge among customers, he notes, "Right now, the price of coffee is too low. This creates a bad situation that disincentivises shops from using good materials and creating a superior product."
Related: In Bogotá: top cafes in the city
Sanopo realised that baristas also have a role to play in the paucity of coffee-based education. Beyond taking orders and using cappuccino cups as a canvas for steamed milk-based liquid art – the roles with which we traditionally associate them – baristas need to act as sources of knowledge about all facets of the coffee drinking experience. In an era where millennials like myself fawn over farm-to-table fads, that means knowing where the coffee beans are coming from, the conditions under which they're grown and harvested, and the gustatory characteristics that make each strain unique. That kind of responsibility is a lot to ask of anyone, but becomes an even weightier role when the connoisseur in question has never been to the plantations their beans come from and has little experience with the agricultural side of coffee-making.
Sanopo experienced first-hand the eye-opening wonder that comes with getting to know your product's origins before the roast ends up in someone's cup eight time zones away. He had the chance to pit himself against other baristas from around the world in a competition that took him to the coffee fields of Puerto Rico.
Francesco created Barista & Farmer because he wanted baristas around the world to experience the same joy of hands-on learning that he had. The reality TV show invites ten baristas from around the world to take part in a 10-day experience that combines field-based competition with theoretical classroom learning. After having competitions from previous seasons take place in coffee-rich countries like Brazil and Honduras, Sanopo brought this year's competitors – a field featuring baristas from countries as diverse as China and Iceland – here to Colombia.
That choice was fairly obvious. On the world stage, Colombia produces the third-most coffee in terms of metric tonnes annually at 810,000, and exports the fourth-highest quantity, bringing in USD$2.58 billion in 2017 alone. Not so obvious was the region selected to be featured during the show's production: Huila.
Most of the coffee produced in Colombia comes from El Eje Cafetero, Colombia's coffee-growing axis composed of the Caldas, Quindío, and Risaralda departments. So renowned is the region and its coffee-friendly landscape that in 2011, UNESCO declared it a World Heritage site.
Huila is a lesser-known department in the south that happens to grow coffee, but is much better known for its natural attractions, such as the Tatacoa Desert and the Magdalena River. Given the show's mission to shine a spotlight on an underappreciated profession, though, perhaps the selection of an underdog region shouldn't have come as so much of a surprise. "Huila is new and needs more support and communication," says Sanopo. "It's a nice country with really great culture and has lots of new things to see." That culture was on full display during the competition with five different fincas serving as sites for a series of picking and depulping challenges held throughout the week.
Those challenges were far from a mere dog and pony show, however. The baristas' performance in each competition factored into their final scores, which ultimately determined the show's winner: home talent Diego Campos. To have Francesco tell it, that, too, was a surprise.
"I didn't expect Diego to win, but he totally deserved it," Sanopo admits. "He was a very good example for everyone and I hope we have a lot of results like this in the future." The show's local competitor was somehow a long shot despite having already been crowned Colombia's national barista champion in 2014 and 2016 while also receiving international recognition for latte art in 2011. That battle-tested pedigree served him well in claiming the 2018 Barista & Farmer title, an accolade that meant even more to Campos having come on his home soil.
"It's a tremendous honour," he says. "Given that we're a producing country, and being the person to represent my country, it also gives me a chance to showcase the best I have to offer. Moreover, it was a great opportunity for me to act as an ambassador to the rest of the world, saying, 'This is our country, this is who we are, we have so much to offer in the way of coffee and culture, come visit us and learn about our culture.'"
The world community isn't the audience that Diego's appeal needs to reach, though. As export figures show, international consumers are well aware of the elite status Colombian coffee enjoys. It's Colombians themselves who, because of the country's role as a massive exporter, have largely missed out on the local product. This, unfortunately, has led to generations of locals that have been unable to learn about and fully appreciate the high-quality coffee that's produced here. Campos sees that changing.
"People are drinking a lot more high-quality coffee here and conversations about coffee are being had that maybe weren't being had in the past," he notes. "The process is going to take a little while to change as radically as we'd like for it to, but without a doubt, it's going to change."
Having a newly-minted international champion barista in their backyard certainly won't hurt as a catalyst for that change. "Just to see a barista in Colombia is the best among a group of international baristas, if it's communicated successfully, Diego can serve as an example for everyone else," says Sanopo.
A large part of being that example will be communicating the sheer effort required to produce a cup of coffee. From harvesting to depulping, weighing to roasting, and everything in between, Francesco is right: consumers are rarely able to fully appreciate the effort that goes into their brewed beverages.
Baristas aren't exempt from this ignorance. "I learned to value every step, every minute, that producers go through to be able to allow us as baristas to distribute their coffee to the world," says Campos. "The producer doesn't have the opportunity to show the world their coffee, so the responsibility rests with us to take up that mantle."
In sharing that effort with consumers – walking them through the timeline of a cup of coffee like Barista & Farmer does – customers are sure to gain an appreciation for the barista, the producer, and coffee in general. Those conversations that Diego sees beginning to take place will become commonplace, as will high-quality coffee as a commodity enjoyed by those that aren't strictly Colombia's well-to-do. How long that process will take is tough to say, but if feeling and understanding is the goal, one must first explain the art.
---
This article first appeared in Edition 55 of The Bogotá Post.