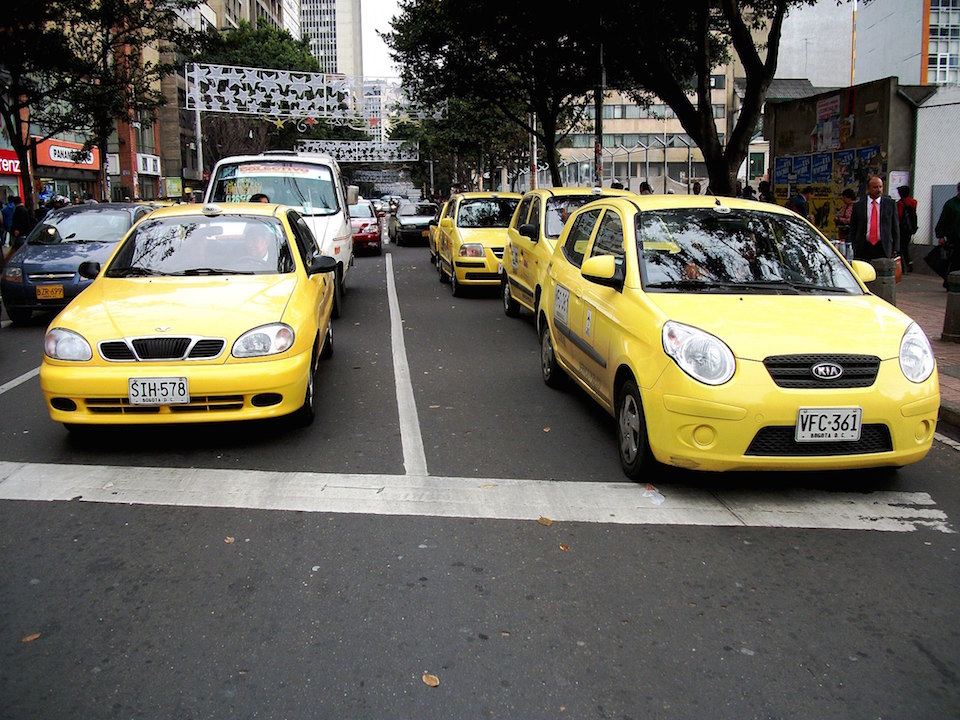 Will business mergers make your cab quicker? We look at big changes in door-to-door transport.
---
Easy Taxi and Tappsi users may have been surprised by a new combined 'Easy-Tappsi' app that popped up on their phones in recent months: the first visible signs that Colombia's biggest cab companies had joined forces.
In fact the two transport giants have been merging since 2015 after a cash injection of COP$2 billion, Easy Taxi's chief Juan Felipe Moreno told Dinero magazine this month. This synergy has created the largest taxi hailing app in the country with 80,000 cars on call. It  combines the best online hailing technology from both brands. "We will continue with the Easy Taxi brand, but we will continue to implement all the practices learned from Tappsi," said Moreno.
Related: Uber vs Taxis, the transport debate 
In theory joining forces should rationalise deployment which mean lower waiting times for customer, especially during peak hours. Drivers will also see benefits, said the conglomerate, with a 40% rise in rides. Some taxistas have been dubious of this claim: services offered by the joint business may be significantly less than the sum of their parts since many cabs were already using both apps before the merger.
But on the positive side Easy-Tappsi app has also gone international, now working in 70 Latin American cities as well as 20 in Colombia.
Maximum mobility
The Easy-Tappsi union brings both under the umbrella of an US parent company Maxi Mobility, a transport multinational worth US$1.4 billion which has raised USD$160 million specifically to bolster its operations in Latin America, according to tech website Tech Crunch.
Perhaps ironically, the Delaware-based giant also owns Cabify, a private car hire firm that has – along with Uber – been the nemesis of Colombia's taxi firms since 2013. The question is can Colombia's cabbies now share a bench with the piratas of Cabify?
For five years now the private car upstarts have been vilified by the taxistas and their political supporters, an acrimonious debate at times sparking strikes, protests and physical attacks. In October last year, taxistas brought the capital to a standstill with protests against what they see as unregulated and untaxed activities of private car companies who are unfairly taking their custom.
Tappsi-ing into success
Taxi app Tappsi was the brainchild of two Colombian entrepreneurs, Juan Salcedo and Andrés Gutiérrez back in September 2012. Their magic formula was to create a cab-calling app that spoke more the needs of to Colombian customers by understanding their fears and offering several safety features such as knowing the driver's licence plates and phone number. Oft-hailed as one of Colombia's entrepreneurial success stories, Tappsi had the support of several incubators and accelerators.
As in many parts of the world, Cabify and Ubers' operations in Colombia fall in a legal grey area. The companies have been repeatedly fined by the Transport superintendencia for providing unauthorised transport, meanwhile the government also pursues a more pragmatic approach and is pushing the private-car companies to pay 19% VAT. In July, Uber announced it would be putting its prices up by 7% to cover the cost of the new taxes.
The situation might be eased by having a common owner for Tappsi, Easy and Cabify. As much as the regulatory issues, the authorities are worried by the vocal drivers' pressure groups, and having a common boss may bring common sense to Colombia's conflicted cabbies.  
That adage that no two countries with McDonalds have gone to war may be glib, but it is true that the colour of money has the power to unite where the colour of flags cannot. It's likely the merge under Maxi Mobility will unite drivers –  if only against Uber.
---
Emily Hastings