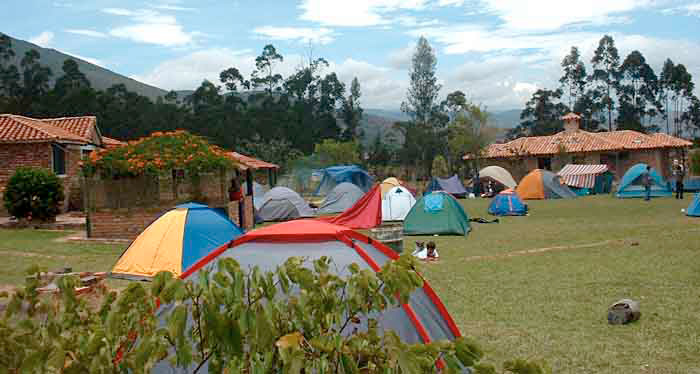 Thinking of pitching up and chilling in the great outdoors? Charlotte Mackenzie takes a look at how to get the most out of your Colombian camping trip
---
Camping: a cheap, fun way to get out of the city for a weekend without breaking the bank. It's a growing trend in Colombia, with a wide spectrum of camping styles on offer. So far I'd place myself somewhere between the 'happy campers' in Simón Bolivar on a Sunday afternoon and the hardcore trekkers with fierce looking backpacks braving the para- mos and colder climes.
If you too are looking to get to know all of the great outdoors-y stuff that Bogota and its nearby departments have to offer, there's certainly plenty to be getting on with, for all tastes, and a huge variety of camping options.
Your first step: get a tent. It's definitely worth splashing out as cheaper ones will only withstand a few heavy showers. Camping shops on Carrera 24 are recommended, or try Homesentry and Exito for seasonal offers. Falabella also has good promotions every now and again, while the sports shops in the centre (Septima around Calle 22) also offer camping gear. To rent, try www.campingamarelo.co.
Feeling smug, having brought over my weathered tent from back home, all I needed to pick up were a few tent pegs prior to my weekend adventure. It's also definitely worth investing in a good colchoneta or a sleeping mat to spare your back being put out. (A word of warning: don't forget to check the terrain before you pitch your tent).
I learnt that the hard way. Thinking that a yoga mat with several layers of padding would suffice, I was awoken at 3am with what felt like a huge rock between my shoulder blades. It all seemed very princess and the pea, but the aches and pains the next day cut the fairytale romance short (it was a mystery fruit, for the record).
The crucial step for any budding adventurer is choosing your destination. Do you fancy the more temperate climes of Tolima or Caldas, or braving the stunning scenery and cooler conditions of Boyaca?
We opted for the temperate Tibirita, about two hours from Bogota – with loads of great rest stops on the way. After loading up on arequipe from the Alpina plant in Sopo and some questionable looking but delicious trout empanadas from Sisga we continued the wind down towards Macheta.
Camping is certainly a cheap option; aver- age prices for campsites are COP$10,000 upwards per night – some charge per person, and others per tent. We ended up paying COP$20,000 to camp in the grounds of a finca – with its own thermal baths down the road – a great bargain!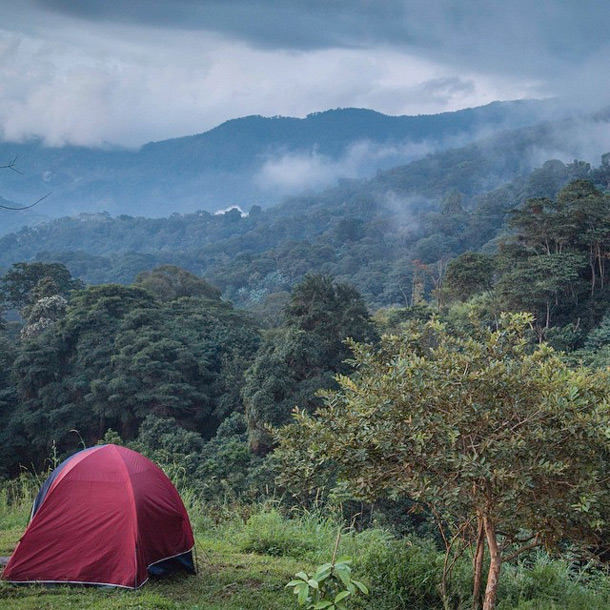 A night under the stars is a great way to meet people, be it in the desperate scramble for tent pegs or a quick chat with your neighbours whilst clicking tent poles together. It's always a social experience and it's also easy on the bank balance, providing a bit more privacy than sharing a dorm room.
There is, however, a marked difference between camping in a finca and my more recent Villa de Leyva trip. Whilst Macheta was more of a trial run, Camping San Jorge in Villa boasts proper fire pits, reasonably priced beers and hot showers – trust me,
it gets chilly in Boyaca. The only downside was our neighbours, die-hard vallenato fans – which got old pretty quickly. I was incredibly impressed with the spotlessly clean site, which the owners had cleverly divided in two: one side for families and the other for younger campers and groups. Also, with the ingenuity that camping cre- ates, we managed to wrangle together a grill for homemade arepas and canelazo.
So give camping in Colombia a go, it's a cheap, fun option and opens up a world of opportunities not far from the capital.
I'll see you on the next puente – happy camping!
Where to camp near the capital
Raquira Silvestre
Slightly pricier at COP$30,000 per person, per night, this site offers horse-riding, hot showers and a lake to swim in (for the brave). Reservations: 310 8736159
Posada Camino del Monasterio (Raquira)
Fancy pitching up in the grounds of a monastery, and having a go at basket weaving and making your own ceramics? At COP$10,000 per person, per night, this site is a great, cheap option. Reservations: 320 4001404
Camping de San Jorge (Villa de Leyva)
Highly recommended, although a good 20-minute walk to the town centre awaits you. Hot showers, on-site restaurant and fire pits. From COP$18,000 per person, per night (COP$16,000 in low season). Reservations: 311 2131125/ 300 8354608
Villa de Leyva Extrema
A more basic but central option, at only two blocks from the plaza. Reservations: 311 2073600/ 312 5403062
Campo Base Suesca
Closer to Bogota, this site offers rock climbing courses and an on-site restau- rant. Reservations: 310 3450922/ 320 2908291
Camping Mariposa Azul (Tobia)
Part of extreme sports Tierra Viva's To- bia-based site, you can also enjoy kayak- ing, rafting and horse riding. COP$35,000 per person, per night, including breakfast and use of the swimming pool. Reserva- tions: 310 7629908
Camping Macademia (La Mesa)
Another Cundinamarca option, easily accessible from the city but with the benefit of great warm weather, this site has two prices (for those with a tent, and those without) COP$15,000/$20,000. Extreme sports and outdoor activities on offer. Res- ervations: 300 2582391/ 317 5233855
Camping extremo Nimaima
Camping El Cairo is only 90 minutes from Bogota, offering more extreme options for adrenaline junkies. Various camping pack- ages are on offer (all include breakfast). There is also a swimming pool. From COP$20,000. Reservations: 314 4149507/ 300 3851837
---