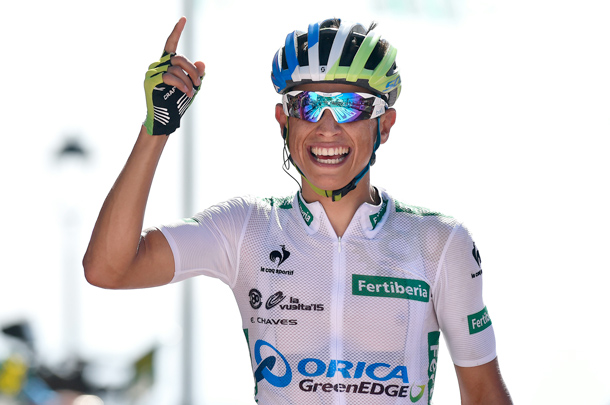 From hospital bed to stage wins, Arek Peryt takes a look at the uphill ride of a new cycling hero Esteban Chaves
---
Watch out, there's a 'new' kid on the block. His name's Esteban Chaves, from Engativa in Bogota. 'Chavito', as the commentators like to call him, left his mark in the first week of Vuelta d'España with his bold attacks and two stage wins, playing tug of war over the red jersey with Tom Dumoulin. Even more surprisingly, having already been written off by many because of his lack of consistency in grand tours, he's managed to defy those expectations and finish among the best during a gruelling second week with many mountain finishes.
Let's rewind the tape to February 2013. Esteban wakes up in a hospital bed after a cycling race, somewhere in Italy. All he remembers is passing through a feed zone around 100 km into the competition. He crashed head first into some traffic lights and ended up being very close to permanent disability. In addition to serious head trauma and broken bones, he lost all sensation in his right arm, having done significant damage to the nerve bundle. After weeks of no recovery, he successfully underwent a complicated 14 hour-long surgery, and with physiotherapy he began his slow recovery.
Immediately after that horrid accident, Chavito didn't even want to hear about cycling. The decision had been taken; his cycling career was over. But his father Jairo and Oliver Cardenas, the Coldeportes coach, were having none of this. They knew very well the scale of the talent in front of them. Chaves had already bagged the prestigious Tour de L'Avenir trophy, a springboard for new, promising talents in the peloton.
So as legend has it, one day Oliver arrived at Chaves' house very early and managed to convince the recovering rider to leave the house and cycle a bit. With a Coldeportes' car being driven next to him, Oliver had to ride with his hand extended, holding onto Esteban's handlebar to help him stay upright. Literally, learning to cycle again. The ride went well and the next day saw Esteban on his bike again and his comeback, as a cyclist, commenced.
His cycling story started very early. At the age of seven he took his first steps in competition cycling, namely BMX racing. After some painful falls he gave up and Chavito tried athletics and duathlon. He found some success but cycling was already in his blood and finally he returned to road cycling. Chaves started his career at Colombia es Pasion. At the time, a big fan of Lance Armstrong, he was so obsessed with cycling that he used to spend his free time playing cycling manager on his computer.
Then he began to study sports management at the University of Cundinamarca, but it proved too hard to manage alongside training, travelling and racing. So his academic pursuits had to be sacrificed. But Esteban did take on another challenge – he founded a cycling club, together with his father. They currently have 110 riders – you might see them on the streets of Bogota.
So when you see Esteban Chaves climbing the podium again, look past his right arm with its 80% mobility, and don't be fooled by his gentle, childish face. It hides masses of talent and steely determination to enter the elite group of grand tours' contenders. The future is bright for him!
---
By Arek Peryt