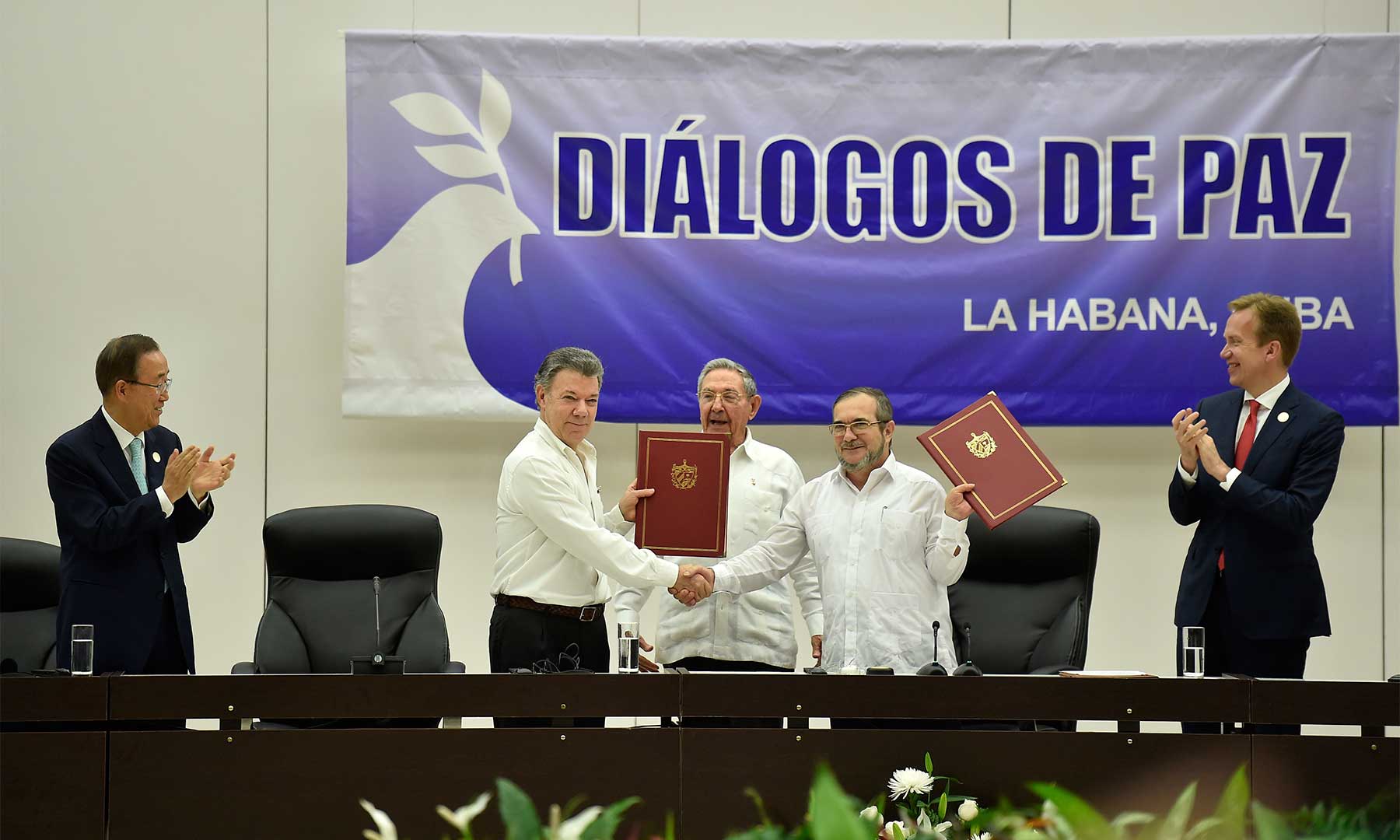 After three and a half years of negotiation and over 50 years of conflict, noon today (June 23) saw the breakthrough in the Colombian peace process that many have been waiting for.
---
"Today we open a new chapter, a chapter that makes us hopeful again, that allows us to begin to heal the wounds, and that gives our children the possibility of not repeating the story that has done so much harm to the country," said President Santos.
President Santos and FARC commander Rodrigo Londoño (also known as Timochenko or Timoleón Jiménez), both addressed today's ceremony, which was attended by Cuban President Raúl Castro and Norwegian Foreign Minister Borge Brende, as well as Ban Ki-Moon, Secretary General of the United Nations, the presidents of Chile, Venezuela, Mexico, the Dominican Republic and El Salvador and special representatives from the United States and the European Union.
As he declared the "end of the conflict with the FARC", the president said, "there will be no more victims of this war between children of the same nation".
Lucas Peña, a sociologist and expert in conflict and security, told The Bogotá Post, "Today's announcements have to be embraced with optimism by all Colombians."
Peña also gave some added context to the deal, "Apart from the cease-fire and the cessation of hostilities, what was new today was the acceptance of the constitutional court decision on the endorsement mechanism for the final accord."
According to Peña, what is important about this is that the court will soon have to decide on the legality of the norms that congress passed a few weeks ago, establishing, among other things, a popular referendum for Colombians to accept or reject the content of the Havana talks. The court will have the final say about practicalities such as the number of votes needed to approve the peace accord.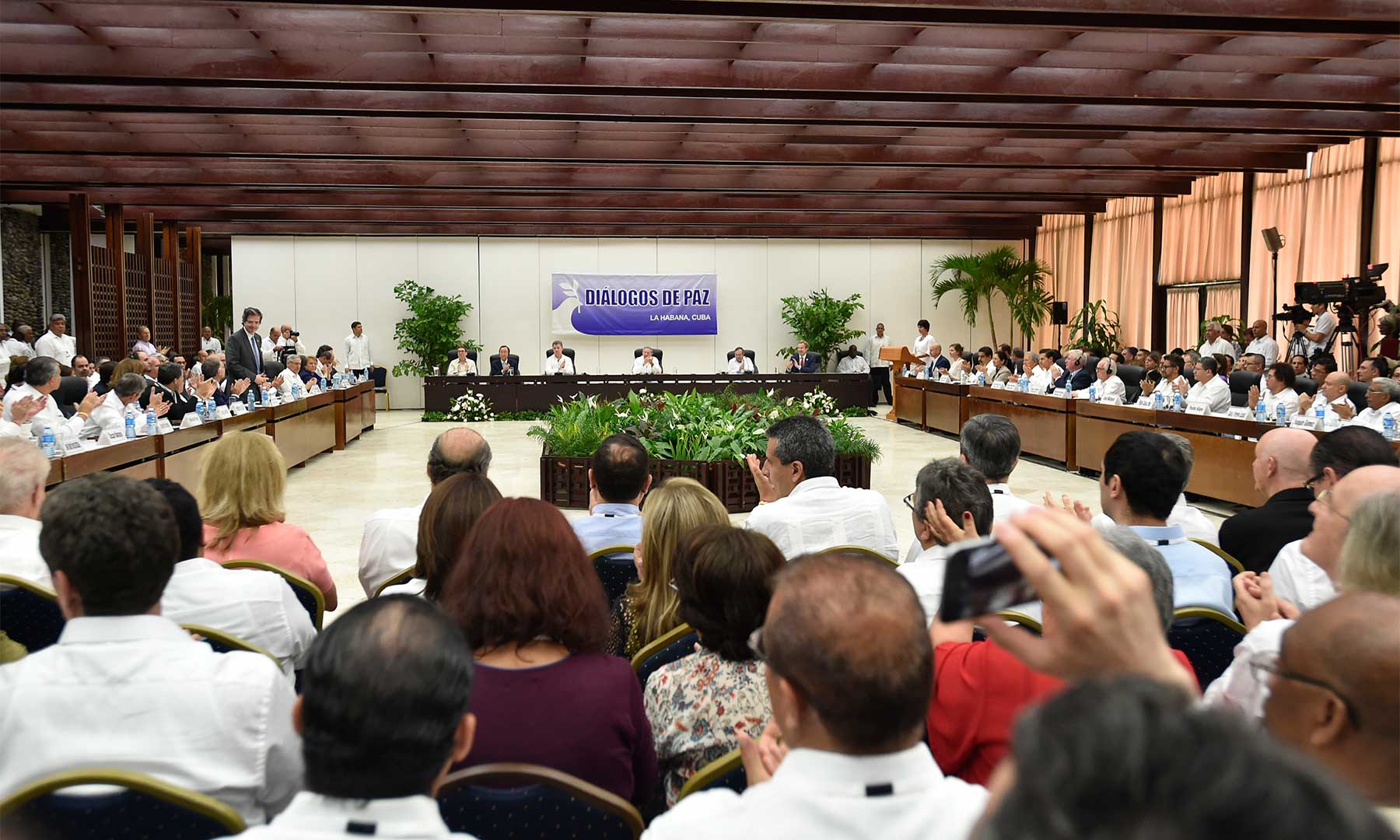 The accord covered a number of areas, including a final and definitive bilateral ceasefire, the abandonment of arms, political participation, security measures against paramilitary organisations and the prosecution of criminal behaviour that may threaten the implementation of peace agreements.
Three months ago, Colombians' faith in the peace process took another hit, as negotiators missed the March 23 deadline for signing a peace deal. Today, there is cause for optimism as commentators proclaim that there is no turning back.
There are still several parts of the agreements that need to be hammered out, but in principle, today's announcement sets out the roadmap for disarmament and a definative bilateral ceasefire following the signing of a full accord.
Transitional zones
23 transitional zones and eight camps will be created in order to facilitate the political and social re-integration of the FARC. Each zone will be surrounded by a security area of one kilometre.
The zones will operate under strict regulation. No uniforms or arms will be allowed and departures will be controlled. Education and training will be provided to help the former combatants develop skills for their new lives and ID cards will be issued. The transitional justice process agreed in September will begin.
Related: Transitional justice agreement
Laying down arms
The agreement sets out a detailed process for registering, monitoring and handing over weapons, ammunitions and explosives, regulated through a tripartite monitoring system. Three monuments will be created from the deactivated arms.
There is a six month process for handing over weapons, beginning from the signing of a final accord (D-day).
D-day + 1: Begin planning logistics for disarmament and moving to new zones
D-day + 5: FARC begin moving to transitional zones
D-day + 7-30: Transport of weapons, all monitored and verified
D-day + 90: FARC to hand over 30% of weapons
D-day + 120: FARC to hand over 30% of weapons
D-day + 150: FARC to hand over remaining 40% of weapons
D-day + 180: Full bilateral ceasefire and final cessation of hostilities
Security guarantees
FARC concerns about paramilitaries have dogged negotiations to date, with the guerillas fearing post conflict attacks from right wing paramilitary groups like the ones that killed many in the 80s and 90s.
Peña sees the provision of security for FARC members so that they can participate in politics as another extremely important point. "Members the Unión Patriótica party –a past political party aligned with guerrilla political ideas- were exterminated," he says. "The Colombian government will ensure that members of new political parties that are formed as result of peace process will be able to participate, and, crucially, that none of the former FARC combatants will be assassinated."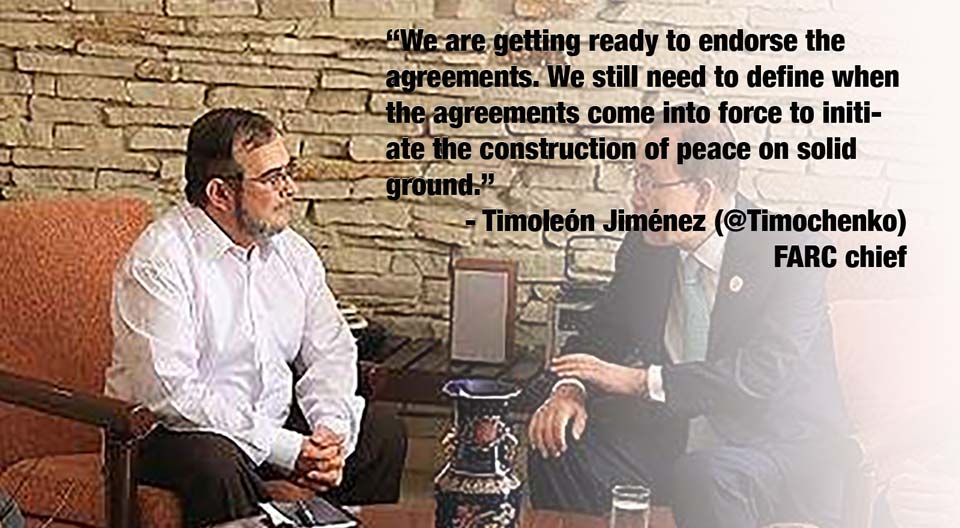 Today's agreement contains several protection measures, including a National Political Pact against violence, the formation of a Security Commission to monitor public policy as well as a Special Investigative Unit aimed at dismantling criminal organisations.
---
By Emma Newbery
Lucas Peña is a Colombian sociologist, with a Master's degree in Conflict, Security and Development in the UK. Follow him on twitter @lucaspe