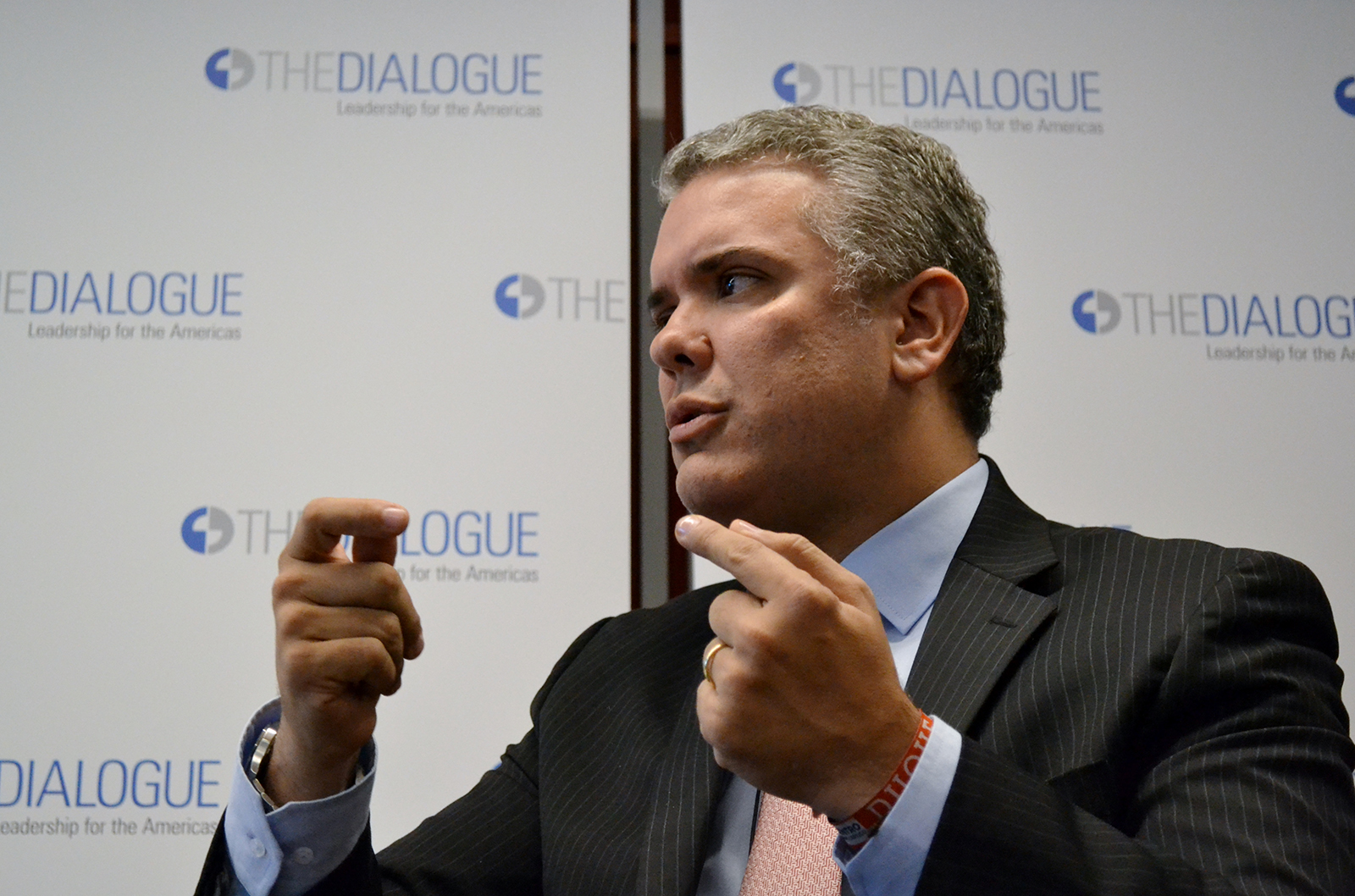 Duque, who made his name as one of the leaders of the 'No' campaign, has been elected as the 116th president of Colombia. Our peace correspondent looks at how this will affect the historic peace deal.
---
Duque and his right-wing Centro Democrático party have often been vocal about their fierce opposition to the peace deal with the now demobilised FARC. A year ago, the party famously announced that it would tear the peace deal with the guerrilla "to shreds" should it win this year's presidential elections.
Not only did it win, but it already has the most seats in Congress after March's legislative elections. While the current government has done its best to ensure the peace agreement is enshrined in law, and people hope that international pressure will be brought to bear on the new president, there is little doubt that he will have a significant impact on the peace process.
Duque, who is often considered more moderate than his political mentor, former president Álvaro Uribe, may not go as far as reversing the entire peace accord. A campaign document on his official website reveals very little about his concrete plans in this regard. In fact, the word "peace" only appears twice in the 203 propositions listed.
In a recent interview though, Duque announced introducing significant changes to the peace agreement that could be deal-breakers for the FARC. "The greatest challenge lies in establishing proportional punishments [for the crimes committed]," he told El Tiempo. An outspoken critic of the alternative sentences for former FARC members, he is likely to introduce more stringent measures than the reparative sanctions currently envisaged for ex-combatants who exhaustively confess to their crimes.
In addition, the new president has alluded to barring former guerrilla fighters responsible for grave human rights violations from political office, which may affect the high-ranking FARC members set to take congressional seats in July. Although Duque's proposition may seem reasonable at first sight, it is no secret that the FARC's commitment to disarmament was greatly incentivised by guaranteeing them a legal political platform. It is also true that trials for ex-FARC combatants are going to take years, and making their participation in politics contingent on a final court ruling might mean a de facto exclusion from politics for many of them.
Related: Our coverage of the election result
Duque further announced a reform whereby drug-trafficking would no longer be viewed as a political crime, making it ineligible for amnesty. This would curb the powers of the new Special Jurisdiction for Peace that had been given a mandate to individually analyse such cases.
Modifications like this are likely to encourage a spike in the number of FARC dissidents that are currently estimated at around 1,000. These factions have increasingly threatened the life of social leaders and violently clashed with the armed forces, compounding an already worrying security situation in many rural areas of the country.
Finally, it is questionable whether the ELN will continue negotiations under the strict conditions that Duque plans to impose, such as "concentration in a specific area under international supervision and suspension of all criminal activities," as he explained to El Tiempo, adding that he didn't believe in bilateral ceasefires.
Legally, the new president is obliged to adhere to the general terms stipulated in the peace deal, and any change would require a constitutional reform. However, Duque is looking at a favourable congressional make up for him, and he might just achieve the necessary majorities to alter certain aspects of the accord. Needless to say, an already fragile peace is hanging in the balance.
– Viviana Durán
---