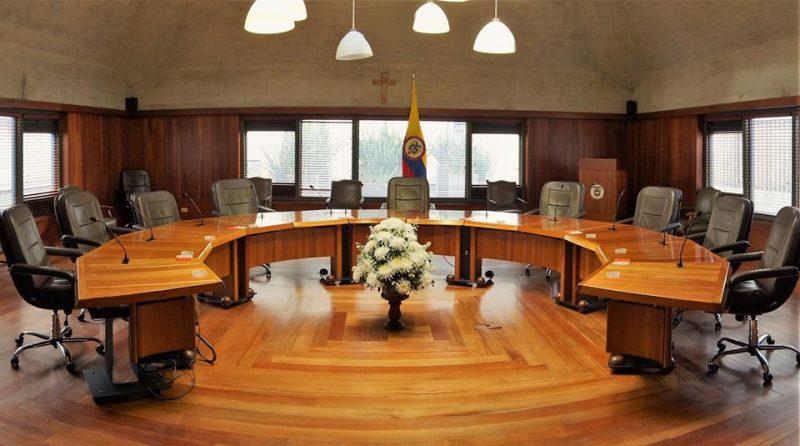 The Colombian Constitutional Court ruled on Wednesday that the peace accord reached last year between the government and the FARC rebels is to be legally implemented without modifications for the next 12 years.
This is a monumental step forward in the FARC peace process as the ruling will prevent the next three Colombian presidents from changing the approved parts of the peace agreement.
President Juan Manuel Santos, who won the Nobel Peace Prize last year after dedicating most of his two terms in office towards negotiating a peace deal with the FARC, commented on Twitter that the unanimous decision of the court "legitimizes and gives stability" to the agreement.
Por decisión unánime, la @CConstitucional legitima y da estabilidad por 3 gobiernos al #AcuerdoDePaz #LaPazAvanza

— Juan Manuel Santos (@JuanManSantos) October 11, 2017
The timing of decision to rule in favor of the legislation, known as the Final Accord, is crucial in this pre-election year. With Colombia electing the next president in May 2018, the Court has shielded the peace process, meaning all heads of state will be legally obligated to continue with the provisions and implementation of protocols established in the Final Accord.
Former President and Centro Democrático leader Álvaro Uribe, who has been critical of the peace process, was quick to oppose the decision on Twitter. He wrote, "Constitutional Court: credibility? Government donations, magistrates imposed to support agreement with FARC, ignoring the plebiscite." 
CorteConstitucional: credibilidad? dádivas del Gbno, magistrados impuestos para apoyar acuerdo con Farc, validaron desconocer Plebiscito

— Álvaro Uribe Vélez (@AlvaroUribeVel) October 12, 2017
Like-minded opposition members, who plan to run for president next year, joined Uribe by reacting negatively to Wednesday's decision by the Constitutional Court. Carlos Holmes, former mayor of Cali and cabinet member of Uribe also commented on twitter that the ruling is an "assault against popular sovereignty and democracy."
LA DECISIÓN DE LA CORTE CONSTITUCIONAL ES UN ATENTADO CONTRA LA SOBERANÍA POPULAR Y LA DEMOCRACIA. @CeDemocratico @AlvaroUribeVel pic.twitter.com/lT6XmBgS8n

— Carlos Holmes (@CarlosHolmesTru) October 12, 2017
While Ivan Duque, Centro Democrático senator, said that it's "regrettable that the court authorizes the constitution to be used to shield criminals from the law and not to shield the law from criminals."
Lamentable que la Corte autorice que la Constitución sea para blindar a criminales de la ley y no para blindar la ley de los criminales

— Ivan Duque (@IvanDuque) October 12, 2017
The decision of the Court will therefore prevent political sectors that are against the agreement with the FARC, such as Holmes and Duque, from jeopardizing the peace agreement.
After more than 50 years of armed conflict that has killed more than 265,000 Colombians, President Santos hopes the ruling will act as a strong foundation of lasting peace in Colombia.