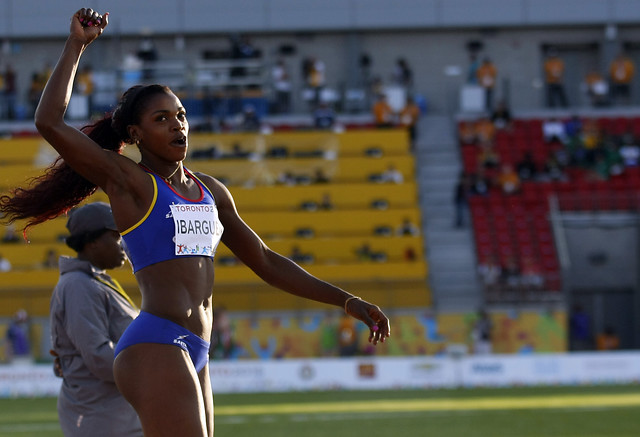 Caterine Ibargüen came out victorious in the triple jump discipline at the first Diamond League meeting of 2016 in Doha, Qatar. With a jump of 15.04m, the leaping lady left Venezuelan Yulimar Rojas 12 centimetres behind her.
The 32-year-old athlete from Apartadó, Antioquia left no doubt over her form and hard work coming up to the contest of the year, the Olympic Games in Rio de Janeiro. After a solid 14.77m on her first attempt, the 20-year old Rojas put herself to work topping Ibargüen's distance with 14.79m.
Ibargüen didn't look impressed and improved to a staggering 15.04, her second best distance ever.
The young Venezuelan, who hadn't jumped further than 14.69m before coming to Qatar, got the crowd on her side when she went on to a wind-assisted leap of 14.92m, closing in on her Colombian competitor. The last attempt was a showcase of why the Colombian is still a step ahead. While Rojas fouled, Ibargüen showed her good form once more, jumping 14.98m.
With the victory, Ibargüen extended her unbeaten run to 32 international competitions without defeat. "I am happy I started the season by going over 15 metres," said Ibargüen to the IAAF. "I will keep working hard and try to break the world record (set in 1995 at 15.50m by Ukraine's Inessa Kravets) but it has also stood for more than 20 years."
Ibargüen is pleased with this distance in her preparation for the Olympic Games in August but can't sit still and relax as she faced her strongest competition since 2013 in this contest with Yulimar Rojas.