We meet the Colombian-Kiwi duo making Colombian cider in the capital
---
In a converted garage, tucked away amongst the low-rise buildings of Bogota's Barrio Rionegro, a Colombian cider revolution is taking place.
It's the headquarters of Golden Lion Colombia Cider, the brainchild of Colombian Jairo Andrés Venegas and New Zealander Daniel Hill. Their idea is daring, determined and inspired, but the challenge is enormous – to be the first people to produce cider in a country obsessed with beer, following in the footsteps of Great British Cider who began importing the alcoholic apple drink, Aspall's, last year.
Standing next to four 220-litre fermenters, the pair express their excitement and anticipation for the launch next month – a venture that has been around 18 months in the making.
"We have invested a lot of time to ensure we have a high-quality product; it's a relief to see it all come together", explains Daniel, who first arrived in Bogota as a contractor for the Colombian air force.
Daniel and Jairo, a graphic designer, bonded over their shared passion for cider after meeting through a mutual friend in December 2013. Since then, they've transformed a dilapidated garage into a production powerhouse.
Golden Lion now has the capacity to produce 2,500 bottles per hour – a far cry from Daniel's first encounter with brewing.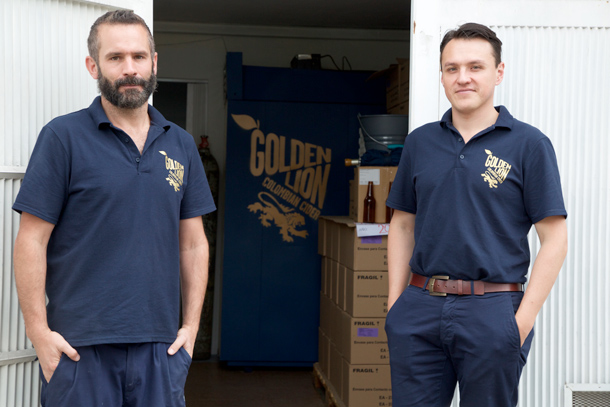 He began brewing small batches of beer at home in New Zealand 13 years ago.  Every week he would make 40 litres of lager, Indian Pale Ale and even stouts for his friends, an experience that would later prove useful over seven thousand miles away in Colombia.
For now at least, the pair are starting small. Having been approved by the Colombian health authority, they are waiting on the new labels confirming this approval before delivering the first thousand bottles to Bogota's drinking establishments.
"First we want to prove the product… then we will be interested in expanding and potentially branching out to other cities across Colombia and other countries", says Daniel.
Related: The hike in popularity of cider in Bogotá
But the pair are also looking to the future and are considering ways to potentially incorporate a Colombian flavour by adding local passionfruit or lulo to the mix. They also dream of opening their own establishment, complete with a cider garden, somewhere in Bogota.
Lofty ambitions perhaps, but they're confident.
"Colombia has followed the trends of the craft beer movement. Demand for cider is booming in the United Kingdom and USA and this market is more responsive now.  Colombia is safer, there are more expats and Colombians like being connected to other cultures.  It is the next logical step", says Jairo, also a cricketer for Colombia's national team.
Golden Lion Colombian Cider will be available at La Villa, Britannia Pub and other selected venues across the city by the end of June.
---
By Maddie Elder