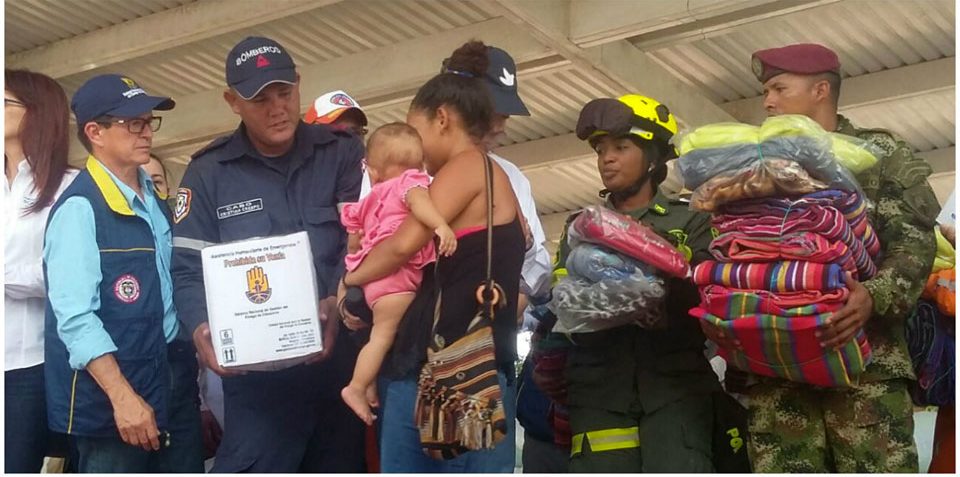 Haiti hardest hit by Hurricane Matthew that also pounds Colombian coast, Jamaica, the Dominican Republic, Cuba and the USA.
---
An estimated 18,000 families in Colombia were affected by Hurricane Matthew, according to the country's National Risk and Disaster Management System. Areas particularly badly hit were the departments of Magdalena, Bolívar, Atlántico, Sucre and Cesar.
Briefly reaching category 5, the highest classification for a storm, with wind speeds exceeding 250km/h, Matthew became the strongest hurricane to rip through the Caribbean and Atlantic in recent history. However, for the most part the storm's high point remained at Category 4, which means winds of around 210 to 250km/h. Such storms typically fell trees and cause severe damage to even well-built houses. The last similarly devastating hurricane to affect the area was Felix in 2007.
The storm wreaked havoc as it passed the country's Caribbean coast, and airports in coastal cities such as Cartagena had to be closed as heavy rain caused flooding and storm surges. The Colombian government deployed aid to affected areas, sending emergency relief kits – which included hammocks, food and blankets – to the most affected departments.
Hardest hit by Hurricane Matthew was Haiti, which has reported an estimated 900 deaths caused by strong winds, flooding, falling trees and other debris as the storm passed directly over the country.
Not yet fully recovered from the devastating earthquake of 2010, Haiti remains the poorest country in the Americas, and has now suffered a further blow with hundreds of deaths, houses being annihilated, roads washed away, power lines knocked down and fears of health problems such as cholera outbreaks.
The worst affected areas, particularly in the south, are reported to have been almost completely destroyed. Reports put the destruction in such regions at 90%, and according to the government and the UN, around 350,000 people are in need of assistance.
The death toll is expected to rise as search and rescue teams discover more bodies in areas that have so far been cut off.
International aid organisations have been quick to move into Haiti to help with rescue efforts.
The Colombian government has also sent assistance to the nearby country. According to a government website, President Juan Manuel Santos gave the order for the Air Force to deliver food parcels, toiletries and medicines. They have also offered assistance with search and rescue teams.
Hurricane Matthew also caused heavy rain over Jamaica, the Dominican Republic and Cuba before making its way to the Atlantic coast of the United States, where it battered parts of Florida and the Carolinas.
In the US, supermarkets ran out of water and other basic goods as people stocked up ahead of Matthew's arrival amid government warnings for people to evacuate low-lying areas.
The storm was later downgraded from a hurricane to a post tropical cyclone as winds became weaker, but people along the US Atlantic coast were warned to remain vigilant as strong winds and heavy rain could still be a factor.
---
By Laura Brown