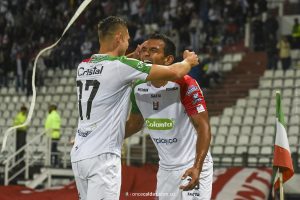 Once Caldas beat Bogotás Millonarios last night 1-0 to draw first blood in the Copa Colombia semi-finals.  Ricardo Steer opened the scoring nine minutes into the game against the visiting team at Palogrande Stadium in Manizales. Left unguarded in front of goal, Steer made no mistake in cashing in on the only goal of the match, courtesy of a César Amaya cross.
The difference might have been greater against Millonarios had their Venezuelan keeper not effected a save to his right from a penalty awarded in the second half.
https://www.youtube.com/watch?v=GspQIfOgpbs
Millonarios coach Miguel Ángel Russo believed that his players hadn't seized much of the initiative during the game but didn't see any cause for alarm and was confident that the team could team could turn things around next week.
Once Caldas on the other hand will now look to build on their advantage at El Campín this Friday as the two play the second leg of the semi final in Bogotá. The other semi-final of the Copa Colombia 2018 is between Medellín's Athletico Nacionál and their neighbour Leones of Itagüi. Like Once Caldas, Nacionál similarly won their first leg 1-0 and will look to win their place in the final this Thursday.
The winner of the league earns an automatic berth at Copa Libertadores, the 2018 edition of which is currently in its final stages at the moment as well (though no Colombian teams are in the final four)
Millonarios play Once Caldas Friday October 12 at El Campín.