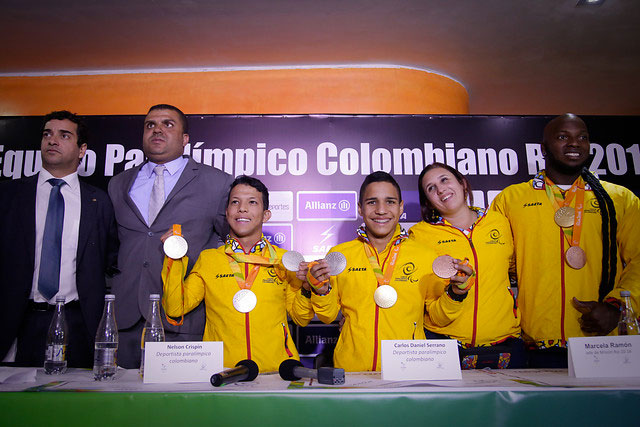 Colombia took home 17 medals from the celebration of paralympic sport in Brazil.
---
After the successful Colombian campaign at the Olympics in Rio de Janeiro, it was the Paralympic team's turn to write their chapter in the country's year of great sporting achievement.
With Carlos Serrano, Mauricio Valencia and Nelson Crispín in a starring role, Colombia took home 17 medals, of which two were gold, five were silver and ten bronze. Before the Paralympics in Brazil, Colombia had only ever won one gold medal, at the 1980 event in Arnhem, the Netherlands.
Upon their return to the city, The Bogotá Post caught up with them at the victory press conference. The 18-year-old Serrano, winner of a gold, a silver and a bronze medal in swimming said, "I am very happy and proud of the work we have done here. I worked very hard to get better each day and I am very happy I could win a gold medal with a World Record."
Crispín, winner of three silver medals in swimming, was generally positive about the preparation, but did see room for improvements. "I am happy with the help from the authorities coming up to the paralympic games, but I think the conditions of the swimming pools could still be better for the next four years".
Valencia, gold medallist in javelin and bronze in the shot putt, felt the overall preparation for Rio de Janeiro was good and urges that to continue. "The work that Coldeportes and the media have done in the road up to Rio has been without precedent. I would like to invite them both to continue the good work in helping our sports improve and get more nationwide attention for paralympic sports."
He also had a message for kids who want to achieve the same results, "In the regional leagues, the possibilities for kids with disabilities are very good. I have seen young athletes there with incredible capacities, so get in touch with a league nearby where there are specialists in training with a disability.  With their help and dedication you can go a long way." Crispín added with a smile, "Everyday you wake up, you have to brush your teeth." He continued, "and then give the best of yourself in every occasion, despite all the difficulties in life. Don't give up and don't give in to the fact that you have a disability and great things can happen."
---