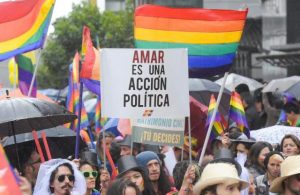 On July 3, tens of thousands of people gathered in the centre of the city for this year's Pride parade celebrations
---
Rain didn't dampen the spirits of the 50,000 or so people who took to the streets to mark this year's Pride parade in Bogotá. In fact, the weather had mostly cleared up by the time the march finally got started at Parque Nacional. And as the thousands reached Plaza Bolivar, light showers met the sunshine and rewarded the throngs with their very own rainbow.
This was a celebration of diversity and acceptance. But behind the bright colours and astonishing array of costumes, there was a serious undertone, (and not just because authorities have put much stricter controls on the levels of music and partying than in the early days of the march).
While this year has seen huge strides forwards for LGBTI rights in Colombia, with court judgements on same-sex adoption and marriage, there remains much to fight for. Many members of the LGBTI community still suffer discrimination and attacks purely because of their sexual orientation. Prominent politicians still openly condemn homosexuality and, of course, the shadow of the Orlando massacre hung grimly over the festivities.
Some marched under banners of peace, others carried messages of respect and love. People marched to show solidarity, to be counted. Some were there in memory of lost friends while others had just joined for the fun of it. There were representations from a host of different organisations, each of them campaigning for diversity and inclusion. The bears, feminists, and trans communities all proudly carried flags. Several religions were in attendance. And for one day everybody was united under one huge rainbow umbrella.
2015-2016: One Pride to another
---
With the equal marriage ruling and same sex adoption, it's been a big year for LGBTI rights in Colombia. Julian Kircher takes a look at some of the big stories – good and bad – that have hit the news since last year's pride march.
August 2015: Justice for Sergio Urrego
Sergio Urrego was a 17-year-old student at Gimnasio Castillo Campestre who took his life in 2014 after being bullied in and by his school due to his sexual orientation. On August 3, the Constitutional Court ruled that Sergio had a right to an education free from discrimination and ordered the school to issue an apology. Appeals against the judgement were rejected.
September 2015: Bogotá aims to attract LGBTI holidaymakers
Bogotá's Institute for Tourism announced the city's aim to become an LGBTI destination. A spokesperson claimed the city's antidiscrimination laws and range of amenities make it an attractive and tolerant holiday spot.
October 2015: Threats force people out of homes
El Tiempo reported that 21 members of the LBGTI community had been forced out of their homes due to homophobic threats. Government official Rodrigo Ardila said: "It is incredible to see cases like these in the twenty first century, which are evidence of a profound homophobia."
November 2015: Same sex adoption
Colombia joined Latin American countries Mexico, Uruguay, Argentina and Brazil in legalising same sex adoption. The Constitutional Court ruled that agencies can no longer discriminate against same-sex couples when they are trying to adopt. The decision was the result of a lawsuit brought by a Medellín professor who argued that by not allowing same sex adoption, the state was denying a child's rights to a potential home.
April 2016: Students speak out against hate crime
The Fiscalía set a date to hear charges against Andrés Torres, accused of making aggravated threats against fellow Universidad de Los Andes students because of their sexual orientation. While the case has been brought by two brothers, both LGBTI activists, news reports suggest their case may be the tip of the iceberg. The allegations are that around 20 gay students have been the victims of anonymous, abusive and threatening messages sent through social networking app Grindr – some cases going back as far as 2012. The university has said it has offered support to the victims, but as an academic institution it is not its responsibility to intervene.
April 2016: Court ruling on same sex marriage
The Constitutional Court ruled in favour of same-sex unions by rejecting a proposed bill that defined marriage as between a man and a woman. Same sex unions have been legal in Colombia since 2011, and conservative magistrate Jorge Pretelt's bill would have marked a step backwards.
---
By Julian Kircher