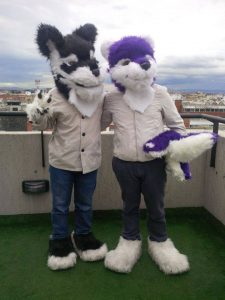 Fayida Jailler gets to know members of, Colombiafurs, Bogotá's 'furry' community and discovers an anthropomorphic subculture
---
When I turned up to the seventh anniversary of Colombia's furry community, I wasn't sure what to expect. A group of eccentrics dressed as animals partying on a rooftop terrace perchance?
What met me was about twenty young men sitting around a table playing cards. No music, no drinks and no women. 
I was warmly greeted by Fibo and Juan, the founding members of the Colombiafurs, Colombia's biggest and best established furry organisation.
Furries are members of the furry fandom, a subculture comprised of individuals united by a common interest in anthropomorphic animals. This may seem like a bizarre area of interest, but as Fibo points out, "anthropomorphic animals appear everywhere, throughout history […] from Aesop's Fables to Disney."
The movement gained momentum in Colombia in 2009, when a group of furries met online and began to meet up and socialise in person. Juan estimates there are about 500 furries in Colombia today, and this number continues to grow.
Most have what is known as a 'fursona' or an anthropomorphic animal alter ego that is unique to them. Fibo for example is a fox, and Juan's fursona, 'Richard Wolf', is unsurprisingly a wolf.
The most popular animals among the fandom seem to be wolves, foxes and dogs, though among the Colombiafurs there is a wide range of animals, including dragons, cats, raccoons, tigers and even an ant.
Colombia's furries are predominantly men aged between the ages of 18 and 28. When I asked Juan about the relatively young profile of the community, he explained that was because most furry activity takes place online. He also estimated that the ratio of men to women in the furry fandom was 8:2, although this seemed particularly generous given that I was the only female at the anniversary event.
Although the largest concentration of furries in Colombia exists in Bogotá, the Colombiafurs have hosted events in Bucaramanga, Barranquilla and Cali. The thought of wearing a full-body fursuit in tropical heat made me feel vaguely dizzy but before I could faint I was pointed in the direction of two wolves named 'Chris Toboe' and 'Dakog', the only two people dressed in fursuits at the whole event. It was a strangely surreal experience greeting two life size cartoon wolves and I was not sure whether or not to look them in the cartoon eye as I shook their oversized hairy hands. But the heads soon came off and underneath are Cristian and Daniel, who were keen to talk me through how their fursuits are made.
"First you have to have an idea," Daniel explained, "you have to know which animal you want to be, and what kind of style you want." Daniel priced the partial suit (feet, hands, tail and head) at $200,000, and a full suit at between $800,000 to $1 million. The suits take an average of nine months to complete, and are very impressive considering they are homemade. Although hot to wear, they are surprisingly light-weight and are made of a combination of fabric, rubber, lycra and foam.
Going out in public in fursuits can be problematic – they are sometimes considered a security risk by authorities and tend to attract a lot of attention. Reactions from the public are mixed: small children tend to love the furries, some adults are curious and approach to ask questions, while others assume it is some kind of advertising gimmick and keep their distance.
Although the furry fandom remains relatively niche and unknown, the Colombiafurs are making great efforts to increase visibility and understanding. When I ask the furries what attracts them to the fandom their eyes light up.
For Daniel it's the creative element; being part of a community that encourages art and design, and making things by hand. For Cristian, it's the fantasy element – as 'Chris Toboe' he finds he is a more open and confident version of himself. Being a furry is all about socialising, dancing and enjoying life.
---
By Fayida Jailler