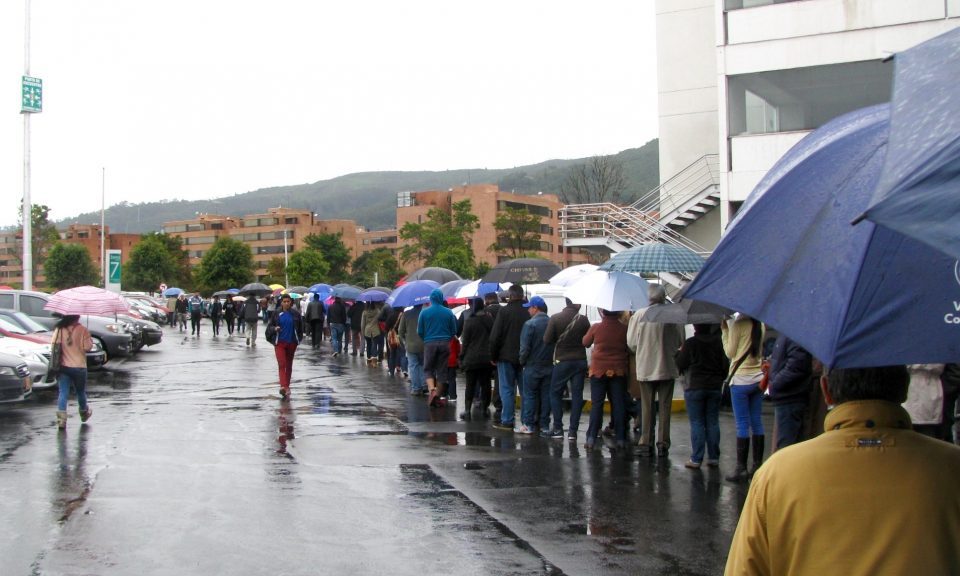 A rainy and dreary morning didn't dampen voter spirits in Bogota as they participated in a historic day for the country.
---
In la Guajira, the downpours caused by hurricane Matthew in the Guajira have prevented or delayed voting in some areas, causing people to ask for extended polling time.
According to the authorities responsible for electoral monitoring, 12% of the country's electorate had been affected by the weather. This could impact 4 million potential voters, about 40% of which are in rural areas.
The regions most affected by the climate are the Caribbean, Chocó and the Sabana de Bogotá.
The electoral monitors also reported that there were irregularities in voting in various polling stations, with only 65% having controls on advertising.
In Bogotá, our reporter on the ground at one of the city's larger voting stations in Unicentro, told us that there at least, the crowds had been undeterred by the rain.
The entire operation was orderly and despite the long queue to reach the polling tables on the second floor of the airport-like parking garage, the wait wasn't more than half an hour.
While voters shared sentiments from both sides of the campaign, the rules of the plebiscite prohibit any form of propaganda or campaigning – including 'Si' or 'No' badges or T-shirts – until polling stations have closed.
In Unicentro, the general feeling seemed to be one of dutiful fulfillment of an important obligation.
Carolina, 34, said she was cautiously optimistic about the vote and while she didn't agree with everything in the agreement, felt that it was probably the best way forward. University student Jaime, was much more enthusiastic and wore his intentions on his sleeve. He told us that he has been actively campaigning for the 'Yes' side and says he's certain the agreement will pass.
An older woman who refused to give her name, however told me that the deal that has been hammered out in Havana was "terrible" and would reward those who committed atrocities while punishing no one. A man named Eber nodded as she spoke and echoed her sentiments. He says he wishes he could get behind the agreement but feels it's just too flawed to support.
A small group of young people at the edge of the line were holding signs saying they would answer questions and dispense non-partisan information regarding the plebiscite. Their true intentions will remain a mystery as they were quickly shooed away by security. Later a small group of white-shirted cyclists with whistles and white balloons biked by on a nearby street, a number of cars honked in support.
In Venecia, Tunjuelito opinions were mixed. Ricardo Sánchez Vanegas, a 65 year old surveyor told our reporter, "Although I am not totally satisfied, I see it as a necessity for the Colombian people to try to create a system of peace. The common people need to have a different concept of peace, even if something is missing. I believe that it is a seed of change, to begin to live peacefully, to have more tolerance and to organise our country a little better is what we are missing."
On the other hand, Claudia Rodríguez, a 38 year old housewife, said "For a better country, my decision was 'No', because I think that this encourages corruption, there is a lot of mafia in the country and this agreement is not going in the difference of a true peace."
We will continue to update the story as we receive information from other polling stations in the city.
---