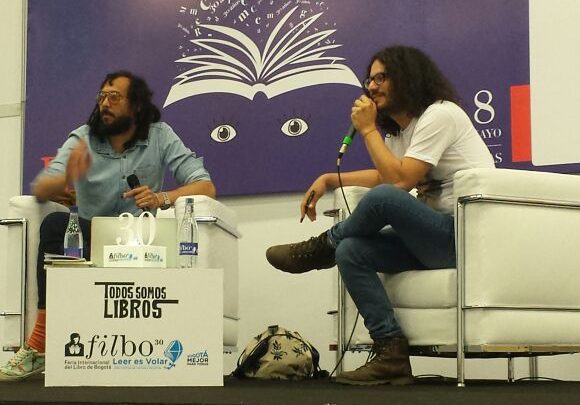 The works of Emiliano Monge and Daniel Ferreira both concern themselves with the hardships that people face. Ángela Forero-Aponte listens to them speak at FILBo 21017.
---
Emiliano Monge, the Mexican author of Las tierras arrasadas (The Devastated Plots), and Daniel Ferreira the Colombian behind Viaje al interior de una gota de sangre (Journey Inside a Drop of Blood) spoke at different events during FILBo, but both touched on the struggles faced by ordinary people.
Las tierras arrasadas portrays the violence, mistreatment, shameful conditions, and the loss of identity suffered by those who decide to migrate. The book tells the stories of 70 people who travel from Central America to the United States  trying to pursue the American dream, as well as two migrant smugglers in the Mexican jungle. This literary work depicts, in the author's words, the "hell" Mexico currently is, a country full of violence, drug trafficking, murders and mass graves.
The author also highlighted the important role journalism plays in society since it "resounds more than literature," and generates changes in the political system. He believes that the intellectuals, the ones responsible for doing this, mute the truths of a country because they make a living out of their relationships with government. He also stated that in Mexico's case we are talking about migration when in reality we should be talking about a diaspora.
Daniel Ferreira, in turn, with his Viaje al interior de una gota de sangre, introduces readers to the horrors that took place when inhabitants of many Colombian villages were exterminated by violence. In the words of Ángel Unfried, moderator at Ferreira´s talk in FILBo, "Daniel portrays the complexity of rural Colombia" through the description of the lives of the typical characters in a Colombian town, through the trees in those villages in popular Colombian expressions like 'pasar al papayo' (die). Daniel Ferreira gives everyday elements in a town a new meaning by casting them in the light of the terrible events faced by villagers. His work takes readers closer to the often isolated reality of the Colombian countryside.
---