Every year on June 12 National Day against Child Labour is commemorated, statistics are released and combative initiatives discussed.
This year, according to the International Labour Organisation (ILO), 10.5 million children have been classified as victims of child labour in the region of Latin America and the Caribbean, a part of the world that has seen notable developments since the year 2000; a year when 20 million child labourers were registered.
In Colombia, 5,000 children have been identified as working underage in just the last three months, according to news agency Reuters. A study carried out over just three days in February by the ICBF (Colombian Institute of Family Wellbeing), which surveyed 27 departments of the country, also found that 379 children and teenagers were working.
Colombian national law states that children may not work under the age of 15 and no child may be exposed to health or hazardous risks when working.
The ICBF campaign, titled 'Present Against Child Labour', defines the concept of child labour as something that denies underage minors their childhood, potential and dignity. It classifies it, therefore, as a form of violence against minors that violates their human rights rights, life plans and both physical and psychological development.
 "We have found children working in markets, in public spaces, at the traffic lights, in rural areas," commented Karen Abudinen, head of the ICBF.
Since March, the Institute has also identified 350 Venezuelan minors as victims of child labour, with particular presence in cities that border Venezuela, such as Cúcuta.
Given the current migrant crisis and ever-worsening situation in Venezuela, the ICBF attends to over 23 000 Venezuelan children, teenagers and families in Colombia. Many Venezuelan children even work alongside their parents, begging in the streets or selling simple items such as sweets or chewing gum.
Abudinen pointed out that the ICBF had created a special strategy to give more attention to Venezuelan minors that find themselves in Colombian territory. "Through our Mesa Interna de Frontera, we have defined concrete actions in order to be able to give attention to vulnerable children that have arrived in the country, through different programmes," she said.
ICBF statistics from February reported that a total of 2,423 Venezuelan children under five years old had entered child development programmes, community homes and children's homes in the North Santander region of Colombia. There are also other programmes that tend to young people's needs between the ages of six and 17, such as the 'Generations with Wellbeing' programme, which had attended 256 people as of February this year.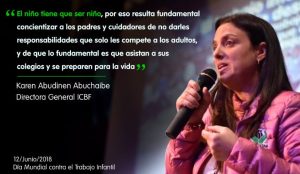 The UNHCR (United Nations Refugee Agency) in Colombia has pointed out that Venezuelan illegal migrants tend to fall into a particularly vulnerable and difficult situation with regards to work upon leaving their country, made worse as they do not have sufficient paperwork, such as work visas or passports.
Abudinen also blames the high rates of child labour in Colombia on deep-set cultural attitudes towards work, with many people believing it character building to begin work at a young age. It's "a cultural problem that we can't ignore," she said.
The ILO points out not only the physical and mental impacts of child labour, but also the fact that it prevents children from either attending school or obliges them to leave prematurely, and sometimes even forces them to combine their work and schooling, which brings only negative impacts for the child.
With 152 million children currently forced into underage labour across the world, ever-stagnating progress on the issue in recent years and the Venezuelan migrant crisis showing no signs of letting up, the ICBF is urging people more than ever to demonstrate compassion towards the younger generations, as they find themselves increasingly vulnerable as a result of the crisis in Venezuela.