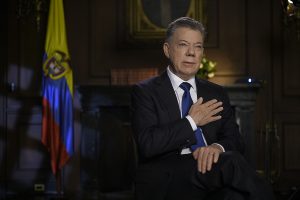 Colombia has formally recognized Palestine as a sovereign state in one of Juan Manuel Santos' final moves as President.
The unexpected decision, which was delivered to Palestinian officials last week but made public on Wednesday, may face review however from the new government of Iván Duque.
The foreign ministry announced Santos had delivered a letter which officially recognized Palestine as a "free, independent and sovereign state" to the Palestinian representative in Colombia on August 3.
"Just as the Palestinian people have a right to constitute an independent state, Israel has a right to live in peace alongside its neighbors," the letter said.
New Foreign Minister Carlos Holmes said in a statement however that a review of Santos' decision would be made after Duque was sworn into the top job on Tuesday.
"Given possible omissions that could come to light about the way in which this decision was taken by the outgoing president, the government will cautiously examine its implications and will act according to international law," he said.
#ULTIMAHORA Comunicado de Prensa de la Embajada de Israel en Colombia sobre los últimos acontecimientos. pic.twitter.com/vnsebb2cDz

— Israel en Colombia (@IsraelinCol) August 9, 2018
The decision means Colombia is the final country in South America to recognize Palestine as a sovereign state. More than 130 countries worldwide have also made the declaration, though notable omissions include the United States, Australia, New Zealand, England, France, Spain, Canada, Germany and others. Palestine had also been recognized as a sovereign state by the United Nations General Assembly and the International Criminal Court.
According to Reuters, Palestine seeks to create a state in Gaza, the West Bank and East Jerusalem, lands that Israel have controlled since the 1967 war.
The Israeli embassy in Bogota said it was surprised and disappointed by the decision. A statement on their official Twitter account asked for a reversal of the decision by Duque's government.
"We ask the Colombian government to reverse the decision made by the previous administration in its last days, which contravenes the close relations, extensive cooperation in vital areas and interests of both countries," it read.