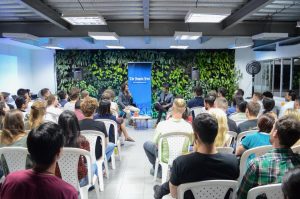 The New York Times' Nicholas Casey sat down with The Bogotá Post last night to speak on his experiences reporting on Colombia for a wider international audience. Contributor Tim Hinchliffe has the lowdown on how the conversation unfolded.
As the Andes Bureau Chief for the New York Times, Nicholas Casey reports on the most pressing issues facing Colombia, Venezuela, and Peru, among other South American countries.
After having his visa revoked by the Venezuelan government for his reporting on the presidential elections and the ongoing migrant crisis, Casey has now set up his new HQ in Medellin, Colombia.
His groundbreaking reporting on diplomatic cables that were recently made public about alleged ties between former President Álvaro Uribe and the Medellin Cartel in the 1990s received worldwide attention, including criticism from Uribe himself on Twitter, who denounced the New York Times Andes Bureau chief for spreading what the former president called "fake news" and an attempt to sway voters before last month's presidential elections in Colombia.
On Thursday Casey sat down with The Bogotá Post online editor Arjun Harindranath for a fireside chat at Espacio media incubator in Medellin.
When asked about the dangers of reporting in Colombia, Casey replied, "There are different places that I would take different precautions for. Certainly places in the South like in Putumayo are places that you have to think really carefully about, and even in the Northern parts of Antioquia. There are a lot of parts of this country that I think, especially outside of Colombia, aren't really well understood.
"When people think of Colombia now, they see the peace deal; they see places like Cartagena, and they think that violence in the country is over, but in reality, right now coca production in Colombia is at an all-time high. Because the FARC is demobilized it means that there's a lot of kickouts over who's in control of which parts of Colombia, so I think in many ways the map of what's safe and what's not safe in Colombia is more confused now than it has been for years.
"As a journalist I do have to spend a lot of time sorting out where are the places where I really have to think carefully about before going to".
The dangers facing journalists in Colombia are many. Casey remarked that one of the dangers of reporting is being lulled into a false sense of security when reporting in areas controlled by illegal armed groups.
One of the reasons why the New York Times Andes Bureau Chief doesn't travel with security detail is that it draws too much attention to himself. He said that some journalists, especially in the Middle East where he used to report, prefer having heavy security details, but the problem is that for every armed guard there are more people in those areas that have access to more people with more weapons than the security detail could ever provide.
Shifting away from the dangers of reporting in Colombia, the fireside chat ventured into the territory of what sorts of news in Colombia makes headlines in internationally-renowned publications like the New York Times.
"There are a bunch of different categories. Colombia is in a different case than a lot of countries that I've covered. It's easier for me to write about Colombia because people in the US know where Colombia is, and a lot of that is because the two countries have had an extreme relationship with each other for about 30 years, and mostly in the last 20 with [US foreign aid initiative] Plan Colombia.
"It's never hard to explain to Americans why Colombia is important. It's a country that is tied to drugs. That's hard to deny. Americans use the cocaine, Colombia produces the coca.
"I think that it's important to show wherever I am as a foreign correspondent that the main narrative that Americans associate with the country might not be the one that matters most to the people living in the country, and it might not be the one that matters most to the world.
"If you are living in Medellin, people are not talking about Pablo Escobar on the street. That's old history. One of the challenges for me as a foreign correspondent is trying to figure out what are those stories that really matter most in the country.
"What's interesting to most people can be these narratives that are very old and worn, but when you live here you find a bunch of different ones that people outside wouldn't know were there".
Tim Hinchliffe is an editor at the Espacio Media Incubator in Medellin. Previously, he was an editor at Colombia Reports and reporter for the Ghanaian Chronicle in West Africa. He can be reached via Twitter and Linkedin.