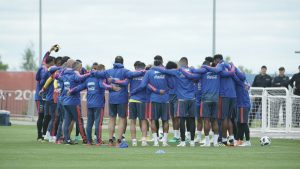 In what will present a test for the loyalties of many a Colombian-based English expat, Los Cafeteros are set to take on England in the first knockout round this Tuesday. The mouthwatering encounter was the result of Colombia sailing past group stage opponents Senegal and England not doing enough against Belgium to attain pole position in their group.
The two teams have met five times before and Colombia have yet to win an encounter against the English, having lost thrice and drawn twice. Coincidentally, last Tuesday was the 20th anniversary of their only game together in a World Cup in Lens during France 98. That game ended 2-0 in England's favour and kicked Colombia out at the group stage with David Beckham scoring the final goal.
Current England manager Gareth Southgate was a member of that 1998 squad and is known in England for having been part of campaigns that end in heartache at the hands of a penalty shootout. Given the highly defensive football that the first knockout games produced, both ending in penalty shootouts, chances are high that the same fate awaits both Colombia and England this Tuesday.
There were suggestions from the group games that this game will prove to be an attacking affair; namely Colombia running riot 3-0 against Poland and England eviscerating the lesser Panama 6-1. Whether either team will turn up with the same mindset would be wishful thinking but many supporters will be anticipating an exciting game nonetheless.
The Bogotá Post contributor Mathew Di Salvo, 27, is frequently English and had this to say about watching the game in Medellín where he is based: "I will of course be supporting my home country and I have faith they'll win but Colombia is a strong side and their passion for the game is unparalleled. I couldn't think of a better place to be watching it."
Supporters across the country will be hoping that the stars align and that Colombia's best will be on show. The big question coming into the game will be James Rodriguez's fitness and whether he'll be a part of the starting lineup. Calf concerns continue to plague the superstar playmaker's tournament and a fully fit Rodriguez is likely to help calm supporter's nerves before what promises to be an epic game at Spartak Stadium in Moscow.
Across the Atlantic, the Colombians have shown enough in their slick set-pieces in the group stages to have the English media quaking in their boots. "Colombia are a bit scary." Simon Burnton wrote in The Guardian following their victory against Poland.
Some of the Colombian players will also make the most of their inside knowledge of English football having made their names in the English Premier League. Goalkeeper David Ospina plays for Arsenal and Jose Cuadrado has appeared for Chelsea along with others that have played for various English clubs. Some commentators also see enough potential in golden child Juan Fernando Quintero to see him as part of the Premier League in the near future.
Whoever wins the game between England and Colombia will then go on to play either Sweden or Switzerland in the quarterfinals. Colombia haven't turned their minds towards that game just yet. They have the English to deal to first.
Colombia play England on Tuesday at 1pm. Make sure to follow our live-blog from 12:30pm onwards on our home page.