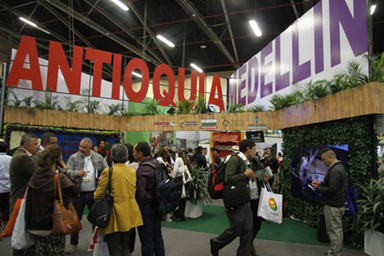 ANATO, one of the largest tourism fairs in Latin America is being held in Corferias conference centre
---
It will come as no surprise to hear that the travel industry is booming in Colombia. 2017 saw record numbers of tourists, with over 6.5 million arrivals in the country – more than three times the 2010 figures of two million. It's not only arrivals; there are increasing numbers of Colombians going abroad as well. Over four million Colombians went abroad in 2017 – up 6% on the year before.
This means the atmosphere going in to this year's Vitrina Turistica ANATO, the largest tourism showcase and business fair in Colombia, is buoyant. Organised by ANATO, the Colombian Association of Travel and Tourism Agencies, the event features representatives from all 32 Colombian departments and more than 35 other countries, all vying for the best opportunities for trade with both local tourism operators and guides, and larger international tour operators.
All sectors of the tourism industry will be represented at the event – from hotels to agencies – where they can promote and sell their products and services.
ProColombia will be holding their first 'Travel Mart', a 'tourism matchmaking forum' aimed at selling Colombia to the wider world and ensuring a solid tourism infrastructure is in place so that the country will not be caught flat-footed by the increasing numbers of visitors.
Related: Business tourism in Colombia
The president of ANATO, Paula Cortés Calle, is keen to draw attention to the fact that, for the first time since its inception in 1949, ANATO is holding an event "in a framework of peace after the agreements reached by the national government," finally allowing international tourists to feel more secure in enjoying Colombia's wealth of culture, biodiversity and history. Hopefully, the event will encourage people to think along the lines of the ANATO motto: 'Colombia, open to the world'.
---
Vitrina Turistica ANATO will take place in Corferias from February 21 – 23.