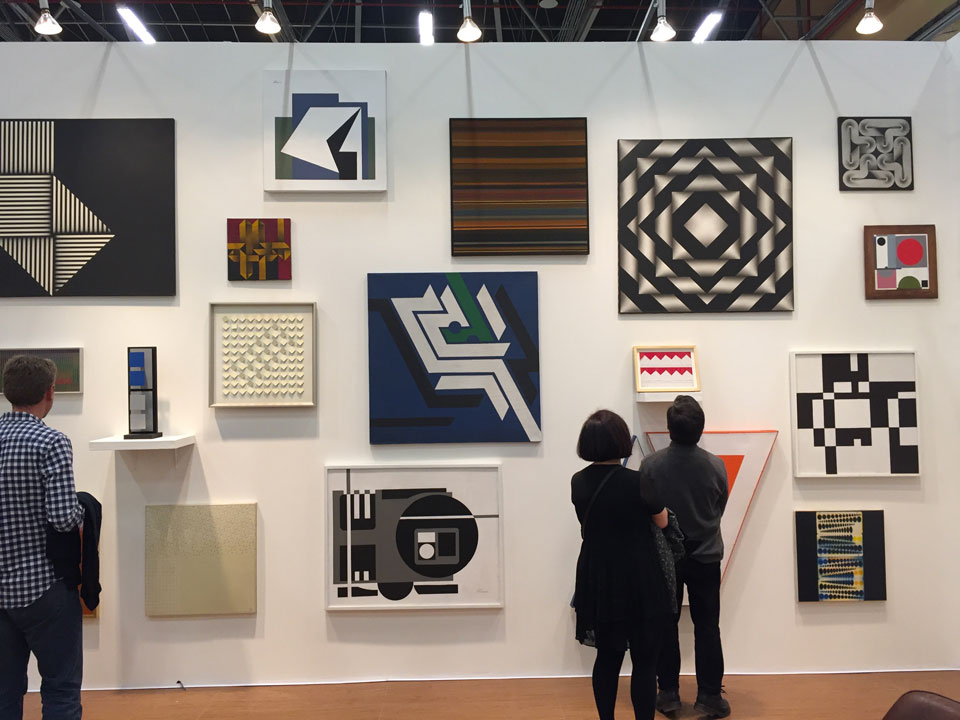 If you, like many art lovers, are feeling desolate at the end of the art week in Bogotá or if you missed the burst of creative manifestations that filled the city, you can take heart from Milagros Oliveros' review of the city's October-artfest, ArtBo 2016.
---
The last week of October always marks an explosion of art in the city, and this year was no different, with displays of all shapes and sizes co-existing, setting art in all its forms against all kinds of backgrounds. As visitors, it can feel like a frantic raid as we try to internalise internalise hundreds of pictorial and sculptural images, texts and performances.
At the heart of these bubbling waters of creativity is ARTBO. The fair has now matured into the fastest growing art fair in Latin America and, for twelve years, it has been a point of convergence for artists, galleries, scholars and art collectors. It is a space for cultural exchange, training, participation and promotion of the visual arts.
It's not only about fostering creativity, ARTBO is a hotbed of commercial activity too. This year it offered one of the most significant cultural showcases in the visual arts in Colombia.
María Paz Gaviria, director of the event, says that the fair has sparked other events across the country. "During the four weeks, a circuit is activated that transcends the festival and has invigorated activities in other Colombian cities," she says. Examples of this can be seen in Bogotá: Odeón, La Feria del Millón and Barcú, have all sprung up around ARTBO.
The fair
This year's fair took place for four days (October 27-30) and for the first time, ARTBO had invited a guest country. Brazil was strongly represented amongst the 74 galleries, over 500 artists and nearly 3,000 works of art.
Galleries like Luisa Strina brought artists such as Beto Shwafaty, Edouard Fraipoint and Cildo Meireles, with pieces that stood out due to their colors and the use of collages. The gallery Raquel Arnaud presented the well-known Venezuelan artist Carlos Cruz Diez, accompanied by Elizabeth Jobim, displaying a color explosion of constructivism through sculpture and painting.
Geometry was a guiding thread for galleries such as Galería de las Misiones from Uruguay, Nueveochenta from Colombia, Galería Gregor Podnar from Germany, Instituto de Visión from Colombia, Johannes Vogt from the USA and Arroniz Arte Contemporáneo from Mexico, combining the aestheticity of lines, color and shapes to create two-dimensional and three-dimensional spaces of dialogue with the viewer.
I was delighted to notice the emerging artists displayed alongside already established ones. Traditional expressions such as painting and sculpture joined new forms of expression such as installations and performances – all united by art, and the purpose of expressing deep feelings and one's true nature.
I was able to approach local galleries such as La Cometa and Sextante as well as international ones like Leon Tovar, located in New York, with full knowledge of the artists presented and was astonished –as always– by some of my favorites artists such as Eduardo Ramírez Villamizar, Edgar Negret, Jorge Riveros, Omar Rayo, Manolo Valdés, Santiago Cárdenas, Alejandro Obregón, Fernando de Szyszlo, Hugo Zapata and Ana Mercedes Hoyos.
I was also curious to see some new artists with different proposals. Installations and photographs swept through spaces, filling them with character. Social issues took the upper hand. The way that artists were able to express the reality in which one lives, and to expose an opinion or point of view about it, was truly remarkable.
One work that caught my attention was a piece by Marcelo Brodsky, exhibited by Rolf Art Gallery from Argentina, who presents altered photographs captured during protests undertaken around the world. Cities like London, Rio de Janeiro, Montevideo, Washington, Bogota, Paris, Mexico City, São Paulo, Kingston, Prague and Milan, become the stars in the work 'The Fire of Ideas'. In Brodsky's hands, each one is giving a clearer identity, as he uses color and texts to highlight the collective feeling in the historical moment that they represent.
Another of the interesting works was that of Teresa Margolles displayed in the Peter Kilchmann Gallery. Through photography, installations and jewelry works, she captures some of the problems caused by drug cartels in several Mexican cities. Threads used in corpses after an autopsy, pieces of glass extracted from inert bodies after a violent death, and images of missing young woman, become the harrowing radiography of a horror story that is still being written.
The spaces
The fair was divided into a number of different sections:
The

main section

, where all the galleries were ready to welcome visitors

Sitio

, which

presented three large-format works curated by María Belén Sáez de Ibarra

Libro de artista

, curated by La Silueta, that invited sixteen publishers to offer the public a series of books that were works of art in themselves

Foro

, a space for performances that aimed to expand the traditional conference format

Articularte

, created by the group of artists Laagencia, a section dedicated involving the public through laboratories and workshops

Artecámara

, showed an exhibition entitled "Localizaciones, lugares, locales, dislocaciones" curated by the Colombian Fernando Escobar

Proyectos

, Jens Hoffmann –an important figure in the world of curatorship– presented a group of artists who focus on the human figure through painting, inspired by the Colombian artists Débora Arango and Beatriz González

Referentes

co-

curated by Pablo León de la Barra (Mexico) and Ericka Flórez (Colombia)
One of the outstanding works of the Sitio section was 'Conic' by the artist Tania Candiani. It welcomed visitors to ARTBO with a wood and fiber solid structure made with traditional methods of the ancestral Kogi architectural construction.
Through a tactile translator system and low frequency sound composition, created with the collaboration of the Mamo Senchina of the Kogi culture, the artist achieved an interactive work. Viewer had to 'enter' ceremonially, as they would an indigenous sacred space, and stand in the center of the structure that spread vibrations that deeply touched everyone. One child described it as "a place where one feels like oneself."
In the Referentes section, we were able to view 60 works by 30 influential artists. The idea was to compile works that posed questions about the objective condition of art and about the aesthetic categories in Latin America. The exhibition 'Invisible forces: first assembly of art critics facing the crisis of non-objectivism' included paintings, performances, objects, sculptures, assemblies, installations, jokes, collages, posters, drawings, photographs, and even geometric ruanas.
It was an extravaganza of pioneering Colombian and Latin American artists, Such as Adolfo Bernal, Álvaro Barrios, Ana Mercedes Hoyos, Antonio Caro, Carlos Rojas, Fernando Botero, Jorge Riveros, Luis Caballero, and many more who challenged the prevailing paradigms of art in the sixties, seventies and eighties.
The other side of the coin was reflected in the section Artemámara, created to give exposure to promising young Colombian artists. It featured 24 artists with extravagant, bold and courageous proposals. The winner of this year was Sebastián Mira with the work 'Monobloques'.
The past, the present and the future
ARTBO 2016 yet again built on last year's offer. It brought a wider –and more international– selection of galleries, as well as artists from a wider range of backgrounds with more stories to tell and more ways to tell them.
"Throughout the years, the fair has become more sophisticated in its conception and structure, which ends up guaranteeing potential growth at the market level," says Jaime Cerón, curator of the Misol Foundation in Bogotá. "ARTBO has incorporated curated sections that have other kinds of audiences, who are not just people interested in buying. Therefore, there are also collectors who sustain the fair," he explains.
Mira Bernabeu from the Espaivisor Gallery of Spain believes that Colombia's economic growth is also an important factor: "This is our fifth year at the show. We have seen the development of the fair and the economic development of Colombia. We went from a smaller fair to a huge place full of visitors and collectors of very high level."
Eduardo Brandao, director of the Galería Vermelho in Sao Paulo, who has been attending the fair for nine consecutive years, says that this edition has undoubtedly been the most international so far. "This is the time I've seen more foreigners buying. They have come from Brazil, Peru, Argentina, Ecuador, Venezuela, many from Chile. This is a fair of good quality which grows professionally every time we come."
The participation of prominent galleries such as Fortes Vilaca, Vermelho, Max Estrella, Mor Charpentier, Lamb Arts, Sicardi, Steve Turner, Henrique Faría, Athena Contemporánea, Elba Benítez, La Oficina, El Museo, Ignacio Liprandi, Nomínimo, Walden Gallery, Beatriz Esguerra Arte and Peter Kilchmann, confirms not only the confidence of the gallery runners in the Colombian fair, but also in a market driven by a growing group of local and international collectors.
One question that came out of a week of intellectual exchanges was about the future of more traditional artistic expressions such as painting and poetry. Some wondered why these artistic expressions are less and less common and said that people simply didn't call themselves poets or painters any more.
However, there are representatives who struggle to ensure those aesthetics stay afloat in a sea of contemporary art and rhetorical conceptualisms. I was happy to see both painting and sculpture represented in force at ARTBO. After all, it would be hard to subvert an instinct that is as old as the first cavemen who used drawings to express their feelings and thoughts.
At the same time, it was clear that there is also space for a myriad of other creative expressions that open possibilities of understanding the world in diverse ways.
For instance, the series 'Desnudos' by Fernando García Vásquez, talks about the convergence of these two conditions –traditional and conceptual– and is an example of the validation of both trends. The canvas oil paintings present smaller copies of valuable works of art, with one key feature: all are missing the main protagonists from the originals.
It is not surprising that the fair, that was created in 2004 as a commercial platform for art and a space for cultural exchange with the sole purpose of promoting and positioning the Colombian capital as a destination for culture and business, has grown so dramatically. Nor that the fairs that have grown up around ARTBO have proved popular.
These atmospheres have become a space for conversation, negotiation, exchange of knowledge and relationships that take place around the language of art. Put simply, there is a demand for art in this city, that is magnified in October but continues to grow every year. And if you are feeling bereft, there are still plenty of events taking place in the city. Check out www.revistaarcadia.com for the latest news and reviews.
And if you missed any of the artists mentioned above and are inspired to find out more, you can find all the participating galleries and the displayed artworks here.
---
By Milagros Oliveros / Photos: Milagros Oliveros