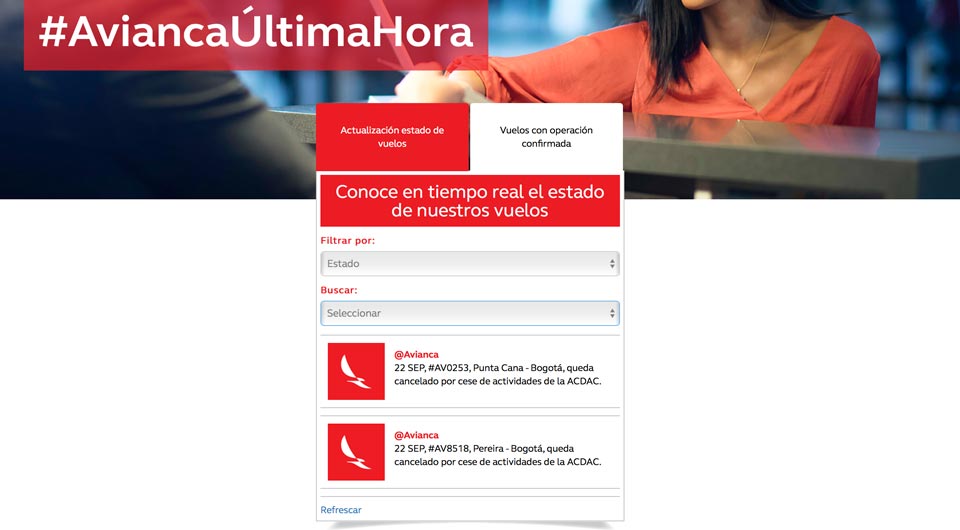 Over 20,000 passengers have already been affected by the Avianca pilot strike which is now reaching its third day.
---
On September 20, 702 pilots working for Avianca, Colombia's main airline, began a strike, demanding increased wages – they want to earn the same as pilots in other countries – and better working conditions. Up to 230 flights have already been cancelled, affecting nearly 22,000 passengers.
Avianca suspended the purchase of airline tickets between 20 and 22 September and around 4,000 passengers have received refunds while others have been placed on different planes. Passengers will also not be penalised for changing flight dates.
Latest: Avianca strike pushed to arbitration
According to the Colombian Association of Civil Aviators (ACDAC), the union which represents around half of Avianca's pilots in Colombia, the strike could go on for 60 days. However, the Labour Minister, Griselda Janeth Restrepo Gallego, said that the negotiations between the two sides were still moving forward.
Pilots have been protesting in various parts of Bogotá, including outside the Ministry of Labour after initial negotiations between ACDAC representatives and Avianca executives broke down.
In a press release, Avianca branded the strike action "illegal" claiming that transportation is an "essential public service", thereby exempting workers from their constitutional right to strike.
For this reason, the top shareholder of Avianca, Germán Efromovich stated on September 22 that the striking pilots could be fired. He told financial website portafolio.co "This union says that they do not have the same conditions as pilots from other nations. Well, if that's what they think, let them go to those countries." He continued, "They don't have the moral or legal right to adopt this radical position, which is completely illegal because it is violating the laws of the land and they have a criminal opinion."
The strike is costing Avianca over USD$2 million every day. The company say that they have contingency measures to cover up to three months of strike.
For their part, ACDAC deny that the strike is illegal. Their 30-page petition addresses a range of issues from maternity benefits to working hours – setting minimum rest periods and maximum numbers of consecutive trips that can be carried out in a working day. The ACDAC are demanding wage parity with countries like Brazil, Ecuador, Argentina, Mexico.
On a related note, low-budget airline Wingo launched a promotion, taking advantage of the strike, and is offering tickets on national routes for a maximum of COP$99,000 per one-way ticket plus taxes. The offer will run until 27 September.
If you are affected, or believe you will be affected by the strike, you should check www.avianca.com for further information as to your rights and refunds. On www.aviancaultimahora.com you'll find live updates on flight information.