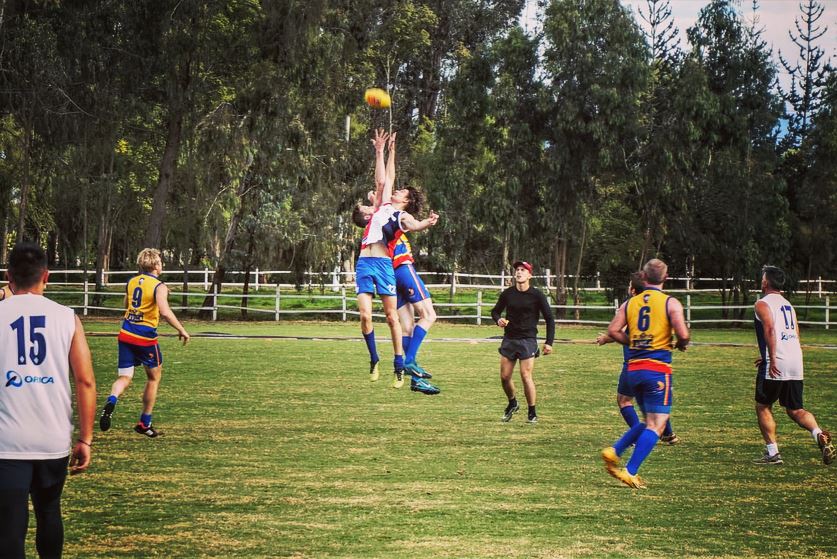 The Bogotá Bulldogs retained the annual Andes Cup with a 19-point victory over Chile's Santiago Saints, in a tightly contested affair at Los Pinos Polo Club.
---
It was clear from the opening bounce that the Saints had come to play, as they bolted out of the gates with four quickfire goals, mainly due to an absolute domination of midfield on the back of tackling pressure and clearances. The Bulldogs looked clearly shell-shocked but managed to creep back into the contest when ruckman Sam Miller found Dean Wiltshire unmarked in the right forward pocket. Despite having kicked 0.4 in Santiago the previous year, the wily, diminutive veteran shook off his yips and steered his kick through to bring the 'Dogs back within three goals at quarter time.
The Bulldogs took their momentum into the second term, as young Colombian midfielder Oscar Marin provided some run down the right wing and full forward James Moore provided more of a target up front. The home team were able to bring the margin to within a kick before half-time, although sloppy finishing prevented them taking the lead, as they outfired the Saints 3.5 to 0.1, making it a three-point game at the long break.
The 'grand final quarter' lived up to its name as the Bulldogs took firm control of the contest, centre-half forward Paddy Quinn and Irishman Liam O'Connell bombing two goals-on-the-run each, one of which annihilated a makeshift gazebo behind the goals. The Saints were their own worst enemies, however, matching the Bulldogs' four goals straight with erratic kicking and five behinds to show for it.
Related: 2018 South American Cricket Championships in Bogotá: Hit for six
The Saints came out firing at the final change with midfielder Byron Lawson leading the charge. They kicked two goals to make it a contest, the highlight being a marauding run through midfield by Lawson, topped off with a sumptuous finish from 50 metres, a goal that would have made David Calthorpe proud. However, both goals were answered by Bulldogs midfielder Chris Payne, who mongrelled through one goal off each boot, both characteristically on the run.
The match finished with the hosts prevailing 10.6.66 to 6.11.47. Best on ground for the Bulldogs was Miller, with Marin named as the best Colombian player on the day. Lawson was named Chile's best player. This was Bogota's third triumph out of three against their continental rivals, and the Saints will be looking to break their duck next year on their home turf.