There's a running revolution taking place around the world – people from all walks of life and all corners of the globe are donning their trainers and taking to the streets, parks and open spaces. Bogota is right there in the race, and as the calendar of meets hits its stride with the city's half marathon coming up, Freek Huigen speaks to a variety of different stakeholders to find out more
---
Walk on the streets around Parque El Virrey on any given day early in the morning, or in the evening, and you will see large numbers of trainer-clad joggers in the park. Everyone goes at their own tempo and with their own goals, but they have one thing in common: They are running in Bogota.
Carlo Polo, one of the founders of Bogota's most prominent running group 21Korredores, says that their group has grown exponentially. "In April 2013 we started a training group with four friends and a trainer trying to cater to the wide range of people in Bogota that are interested in running. Now, over two years later, we have more than 90 active athletes in our group."
It is not just that there are more and more people running – there are more and more groups, shops and websites around to support this thriving sport. Whether you are new to running or a well-seasoned sprinter, there is plenty of information ready to help you find your way.
One such source is Colombia Corre which Camilo Rocha, one of the founders explains, was set up to help people find out about the growing number of meets.  "We liked running and there wasn't a simple way to find out where the events were. We started www.colombiacorre.com to put together a calendar of running events around the country. When we started in 2009, we had 20 events on the calendar, now we have over 200."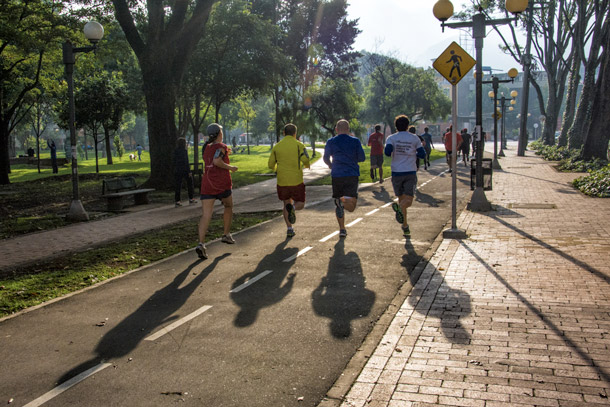 We spoke to 64-year old lawyer and keen runner, Carlos Buitrago to get his perspective on this boom. His passion for running is in its second youth, as he put his trainers back on 14 years ago after a 25-year break.
"For our ancestors, using our feet was the only way of moving over distances, but we had forgotten about it. Surprisingly, even in the top days of Colombian running, with big names like Mejía, Barreneche, Salazar, Tibaduisa and Mora among others, it didn't stir people's interest. But about 15 years ago it became fashionable again, sparked by the international wave of attention for physical activity and a healthy lifestyle."
He also sounded a note of caution about the sport's growth: "The majority of the people who run don't take part in the events. Not because they don't want to, but because these events are very expensive. There are no incentives for young people in the barrios. State funded events, financial help for trainers (shoes) and a focus on the benefits could make a big difference."
The veteran athlete's undisputed number one is Bogota's half marathon. "The grandeur and global image of the event always intensifies your personal challenge. It seems that everyone joins in, people train especially for this event, others come and cheer the athletes on from the side and the third group are there as vendors, but the atmosphere seems to bring joy to every one of them."

Bogota half marathon – join in
Whether you are running or cheering on the athletes, don't miss one of the city's running highlights.
Start and finish: Parque Simón Bolívar
Up Carrera 60, onto Calle 53, past El Campin
Onto Carrera 24 to Park Way, then Carrera 19
From Avenida 28 onto Calle 26, to Septima
Calle 72 onto Carrera 15
Calle 92 onto AvenidaNQS
Calle 78 to Carrera 50
Calle 68/67b to Avenida 68
Back to Parque Simón Bolívar
In fact, Colombia Corre's Rocha credits half marathons for the development of the sport – more than the worldwide hype. "The international boom was important, but in Colombia the change came when half marathons in the big cities became regular, with set times. People started planning and preparing their races. In Bogota the marathon became so popular that more and more events were organised. Social media has given it an extra boost in the last five years. "
You may think that Bogota, with such visible air pollution and traffic bursting from nearly every street, might not seem the most appealing place to exercise. But Rocha explains, "Despite the pollution, Bogota has some good spaces to run, such as the parks across the city. Plus the Cerros Orientales, Monserrate and Guadeloupe have safe routes at the weekends that attract lots of athletes these days. People are learning to take advantage of those spaces. On the other hand, as cyclists and drivers see more people running, we see that the respect towards them grows."
21Korredores' Polo is also moderately positive: "The city is not ideal for running with the lack of green spaces but the ciclovia fills in a bit of that need. The green lungs such as Parque Virrey and Parque Simón Bolívar are very important. Our training is in Parque Virrey. It has over a kilometre of road surrounded by trees, and the security of having an immediate attention centre (CAI) in the park and the Transmilenio around the corner, which make it our favourite place. Our first training started there and we are still here today."
He added, "What we didn't expect with 21Korredores is that there would be many foreigners joining us. People from Venezuela, Spain, Germany, the United States and Brazil are or have been with us".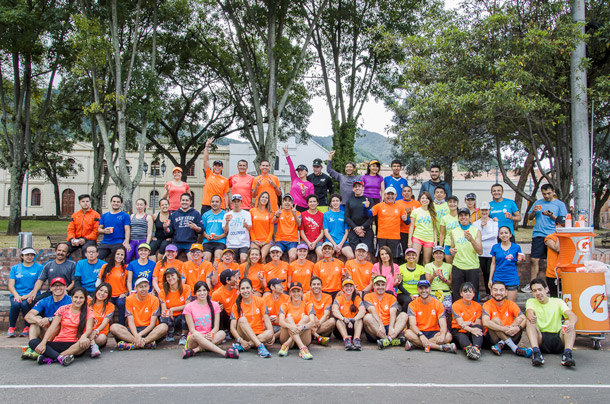 And it's not just in-city running that is gaining traction, the trail running events around the city are increasingly popular too. Trail running is a different discipline which encompasses rocks, muddy trails, steep hills and great views along the road. It requires a different type of stamina but nothing to be afraid of says Andrés Rodriguez, who completed his first 21 kilometre trail run in Fusagasuga last year. "I prefer running outside the city, especially the runs over the paramos around Bogota, which are stunning. Being based in Bogota it is not impossible to train for those runs. Early mornings it is nice training on Monserrate or the trail in Quebrada la vieja [Calle 72 with circunvalar]. It is secure and you see more and more athletes climbing and descending on the steep ramps of Bogota's hills." He adds, "It is nice to combine a weekend away from Bogota with the physical exertion in the most beautiful places of Colombia."
Dan Haddow agrees, "In terms of events, trail running is definitely the best. You avoid any of the ill-effects of inner-city running such as traffic, contamination and a ridiculous number of people. That's because in trail runs, the number of runners is usually far lower, so you don't have that claustrophobia that you can imagine suffocates people in road races. They're usually harder because they involve long climbs and descents over uneven ground which really test your body to its extremes but that's the challenge that you accept when you sign-up. Finally, you're surrounded by nature which is kind of inspiring."
Back on the road, Colombia's biggest event is coming up soon. The 'Media Maraton de Bogota' is on July 26. For 21Korredores this is a big event. In the Allianz 15K last June, with 91 runners taking part, they had the biggest number of participants from any of the running clubs. The group expect the same for this run. "We named our group 21Korredores after the amount of kilometres for the half marathon."
If you want to join in – with the half marathon or any other event – there's plenty of resources available to help. Sources like Colombia Corre or Running Colombia list a wide range of events in one place. Check Facebook for: 21Korredores, Trail running Colombia, Runnerslab, Running Energy Team Colombia, ASICS Colombia and Running Balboa Colombia. You can also find training groups, registration for events, running products and all sorts of experiences for anyone who wants to be part of the running community in Bogota.

There are running events of all shapes and sizes throughout the year and throughout the country – so what are you waiting for? Dig out those running shorts and grab your trainers! I'll see you in the park.
Athlete's experience: Fake first place at Guatavita 21km race
Dan Haddow relives his (not-so) victorious outing at the Guatavita trail run
---
"Ladies and gentlemen, it's time to announce the winners of the 21km open category. In third place, Mr. X. In second place, Mr. Y. And a big round of applause for our winner… Mr. Dan Haddow!"
"Get in you beauty, I fucking won!"
Seven hours earlier, in Bogota's pre-dawn Sunday darkness, I was crawling out of my bed wondering if it was all worth it. Waking up early is so entrenched in Colombian society that it has its own word, madrugar. And madrugar you must if you want to get involved in the trail running scene in Colombia.
It was April 22 and the trail community was meeting at the ungodly hour of 7am in Guatavita, a quaint colonial town an hour north of the capital. At 7.30am the battle-hardened 42km warriors set off on a race that took the winner well over four hours to complete. Compare this with the two hour world record set in Berlin and you have some idea of the difficulty of the Guatavita course. My friends and I opted for the 21km category, which still included two monster climbs to the peaks of the towering mountains that dwarf the village below.
After the first climb a steward told me I was in eighth position. I was gunning for top five, so pushed hard, overtaking three guys to reach the sacred fifth position. With one final big climb to go, the 21km route converged with the 12km route. Cue pushing, shoving, elbowing, "Que pena, dejame pasar por favor," all the while panting, wheezing and puffing out of every orifice of my body.
After a claustrophobic climb the track opened out onto a grassy plain. The peak of the mountain lay just beyond but everybody was descending. I obediently followed the hordes, bounding down the hill, hopping over rocks, trampling through the undergrowth and gliding past fellow runners knowing that the finish line was close.
I crossed the line in one hour and 55 minutes. I'd been aiming for two hours so I was delighted with my time. However, I was surprised I had to wait 40 minutes for my friend. I knew I was faster, but 40 minutes? Really? But before long, my name was echoing through the pueblo and my confusion dissipated. Against the odds, I'd won!
Amid boisterous celebrations, I was vaguely aware of someone asking about reclamaciones (disputes) but, given the moment, I chose to selectively hear this, perhaps naively.
Two hours after announcing the winners, the top three were summoned to the podium to receive their medals. My name wasn't called out. It turns out the 21km route did indeed continue to the top of the mountain and so I missed a 1.5km section of the race.

I had been disqualified and the crowning achievement of my modest running career was cruelly snatched away from me. But still, for a fleeting moment, I was the winner. In a way I still am the winner (and sole participant) of my personal 19.5km race and, after all, it's the taking part that counts, right?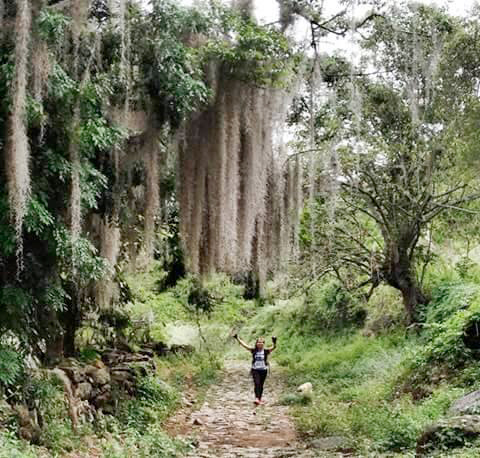 Endurance Running, Enduring passion
Starting a race at 3am from the bottom of a canyon may not seem like many people's idea of fun, but for some, it makes them feel alive. The Bogota Post finds out more…
---
Runs come in all shapes and sizes – the 10 km, a fun run for some and a push for more casual runners, the half marathon, which takes a bit of training, and the marathon, commonly considered the pinnacle of running, with its iconic length and reputation.

The true hardnuts, though, scoff at such easiness. We caught up with Andrea Espetía, fresh off the 63 km Chichamocha Canyon run. Yep, that's right, 63 km – a marathon and a half – through steep canyons. Welcome to the world of the super-endurance runners!

Andrea tells us a bit about the race, her first of this length: "It is the biggest Trail Running race in Colombia. The maximum category was 167 km, followed by 108 km and, in my case, I did the 63 km. These categories are considered ultra marathons."

The race started at 3am in the depths of the Chicamocha Canyon at 460 metres above sea level. She recalls, "The first 10 kilometres were vertical, climbing to 1,600 metres. It was very hard but we had the energy to climb it."

But the gruelling climb in the middle of the night was by no means the hardest part. After 47 km, the pack began the uphill stretch to a place called Las Antennas and it started to rain, making the road muddy and the route even more difficult. "Running with mud is very complicated, each running shoe was extremely heavy and it was very tiring."

She describes the final stretch – 10km downhill: "My knees began to ask for a rest, but I needed to be strong to reach my goal, and my mum was waiting for me, which was a motivating factor."

Most people's mothers would be asking what in the world possessed them to ever embark on such a punishing route. But Andrea explains that running had helped her cope with some difficult personal situations. "Running is a metaphor for what happens in life, these types of race are not against another competitor, they are against the fears that we create in our mind."

She feels that she can leave the bad things behind in the canyon and start a new dawn. "I do it with passion, it makes me feel alive. It's a time that you have to be alone with your heart, your mind, your body."
Calendar 2015
July 27, Media Maraton de Bogota: Half marathon, start and finish in Parque Simón Bolívar. www.mediamaratonbogota.com
August 9, Copa Nacional de Montaña: 13 km, start and finish in Ciudad Bolívar as part of the Festival de Verano, for information email: [email protected]
August 23, Bodytech 12 km: Bogota, start and finish at Centro Comercial Gran Estación. www.correcaminoscolombia.com/bodytech
September 13, Maraton y Media Maraton Internacional de las flores: Medellin, Marathon and Half Marathon during the Flower Festival in Medellin. www.maratonmedellin.co
September 20, Carrera de la Mujer Bogota: 10 km, start and finish in Parque Simón Bolívar. www.carreradelamujercolombia.com/BOG
November 1, The North Face Endurance challenge Colombia: Fusagasuga, 10 km, 21 km, 50 km and 80 km over the Sumapaz paramo. www.endurancechallenge.com.co
November 11, UNICEF Run Bogota: 10 km, start and finish at Calle 72 with Carrera 11. www.unicef10k.com
November 29, Carrera de la Mujer Barranquilla: 10 km. www.carreradelamujercolombia.com/BAR
December 8, Carrera Ascenso Torre Colpatria: 48 floors up the staircase of Torre Colpatria. Official part of the 2015 towerrunning World Cup. www.correcaminoscolombia.com/Colpatria.shtml