"It's the only true sports bar in Bogotá", says Robert Garcia, the man behind Salitre-based Champs. And his claim is well founded: there may be other places that show sport in the city, but nowhere else is so wholeheartedly and unashamedly dedicated to the joy of sports. If you could get a beer that tasted of sport, they'd stock it.
Put simply, this classic sports bar is a mecca for the city's fans – especially Americans, Canadians and Europeans – and it has more than its fair share of the paraphernalia you'd expect. The walls are adorned with soccer, basketball and baseball jerseys from across the globe, along with signed photos, flags and other club logos. Each of the tables is dedicated to a different historical sporting moment and even the staff are to be seen sporting Champs baseball jerseys.
With two big screens, seven televisions and the capacity to show three sporting events at the same time, there is no better place to follow your team alongside like-minded people. Whether it's basketball, soccer from around the world, baseball, American football, boxing, tennis or UFC, you never have to miss a moment.
And it's not just for gringos – Colombia's Aguila league and selección are not forgotten, with a whole wall dedicated to each and all the games shown live. Champs is a brilliant place to cheer on your national favourites with a mixed crowd of Colombians and expats.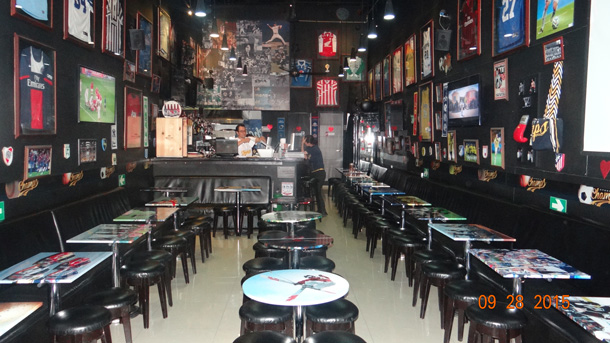 The menu also evokes memories of traditional sports bars. Draft and bottled beers from the US, Germany and Mexico are available at reasonable prices, while the food is exactly what you'd want from a place like this; not gourmet cuisine, but good quality munch for you to chow down on while you (hopefully) celebrate. The house specialty is the chili cheese fries, and there are also wings, burgers, nachos, pizza and much, much more.
Unlike many places in the area, Champs is open until 12am, Sunday thru Thursday and 1 am on Friday and Saturday, meaning you're always guaranteed to have a place to watch your match. Thursday is ladies' night, with 2×1 cocktails, while happy hour is from 2pm-5pm, Monday-Friday, offering punters 2×1 on quality draft beers.
There are also plans to open another, much bigger, Champs in the Zona Rosa next year, much to the delight of many sports fans in the city.
Just as you'd expect from similar places in North America or Europe, Champs is heavily focused on sports, without some of the fluff and frills that you might see elsewhere. A great atmosphere with first-rate service, fellow sports fans, an excellent mix of American and Latin music, top-quality beer and all the sports you can handle. What more could you hope for?
Find out more for yourself about Sports bar champs at the Centro Comercial Salitre Plaza.
Tel: 4106067
---