Special offer: Free beer for The Bogotá Post readers
Buy a beer and get one free! Click on this link and present the voucher on your phone or tablet to staff at The Monkey House to avail of the offer.
Calle 70 – Calle 70a #8-55: Buy a craft beer and get another free.
Usaquén – Calle 119b #6-21: Buy a beer and get a draught beer free.
Offer limited to one free beer per person. Limited time offer, while supplies last.
---
Don't miss your chance to learn more about craft beers with the Bogotá beer champions The Monkey House. And the city's pioneer pub is offering free beers to our readers, for more details on the offer check out below.
---
Attention: Beer drinkers! It's time to stop being a mere "drinker." We want you to become beer lovers. And what better way to discover your hidden passion for beer than with Bogotá's true champions of beer: The Monkey House.
It's a pub where, according to one of the founders Matt Wyatt, the "raison d'être is to promote beer."
He adds, "We want Colombians to know more about the world's brewing culture so that they learn that beer is a world so diverse in terms of taste, colour, aroma."
So, it's no surprise that since 2007, The Monkey House has consistently been the best place to get the finest in craft and imported beers. With its cozy atmosphere and great service, you'll feel like you've been transported across the Atlantic into a traditional British pub.
However, it's not always easy to love beer in the capital since there are usually so few options in most Bogotá bars. But with The Monkey House's selection of over 142 different brews covering 20 styles (the largest in the city), you're guaranteed to find something to get your taste buds tingling.
Beer isn't just about drinking, it also makes a great meal even better. Which is why, as Bogotá's first true gastropub, The Monkey House pairs every beer with something from its menu, which is overflowing with traditional British pub grub. Doing this is an art as well as a science that draws on centuries-old traditions. As they put it: "There is art, science and a bit of magic in our food and beer combinations."
Even better, there's a wide variety of draught beers available on tap so you can experience these great beers straight out of the keg at the Monkey Draft House in Usaquén.
After a few pints, you'll find you never want to drink anything else!
And if you can't decide on the perfect beer, you'll have no trouble getting help from the friendly and knowledgeable servers who know the menu inside out. They're always happy to make suggestions.
In this way, The Monkey House has dedicated itself to making beer a true experience. They've set up a unique seven-step training process with beer at the centre of everything they do. From pouring the perfect pint to knowing the beers' histories and stories, even the most discerning beer enthusiast will learn something new.
Plus, when the perfect beer is paired with a mouthwatering plate of fish and chips, steak and ale pie, or an all day breakfast, you have a true gastronomic experience.
But why drink craft beer anyway? To put it simply – it's just better beer. There's a whole world of flavours at your fingertips to try. The range and quality of craft beer being brewed in the city has grown massively in recent years and The Monkey House are happy to be a part of this revolution.
Wyatt recognises that "it would be easier to not be innovative" but has found that his customers appreciate it and keep coming back for more. Whether it's authentic pub food, an amazing selection of beer, or the cozy and inviting atmosphere you're after, it's likely you'll keep finding yourself at The Monkey House as well!
It doesn't matter if you're a seasoned craft beer quaffer or trying these exceptional brews for the first time; who better to trust than the pub that's been doing it right for over a decade, and counting?
Types of beer
Dark Ales
If you're looking for an ale as dark as the night's sky, porters and stouts are the beers for you. These beers have robust malty flavours and are often stronger in both flavour and alcohol content than other ales. Pair them with red meat to round out the flavour. Try one with the famous All Day English Breakfast or a delicious Steak with Herb Butter.
India Pale Ales
This unique style was traditionally pumped full of hops to help preserve barrels of beer for the long journey from England to India. In recent years, it's seen a revival as a vessel to showcase the near infinite variety of hop flavours. For the uninitiated, IPAs are somewhat of an acquired taste but after a few pints, you're sure to be a fan. IPAs bring out the flavour in meat and potatoes so enjoy with a Gourmet Hamburger or some tasty Jacket Spuds.
Wheat Beers
If you're looking to explore some of the more interesting flavours possible in beer, a wheat beer should do the trick. Popular in Germany and Belgium, you'll find hints of citrus, coriander, cloves and any number of fruit flavours in numerous styles. At The Monkey House, these exceptional beers always pair perfectly with seafood so give one a try with a Prawn Cocktail.
Lagers
Generally thought of as crisp and easy to drink beers, lagers are by no means boring. You'll find dozens of different kinds, each with its own delicate flavour profile. While usually blonde in colour, some are actually as dark as a stout! Probably the easiest beer to pair with food as it tastes great with lots of flavours such as the Spicy Chicken Wings, Tandoori Chicken Tikka or a hearty Whisky Steak. Make sure to try a darker Schwarzbier with the Chocolate Beer Truffles.
Ciders
Few drinks are more typically British than ciders, which are made from fermented apple juices. Sweeter than beer, cider pairs beautifully with many desserts such as the Apple Pie and Custard but is also great with main courses with fruitier flavours like the Lemon Pepper Chicken or Red Prawn and Mango Curry. Don't miss out on the delicious cider from Golden Lion, Colombia's first and (so far) only cider producer.

---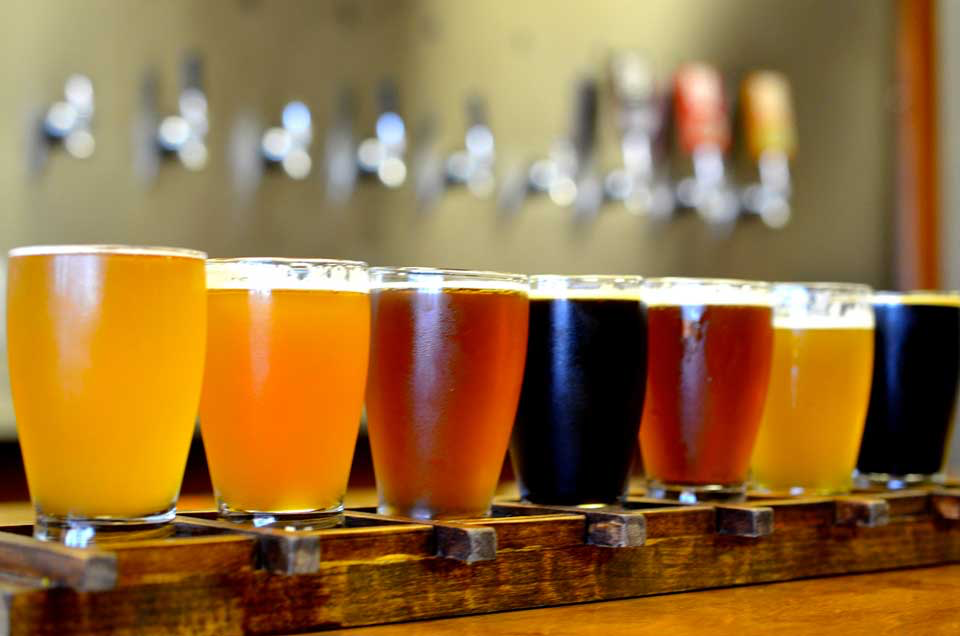 Club de Cerveza
The Monkey House is one of the only pubs in Colombia where every staff member is trained to serve the perfect pint with just the right food to accompany it. This was a process that took time to perfect and is always a work in process.
To continue in this tradition, The Monkey House is launching the Club de Cerveza. The best national and international beers will be showcased each week at both pubs, where club members will be able to get at amazing prices. There will also be prizes and other benefits exclusive only to members.
This is absolutely the perfect way to discover new beers and flavours. Ask about it at either location to get more information and to join the club!
---
Chapinero – Calle 70A # 8-55 / Usaquén – Calle 119B # 6-21
Tel: 805 8648