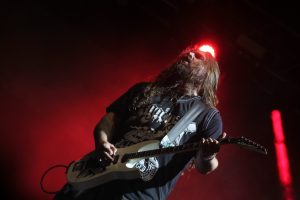 Bogotá seems filled with "al Parque" events these days, from salsa to rap and simply Colombia al Parque. But the big daddy, the lord, the king of all of these, is undoubtedly Rock al Parque. 80,000 people, a plethora of bands and more black T shirts than you can shake a stick at. Pity there's (officially) no booze!
---
Our beloved new mayor Peñalosa might not be able to ride a bike, but he can organise a festival. This year, Rock al Parque seems to be operating smoother and slicker. More toilets, funky new hay-bale seats and tables in the food area, security without a sense of total entitlement and less hassle full stop.
Saturday: I woke up with the usual style doubts of a metalero – which big fucking belt buckle to use? Snake – too southern rock. Bull skull – too rock and roll for today. Pentagram – maybe? Block of metal with PURE FUCKING METAL on it? Bingo! Today is the day for that. No punk, no alternative rock, no mucking about. Rock al Parque always opens heavy as hell and twice as loud.
Related: Rock al Parque Sunday
First band to take advantage of that loudness is Medellín's marvellous Morbid Masacre. Appealingly alliterative, they rip into some rhythmically brutal death metal – perfect for a sunny Saturday in the park! With hints of the Neanderthal, frontman Alex Okendo has come out of his cave with a bad attitude and a voice torn out of the underworld. Backed up by a furious fusillade of kick drums, he pauses only to swear at the audience, declare the importance of listening to local metal and thank the alcaldía profusely.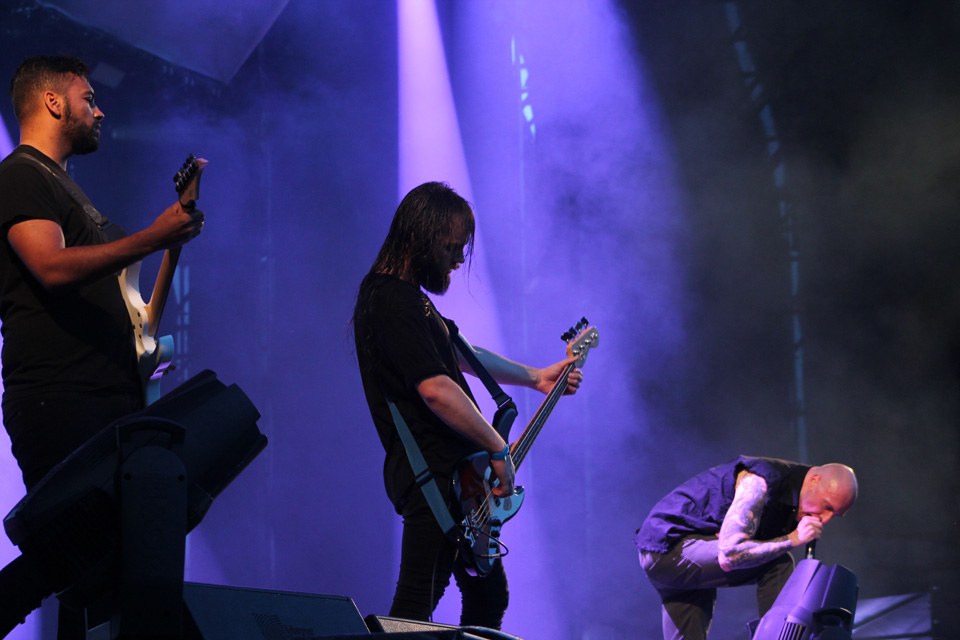 It's a small audience for the paisas, though, as Aborted are killing it early over on the second stage. The cheerily-named American band are like many of their compatriots, very loud and quite angry. They've lost their luggage, thanks to Air Turkey, so they've got a bit more venom in their performance. On too early, they nonetheless are battering the crowd into submission with heavy blows of sonic aggression. This is the high point of the festival, as we dash from stage to stage, not missing local legends Desolator on the third stage. Black metal they might be, but there's a touch of Maiden in the rolling basslines and surprisingly clear vocals. Gathering a fanatical following, they make a point of regularly thanking the crowd. More politeness would go down well in general in the heavy metal world. Fully corpse-painted and toting Viking horns, they're nonetheless very nice young men. Backstage, they're equally humble, insisting on giving fans photos while the PR team seek to shuffle them off elsewhere.

Back to the main stage, and The Black Dahlia Murder are the first band to take full advantage of this sound system. They've turned it up way past 11 and are pummelling us with double kickdrums harder than a panel-beater who hasn't been laid for a month. Despite looking like they should all be playing Warhammer, they are ferocious in the extreme. Singer Trevor Strnad howls above a cacophony of noise, those drums rolling off the stage like a landslide, burying the crowd in an avalanche of metal. All around us, people have fingers jammed in ears and faces like bulldogs licking piss off a nettle. Betwixt songs there is precious little respite before the wailing guitars start off again and those drums smash against our chests like we're 'aving fucking heart palpitations. Truly, the Murder separate the metal wheat from the ponce-rock chaff.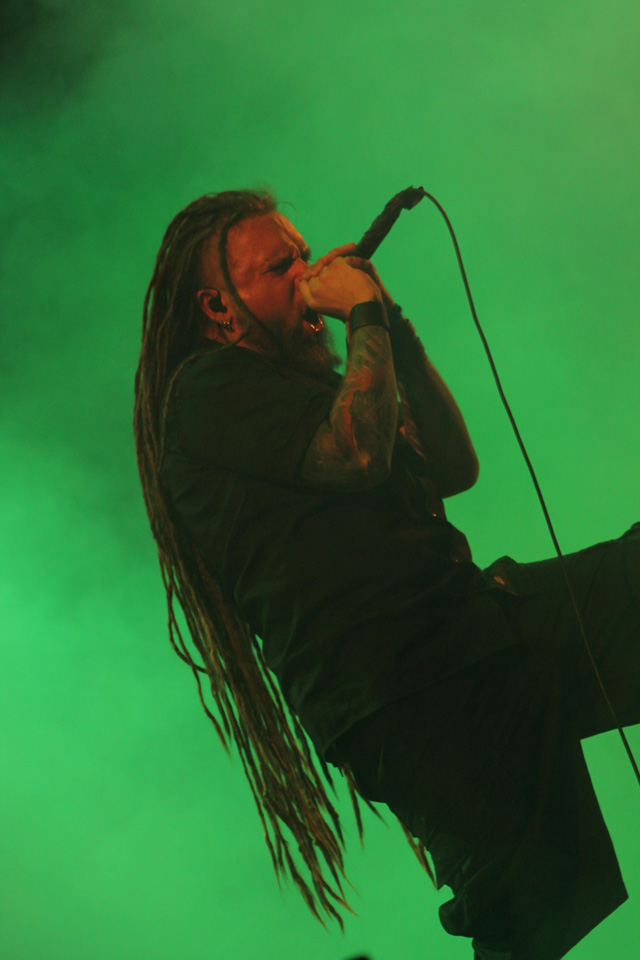 Goretrade benefit from the praise of Trevor Strnad, but their show is curiously restrained. Further up the bill than they warrant, these expat Colombians clearly have talent but are somewhat starstruck. Nonetheless, it's nothing bad, pleasingly vicious guitars dancing on top of a steady, monotonous bass-wave. Decapitated are following, though, and that's a huge draw. This year's traditional Big Polish Metal band have followed Vader and Behemoth in recent years. Singer Rafal Pietrowski flies around the stage like a big ginger storm. A whirling dervish of fevered intensity, whiteboy dreads are hurled into the air and come crashing down like the colossal riffs the band are generating. More muscular than anyone yet today, Decapitated are used to big stages and they dominate.
As the Poles finish up, we follow the herd round to see Sepultura. Earlier, Andreas Kisser had dismissed the idea that they were a band in decline, claiming that they would put on a hell of a show. The start is rather inauspicious, as giant singer Derrick Green hulks about but is impossible to hear. Eventually, though, the vocals are sorted out, and a storm starts. We're not forced to listen to more than two newer songs in a row, as they liberally scatter classics like Straighthate throughout the set. As always, Sepultura sound like war, Kisser's machine-gun riffs strafing the audience while the drums ring out like irregular bombs. Everyone else today has relied on a stream of bubbling kickdrums, but Sepultura are a different beast. Much more musically complex, the drums here provide real rhythm, complemented by the giant bass drum that Derrick pounds upon. When Refuse/Resist comes out, the crowd lose their shit. Classics from Beneath the Remains follow, before Ratamahatta. A rare treat, this tribal-influenced beatfest gets everyone up and dancing. From there, only one song can come, and everyone knows it. The air hangs in electric expectation as Green winds up the tension "I want all of you fucking singing to this one," he roars. "You know what this is." That riff rings out, that crushing bassline breaks and crashes upon us like thunder, and he roars out that chorus we all know "ROOTS, BLOODY ROOTS". Everyone around me is screaming, thrashing, hair flying about. This is passion. This is pure fucking metal. This is Rock al fucking Parque.
There are still two days of great music to come – watch this space…