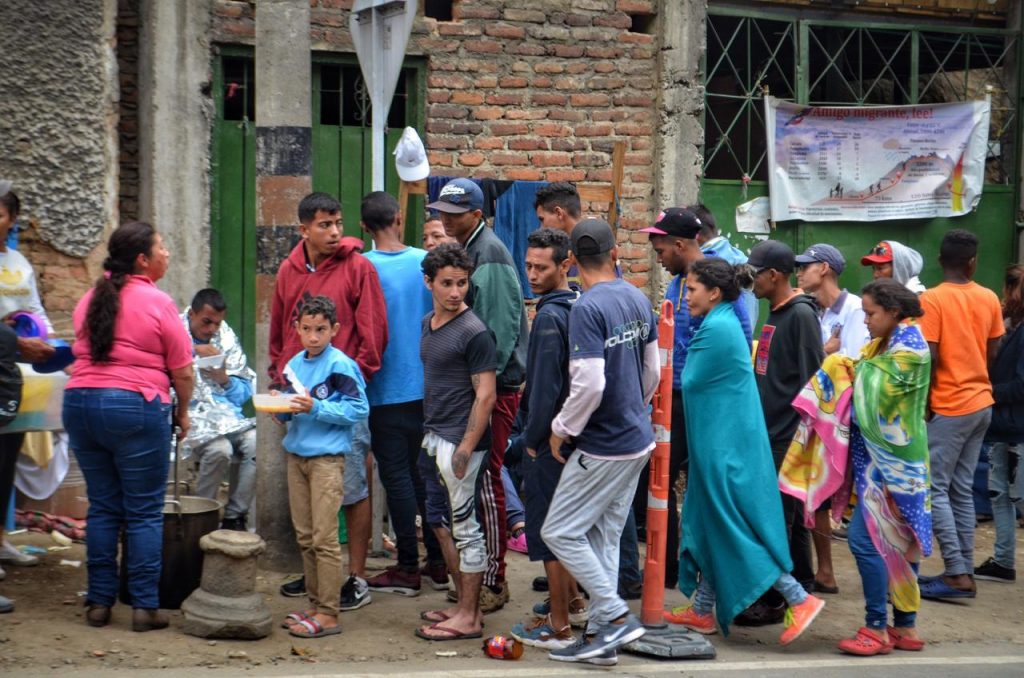 A day before the failed attempt to deliver several tons of humanitarian aid into Venezuela on February 23, President Maduro closed Venezuela's borders indefinitely as a symbol of defiance against neighboring Colombia, who he labeled as "fascist" after breaking diplomatic ties. However, the closure of borders and the presence of Venezuelan soldiers at key checkpoints is not deterring the massive exodus of migrants fleeing Venezuela on foot in search of a better life elsewhere.
Pamplona, the first city where many stop on their way to Bucaramanga, shows a clear picture of how the migratory flow has not altered in numbers despite the increased risks. Migrants are now forced to enter Colombia by crossing clandestine trails known as "trochas", controlled by armed groups. Staying in Venezuela not being an option anymore, Venezuelans are navigating these dangerous routes that are fought over by armed groups through the paid services of smugglers and other illegal networks.

Marta Duque, owner of a shelter in Pamplona, is not surprised that she hosts the same number of Venezuelans despite the border being officially closed. "People keep coming here every day and they have a more traumatic experience every time. Some days ago a man came and his body was full of bullet wounds", she said. The man had been part of the coalition who tried to bring the aid into Venezuelan territory.

Roxibel, a 29 year-old woman, arrived in Pamplona from Maracay in Venezuela after traveling almost entirely on foot for five days and without any money. Her journey took her from San Antonio in Venezuela into Cúcuta in Colombia through a clandestine trail under the Simón Bolívar International bridge. She described the experience as harrowing.
"The person that crossed us not only made us pay 30 thousand pesos per person, he also stole all our savings by searching our belongings and clothes. It was a traumatizing experience and now we are stuck here hoping that God will help us get to Bogotá safely", Roxibel said, who fled Maracay with a friend and her two children. Her friend blames the government for their suffering. "Maduro wants to lock us inside Venezuela as prisoners, but we are in serious need for food and medicine for our children and that's stronger, he can't stop us", she complained. Roxibel's family is waiting for her in the Colombian capital.

Inside a shelter located on the Pamplona highway, Daniel is sitting next to his wife. He's continuing to Bucaramanga and she's travelling to Cali to look for her children who she left with their father three months ago. They are nervous to walk away from each other and Daniel's leg shivers while they hug, the shocking memories of crossing the border still fresh in his mind.

"In the trochas you can see police officers and military, but they have no power, it's a different world controlled by the guerrilla", the man from La Victoria, Venezuela, recalled. "When we arrived in San Antionio, a group of men approached us and demanded 15 thousand pesos for each person to cross. In the case of men, they made us turn our hats around and tie our t-shirts up to show our belly. That was their way of checking that we were unarmed. The experience was terrifying as they were heavily armed. You can see how they rule the place, nothing else matters", said Daniel. He hopes to find a job as soon as possible either in Bucaramanga or Bogotá to send money back to his parents.

Most of the migrants arrived at Pamplona after walking non-stop for two days. Some of the migrants, mainly women and children, had been lucky enough to be picked up by a car or a truck.
Natalia is wrapped in a thick blanket and sitting with her partner outside Marta Duque's shelter. She says she's lucky to have had a good experience while crossing a trocha from San Antonio into Cúcuta. "To be fair, I can't complain, I contacted two women before arriving there and they helped me cross. They were the only two women doing that job in a place full of men. They withdrew the money my family had sent me, took their part and gave me the rest. I was very lucky", she said.

A completely different experience was shared by María, who crossed the Ureña border through a clandestine trail with her husband and disabled daughter. Considered the deadliest and most violent of all the border crossings, María recalled that "The men who crossed us into Colombia stole absolutely everything from us. The water was foul and we arrived in Colombia smelling really bad and without anything. The men searched us for valuables before we crossed and again when we arrived just to make sure there was nothing left to take from us. We saw how they were hitting a man but we were too afraid to look around. When we crossed onto the other side some heavily armed men told us 'welcome to Colombia' and laughed".
A feeling of uncertainty prevails over all Venezuelans in Colombia, from those spending time outside a shelter in Pamplona, to those trapped since February 23 on the Colombian side of the border and too afraid to return home through clandestine trails. This same feeling of doubt is shared by the students, workers, and among the hungry living in Venezuela who cross into Colombia on a daily basis just to survive. A feeling that grew from not knowing when and how the next political maneuver will hit them.

Caterina Weller is a student of development studies in Amsterdam and has been volunteering at migration shelters in Cúcuta and Pamplona. Opinions expressed in this article are the author's and do not necessarily reflect those of The Bogotá Post.