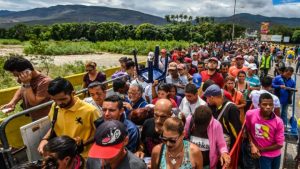 The turbulence surrounding Venezuela's humanitarian crisis has begun to veer towards breaking point as neighbouring countries place limitations on Venezuelan entry requirements.
Until last week, Venezuelan citizens were able to travel through the majority of South America with just a possession of an ID card. Ecuador, however, closed its border to Venezuelans not in possession of a passport last weekend and Peru is set to follow suit by next Saturday.
Citing a state of emergency in a number of Ecuador's northern states and the need for a contingency plan to stem the flow of some 4,200 migrants entering Ecuador every day, by Sunday the new decision has left over 1,000 people stranded in Colombia just metres away from the Ecuadorian border. Some have walked over 900 kilometres in search of work in countries further south and the sense of desperation is merely accentuated amidst growing hostility and violence towards migrants across the continent.
Driven by hunger and insecurity, it is unlikely that Ecuador's new regulations will stop migrants leaving a country dogged by hyperinflation that has seen the currency value drop by 99.9%. On top of this, over half of Venezuelans travelling through Colombia do not own a passport because the country is refusing to issue them, reported Al Jazeera. Combined with soaring black market fees of up to $2,000 for a passport, many of the estimated 2.3 million Venezuelans who have left since the economic crisis hit five years ago have no other option but to leave with just their ID cards.
The current reality for Venezuela, ridden by an 85% poverty rate, political turmoil, food and medical shortages is that the historic amount of people choosing to leave in fear of their lives is merely set to balloon despite the new hurdles that have been put in front of Venezuelans.
Ecuador's partial border closure is set to send ripples across the rest of South America as governments rally to support the humanitarian crisis. Bearing the brunt of Ecuadorian President Lenin Moreno's decision will be Colombia, in which 47,094 Venezuelans entered in the space of January 2018 alone. Yesterday the Colombian government relayed support for an urgent meeting of the Permanent Council of the OAS (Organisation of American States) proposed by OAS Secretary General,  Luis Almagro.  Expressing concern at the decisions by Ecuador and Peru to stem the flow of migrants, Colombia pointed out that the meeting stands to represent a multilateral effort across the continent in order to support the humanitarian crisis. In the meantime, Colombia remains the largest receiver of Venezuelan migrants who either look for work or continue the epic journey across the continent.
Over the weekend, headlines recently surfaced that revealed Brazilian citizens had attacked Venezuelan migrants in the bordering town of Pacaraima.  Following reports that four Venezuelans had attacked a shopkeeper, the backlash saw Brazilian locals use a bulldozer to destroy a migrant camp as well as setting fire to migrant's belongings. Despite the growing violence, Brazilian legal authorities have announced, however, that Roraima's call to close the border would be illegal and wouldn't improve the situation.
Peru has become the latest country to impose the requirements of a passport on Venezuelan migrants following rising tensions within the country. The country has experienced some of the largest influx of Venezuelans after authorities gave migrants the permission to work and study in the country.  According to Bloomberg, the decision is linked to a case earlier this month in which a group of Venezuelan gang members had been caught after planning to rob a bank in Lima. Before the border closes, it is expected that there will be an increased influx of Venezuelans attempting to access the country.
After travelling nearly 2,500km past restrictive borders, when looking further south to Bolivia, Argentina and Chile, so far humanitarian laws allow for the freedom of movement within the countries. The introduction of Chile's 'Visa of Democratic Responsibility,' channels a direct attack against Maduro's government in name and in motive. In May of this year it was recorded that over 31, 167 Venezuelans currently resided in Argentina, a phenomenal growth from the 1,510 recorded in 2011. Similar to Chile, the Argentine government has slammed the Venezuelan government for the treatment of its people to the extent that President Macri wanted to take Maduro's government to International court for human rights violations.
In the face of ever-growing migration rates, the question remains: where to next for the many helpless migrants? Although so far a number of countries both in South America and overseas have endeavoured to help Venezuelans, experts have suggested Latin America's migration crisis could surpass the number of people who have left Syria in the face of their civil war. The reality is that the majority of migrants are young workers who hope to find employment and funds that they can send back to their families, though increasing hostilities have begun to mount against their plight.
Looking past the treacherous Darien Gap which cuts off Colombia from Central America, northern countries might also be potentially facing another brewing crisis, following an estimated 350 people that  have been killed in Nicaragua by pro-government forces. Despite nationwide protests against the Nicaraguan government, protestors have been met with significant violence in recent months and reports have surfaced of refugees travelling for 13 days to reach safety in Costa Rica.
The South American continent is facing a humanitarian crisis in which no country can be devoid of participation. Before Venezuela's population can even reach a neighbouring border, little has been spoken of the phenomenal overland journeys which many migrants have undertaken across mountain ranges and testing climates with little belongings. What hunger and socioeconomic struggle could lead to, however, is an increased, more desperate irrationality which, in the face of growing hostility from locals, could exacerbate this crisis even further.