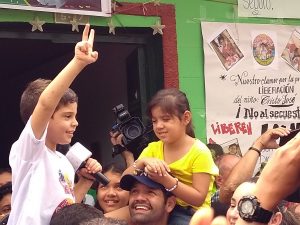 Cristo José Contreras, the five-year-old son of El Carmen Mayor Edwin Contreras, has been safely returned to his family after being kidnapped one week ago.
President Iván Duque confirmed the reappearance of the boy with a tweet on Tuesday: "I just talked on the phone with the mayor of El Carmen, Edwin Contreras, and his son Cristo José. We are happy that he's back home."
#Bogotá Acabo de hablar telefónicamente con el alcalde de El Carmen, Edwin Contreras y su hijo, Cristo José. Estamos felices que esté de regreso en casa.

— Iván Duque (@IvanDuque) October 9, 2018
According to El Tiempo, the ordeal ended Tuesday when the boy was left on a road in the town of Guamalito in the North Santander region. He was found crying and alone when a soldier located him.
A video from the Colombian Armed Forces shows a smiling Cristo José being carried home by his father and military personnel. It took 500 military members to assist in the operation of freeing the young boy from his captors, who are still unknown.
De esta manera nuestros soldados del @COL_EJERCITOlograron la liberación de #CristoJosé en uno de los cuadrantes del municipio de Guaimalito; en donde más de 500 soldados realizaban operaciones de control y registro. Su sonrisa el pago a la ardua labor de los héroes de la patria pic.twitter.com/mmXoha31yz

— Fuerzas Militares Co (@FuerzasMilCol) October 9, 2018
Last Wednesday, two armed men took the boy when he was playing outside in the small town of Guamalito in the municipality of El Carmen. A week in captivity has made Cristo José a household name in Colombia with President Duque even inviting the boy to have lunch at Casa de Nariño earlier today.
Authorities are still looking for those responsible and have offered a reward of $150 million pesos for any information about the captors. Initial media reports laid blame on the ELN, a guerrilla group that maintains illicit activities in the department of Norte de Santander.
Peace talks between the ELN and the government remain on a knife's edge with President Duque saying that dialogue will be non-starter if the group maintain their criminal acts.  The group however claimed they had not abducted the child and, perhaps more importantly, Duque himself said there is little certainty as yet as to who was responsible.
This article originally appeared on Colombia Focus.