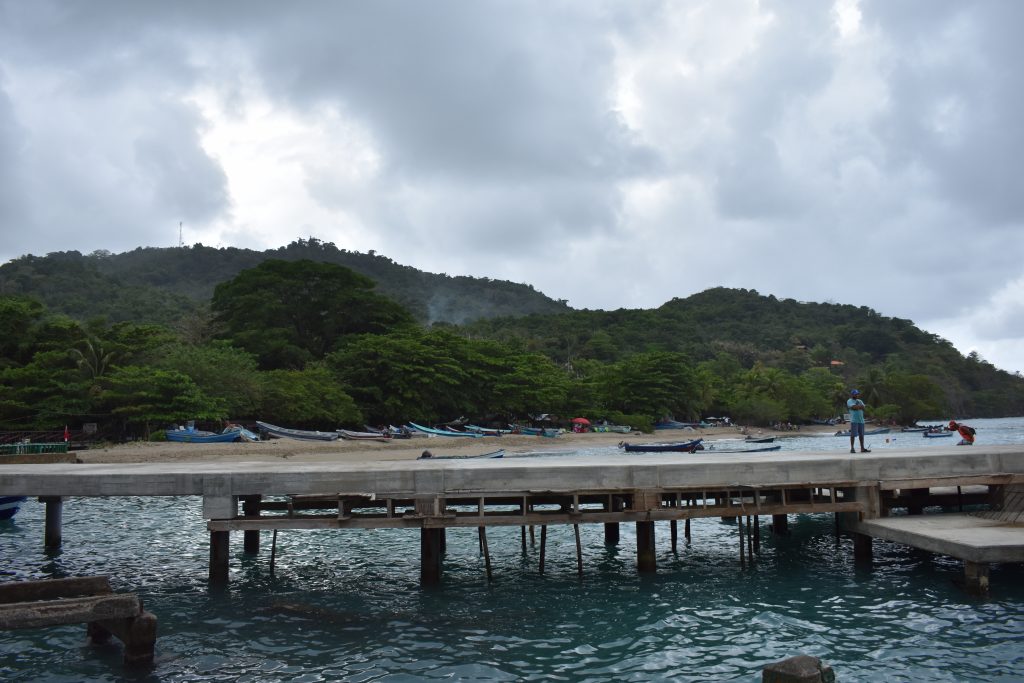 A region that is both underdeveloped and overexploited, the Gulf of Urabá in Chocó remains an attraction to tourists looking for forest hikes and sun-filled beaches. The Bogotá Post goes camping in Colombia's bridge to Central America.
"Everything I do, I do it with love." This was what Tavo said when preparing a meal of tuna pasta and patacones for an impromptu gathering of twelve. He had taken three hours to complete the meal and had consumed nearly a pitcher's worth of aguardiente in doing so. Around him were close friends from Medellín and an indigenous family who had hiked five hours to see him to gift him a chicken.
He was also happy that we were staying and said yes to camping on his front lawn despite having seen a venomous snake streak across the lawn with a toad in its mouth. "I always do things out of love." Tavo said again.

There's a wild, madcap edge to camping in the Gulf of Urabá that's likely to appeal to adventurous travelers. The terrain is overrun with reptiles and it's not uncommon to find scorpions hiding within its dense forests. Both underdeveloped and overexploited, the region borders Panama and is Colombia's passage to Central America. None of the villages here are accessible by road as it is surrounded by the thick forest of the Darien.

Given its proximity to Antioquia, the businesses and local institutions are run largely by paisas. Tavo, for example, left his office job in Medellín over 13 years ago and now runs a beachfront hostel in San Francisco (also known to locals as San Pecho). Tavo's lawn was our first campsite after we took the boat from the coastal town of Turbo.

The terrain in Gulf of Urabá is overrun with lizards of all colours, shapes and eccentricities.
The Gulf of Urabá offers travelers the chance to hop from one coastline to another via boat all the way up to Sapzurro, a village that borders Panama. The boat ride from Turbo to San Francisco is over an hour and is half the adventure. If you're lucky, the waters are placid. If you went in January you will have the privilege of experiencing zero gravity several times over before crashing down hard on the boat's wooden seats.

It is high octane and little fun if you're prone to seasickness as the surly sailors ride their craft rough through choppy waters. The tourism authorities have done well to update the port at Turbo but haven't spent nearly enough time on the user experience on these boats as the wild ride may lead many to take their chances with the light aircraft that land in the northern villages of Capurgana and Acandí. For those that can stomach it though, the destinations in the Gulf of Urabá might just be the wild week-long trip that many are looking for when camping in the region.

Behind Tavo's hostel lies the Bosque del Domo, where a sage Roderigo awaited us with his small companion; an orphaned howler monkey named Yoda. Roderigo showed us around his family's private sanctuary which stood at the top of a hill in San Francisco. In addition to having their own electricity generated by a large solar dish, Roderigo spoke of the need to reduce plastic consumption to protect the habitat around them as it was a concern not being addressed as a rising number of travelers visited the region.

This was a general theme along the coastline with many of the beautiful varicoloured beaches washed up with plastic and rubbish that were, in addition to being an eyesore, a harmful presence in the ecosystem; particularly given the way that microplastics enter the food chain and food supply. At a hostel in Trigana, an hour's walk from San Francisco, employee Marcella told us that the rise in tourism, particularly in the village of Capurgana, was having a devastating effect on the natural habitat.
Of the many villages that dot the Gulf of Urabá, Capurgana is one of the most developed, particularly in its infrastructure for tourists. In addition to having to having a large number of hostels and campsites catering to tourists, the village is also a point at which migrants from Africa, Asia and Cuba make their passage onwards into central America.
Despite its popularity, we decided against camping here, choosing instead to persuade local guide Gustino to take us to Sapzurro on his small motorboat for $10,000 each.
Sapzurro seemed an ideal place to explore more of the coast as the tourism authorities had provided well for a scenic walk to Capurgana (around 90 minutes and costs around COP$10,000) or a brief climb towards La Miel, Panama (20 minutes and free) which has stunning white-sand beaches and turquoise waters.

In looking for a place to stay in Sapzurro, we found Fanor's house. Built nearly 50 years ago, Fanor rents out rooms as well as his lawn overlooking the beach as a space for campers. At first the campsite had four other tents but, on our last night, we were the only tent onsite.
On our first night alone, the town's only club was playing reggaeton loud enough to be heard in the distance. We could also hear Fanor speak with a neighbour about a man that was breaking into people's cabins at night.
At 4:30 in the morning a man with white-striped chanclas unzipped the tent and reached in. He had expected to be silent enough to reach for anything he could find but, when he heard startled voices from within the tent, he made a run for it. Remarkably, Fanor had been up since 4am preparing a ceviche of shrimp (ceviche de camarones) when he heard screams for help.
His wife was six months pregnant and lived in Turbo awaiting the birth of their child. She craved shrimp ceviche (a dish of the region) made of shrimp, lime, spring onions, mayo and wild cilantro. He usually adds hot sauce but he had run out this time. Running out in the darkness, Fanor went to find the neighbour who'd alerted him to the situation. The waves were calm when a single gunshot fired in the darkness.

We had been lucky. This wasn't the type of ladrone that was interested in putting up a fight and had left empty-handed. He also left with his life as the gunshot we had heard was an attempt to scare him off. "When I get my hands on him, I'm going to kill him," Fanor warned, steamed that he had gotten away.

Incidents like these could have happened on any campsite but we could see from Fanor's rage how important it was that the region have a positive reputation for more campers to choose the Gulf of Urabá. Given the common knowledge that the area is a known route for paramilitary activity, drug-trafficking and people smuggling, many locals are hoping that tourism can provide a lifeline to look beyond its violent past.
Camping in Gulf of Urabá can range from COP$8000 to $20,000 per person per night depending on the locale. Long distance boat rides can be heftier at around COP$50,000 per person. Tickets for boat rides can be bought from Turbo and Neococlí with both towns accessible by bus from Medellín.
Photos by Arjun Harindranath