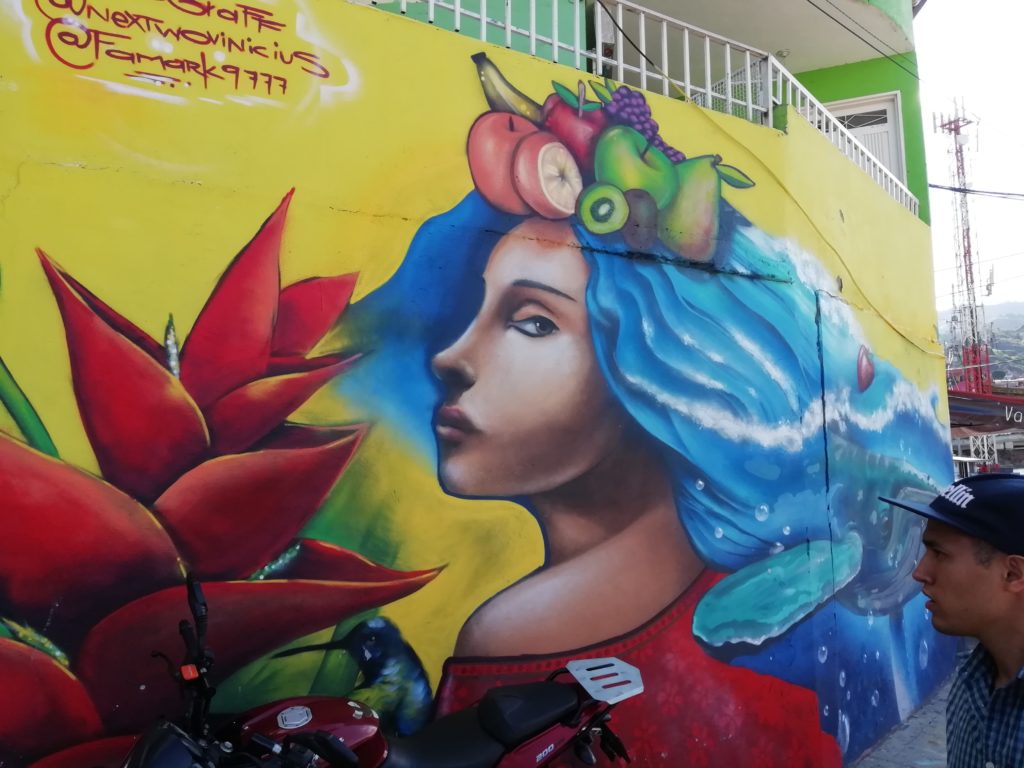 Having volunteered in Comuna 13 for three months, I rode the barrio's escalators to the community center every Sunday and grew accustomed to the vibrant graffiti and constant flow of tourists.
However, this visit to the comuna would be different, as it was my first time visiting with a local resident who was born and raised in the barrio. The tour company, Impulse Travel, also arranged for a city guide and translator to accompany me if my Spanish wasn't up to scratch. During our journey on the metro, followed by a short bus journey, the city guide, Fransico, began explaining the history of Comuna 13.
At the foot of the barrio, we were greeted by Andres, our local Comuna 13 guide.
Andres began the tour by explaining how Comuna 13 became a home for those displaced in other parts of Colombia. It was government land under the control of gangs and guerrillas.
In 2002, when Andres was just a child, the army stormed the neighborhood in two separate military operations–Mariscal and Orión–pushing out the gangs and guerrillas who controlled the neighborhood. During the attack, Andres and his siblings hid under their bed. From there he could hear gunshots, screams for help, and people running throughout the 12-hour ordeal, which he described as, the most brutal example of the urban conflict in Colombia's history.
As Andres recounted his childhood memories of the event, it hit me just how recently this took place: Andres, a young man in his mid-20s, and I was the same age. To hear these stories first hand made me realize how much this neighborhood has changed within such a short space of time. Despite walking these streets many times before to get to class, I had never understood the gravity of what took place here less than 20 years ago.
But times have changed. Now it is buzzing with energy, color, and tourists. At the heart of the community are the famous escalators that carry citizens and tourists to the top of the barrio.
About halfway up, there is a community center where classes are taught to locals.
We reach the top to find a hip-hop dance crew showing off their skills.
This slide stands as a memorial for a young boy who was killed by a stray bullet.
On the final part of the tour, Andres took Francisco and me down a narrow alleyway, convincing us that it was a hidden secret that only the locals know about.