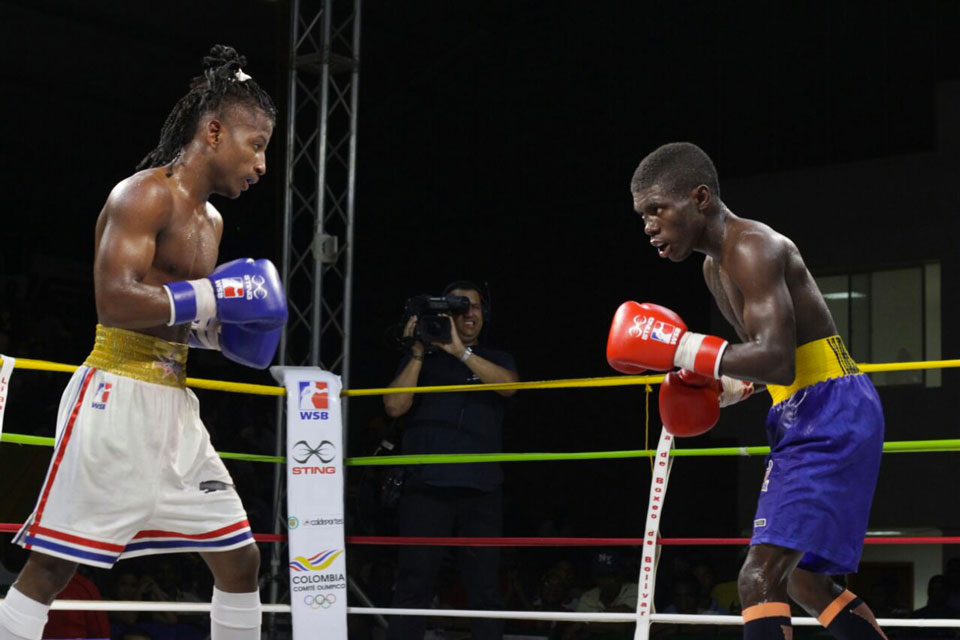 In Cartagena, Colombia, the Heroicos boxing team caused a huge upset by beating current titleholders Cuba Domadores 3-2 in the third outing of the World Series of Boxing. Yuberjen Martínez claimed the final victory against Johanys Argilagos in a rematch of the Olympic quarterfinal.
---
In a packed Coliseo Bernardo Caraballo in Cartagena, the Colombian team got off to a cold start, when Heroicos invitee Leonel de los Santos from the Dominican Republic suffered a defeat against Javier Ibáñez.
The Heroicos then fell even further behind, as José Tordecilla was no match for Andy Cruz. The impressive turnaround started with the Olympian Jorge Luis Vivas, who recorded a tight split decision victory over Arlen López to keep Colombia in the race. 
Heavyweight Deivis Julio then overcame a seemingly impossible task against 22-bouts-unbeaten Erislandy Savón to even the score. Julio was looking for revenge as he was defeated by Savón in the final of the Pan American Games in Toronto 2015. The 36-year-old Colombian was not intimidated by his decade-younger opponent, got stuck in after a losing start and won on split decision.
The decisive point was down to light flyweight Olympic silver medallist, Yuberjen Martínez, who faced a tough opponent in the shape of Johanys Argilagos. The two had met in the quarterfinals of the Olympic games in Rio de Janeiro almost seven months before in what had been an extremely tight bout that went to the Colombian boxer on a split decision.
This time around, Yuberjen left no such doubt about who was the best. He kept the Cuban under pressure and claimed a deserved unanimous victory. With the 3-2 victory, Colombia took the lead in Group B with nine points and almost secured qualification for the play-off stage. Cuba follows with seven points and Venezuela with three, while Argentina stay bottom of the group with one point.
On March 17, Colombia will host Argentina in Cartagena and a victory will put them in the quarter-finals. The Heroicos continue with fixtures against Caciques Venezuela on March 31 before they face Cuba in Havana on April 21 for the return leg against the Domadores.
---