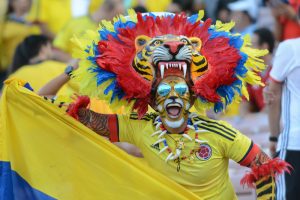 Colombia's toughest test before it opens World Cup play in June looked like it would be an abject failure when it started, but ended with Los Cafeteros passing in flying colors.
Taking on a fully-stacked France squad in Paris is no easy task, and Colombia's comeback win Friday in the 3-2 friendly proved this team has what it takes for another magical run at the 2018 World Cup.
France's Olivier Giroud opened up the scoring for the home team in the 11th minute after Colombian keeper David Ospina was unable to keep hold of the ball. It looked like the beginning of what was sure to be an ugly outing for the Colombians as their biggest stars were no-shows in the first 45 minutes.
Midfielder James Rodríguez struggled to find his form in the first half, as he horribly overfired a corner kick and consistently turned the ball over with ease. Fellow star Radamel Falcao was similarly held in check as the French backend made a point to suffocate the veteran.
Inversely, the 19-year-old wunderkind Kylian Mbappé played brilliantly as France's No. 10.
The former teammate of Falcao at Monaco made a beautiful play on transition to extend the play and assist current Monaco star Thomas Lemar on an easy goal that put France up 2-0 early.
What should have been France's third goal came from another great Mbappé pass to striker Antoine Griezmann, whose effort was stopped short thanks to a noble diving effort from Ospina.
The only saving grace for Colombia in the first half came from a usual substitute. Luis Muriel pushed in a tricky goal past goalie Hugo Loris, who was made to think twice as Davinson Sánchez was barreling in for a near tip. Getting a closer look due to the injury to key winger Juan Cuadrado, Muriel was the only constant on Colombia's attack. The 26-year-old who plays for Sevilla in Spain's first division was making a strong case for being a regular starter in the World Cup with a great first half.
In the second half, Muriel's fortunes changed as he missed wide on a clear goal then made the wrong read to keep the ball on a follow-up chance when he could have left it off for a wide-open Falcao.
Colombia, however, seemed to catch up to France's flying pace after halftime as they churned out productive counters that eventually led to the tying goal.
That second goal was a gorgeous lead up from Carlos Sanchez who fed a streaking James on the right side. Instead of trying on the goal himself, James this time found the open Falcao who put Colombia's tying goal in the back of the net. The defense tightened down considerably, led by the pair of talented young centerbacks and an inspiring performance from leftback Frank Fabra.
In the 84th minute, it was José Izquierdo who drew a penalty in the box and Juan Fernando Quintero was true on the penalty kick that ultimately gave Colombia the surprising but deserved 3-2 victory.
The win marks Colombia's first win ever over France and keeps coach José Pekerman's undefeated record against European competition intact. More importantly, the win should supply the needed confidence going forward to the World Cup and assure Pekerman that he has the talent available to make another strong run similar to that in 2014.