Campaigners in Bogotá, Medellín, Cali, Santa Marta, Tolima, and Ibague call for national climate emergency.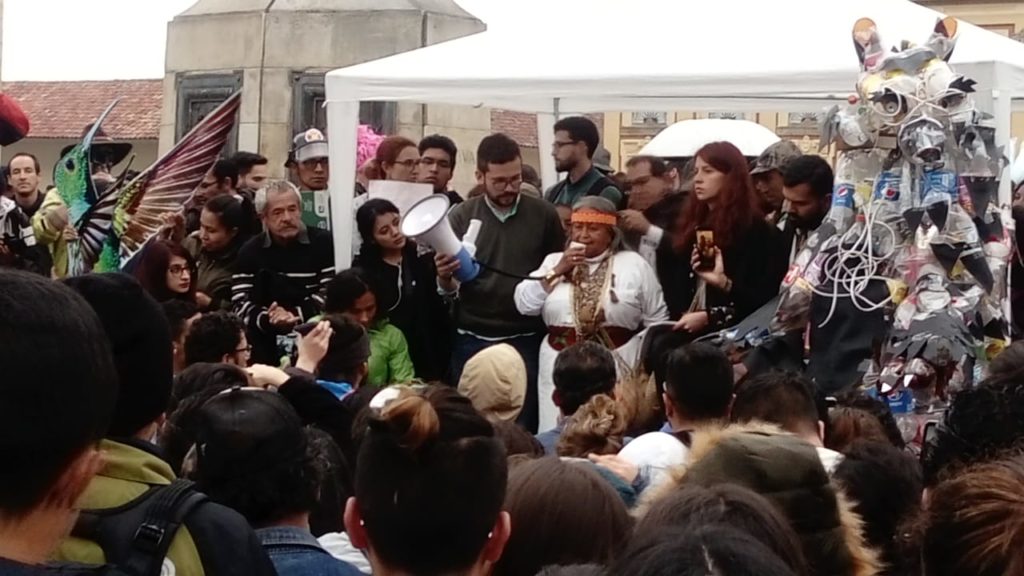 "Salvemos al planeta," let's save the planet, read one of the many signs billowing in the wind in La Plaza Simon Bolívar on Friday, September 20 where activists and supporters gathered to be part of the largest international climate strike in history.
Greta Thunberg
The global strike, which is spearheaded by Swedish activist Greta Thunberg's youth activist group, Fridays for Future, marked the beginning of a week of climate campaigning. According to the group, over 4 million people took part around the world, with protests in more than 160 countries and 3,500 cities.
Colombia's participation in the global action went beyond the capital, with events in Medellín, Cali, Santa Marta, Tolima, and Ibague. One of Fridays for Future's central demands is for individual governments to declare national climate emergencies. A Change.org petition here obtained 70,000 signatures, calling for President Duque to declare a national climate emergency.
Representatives of campaign groups, indigenous groups and student bodies all took the stage, and though each speaker had a slightly different angle, they shared a unifying message: we must demand structural change and direct government action.
"Even though it wasn't the biggest protest that La Plaza de Bolívar has seen, I think quite a few people came out and it just kind of shows you that people all over the world are starting to wake up and are starting to become conscious about the fact that we really need to care for our environment and do as much as we can to prevent climate change from happening," said Iván Suárez Díaz, a member of Extinction Rebellion (XR) Bogotá, one of the groups involved in the protest.
"I just hope that in future events, more people will join us so that we can make more noise and so that we can put more pressure on our government so that they can take real action to prevent the environment," he said.
Extinction Rebellion
Extinction Rebellion originated in the UK just over a year ago and describes itself as an international apolitical group that calls on governments to "act justly on the climate and ecological emergency." Its three principles are to tell the truth, act now, and move beyond politics. The groups in Medellín and Bogotá have added a fourth guiding principle, which XR Bogotá member, Holly Eustice, tells us is to demand the "defence and protection of indigenous communities, protectors of life and guardians of the territory."
Related: Fracking, deforestation and more from our environmental coverage
According to Eustice, Friday's protest at La Plaza Bolívar was "a chance to make our voices heard, and it's also striking as a form of civil disobedience which is at the core of Extinction Rebellion."
"Being from the UK, our history of imperialism and domination has directly affected communities around the world in terms of exploitation of their natural resource and of labour resources," said Eustice.
"The regenerative culture aspect means that we are looking for a new way of living in our society, of taking more time to look after ourselves, taking more time to look after each other and to really connect with nature. Because at the moment we live in a society that's based around making money, working, and kind of being a slave to the system. So I think one of XR's values is reflection and learning… in terms of how we relate to our natural ecosystem and our natural environment."
Friday, September 27 will see more action from Fridays for the Future in Bogotá, this time outside Ecopetrol's headquarters where activists will take a direct stand against the fossil fuel giant's leading role in fracking in the country.
And in October, Extinction Rebellion are holding an International Rebellion, a two-week series of protests and demonstrations starting on October 7. The movement aims to "occupy the centres of power and shut them down until governments act," thus disrupting business as usual through civil disobedience.