Dilan Cruz, who was shot by ESMAD on Saturday, has died in hospital.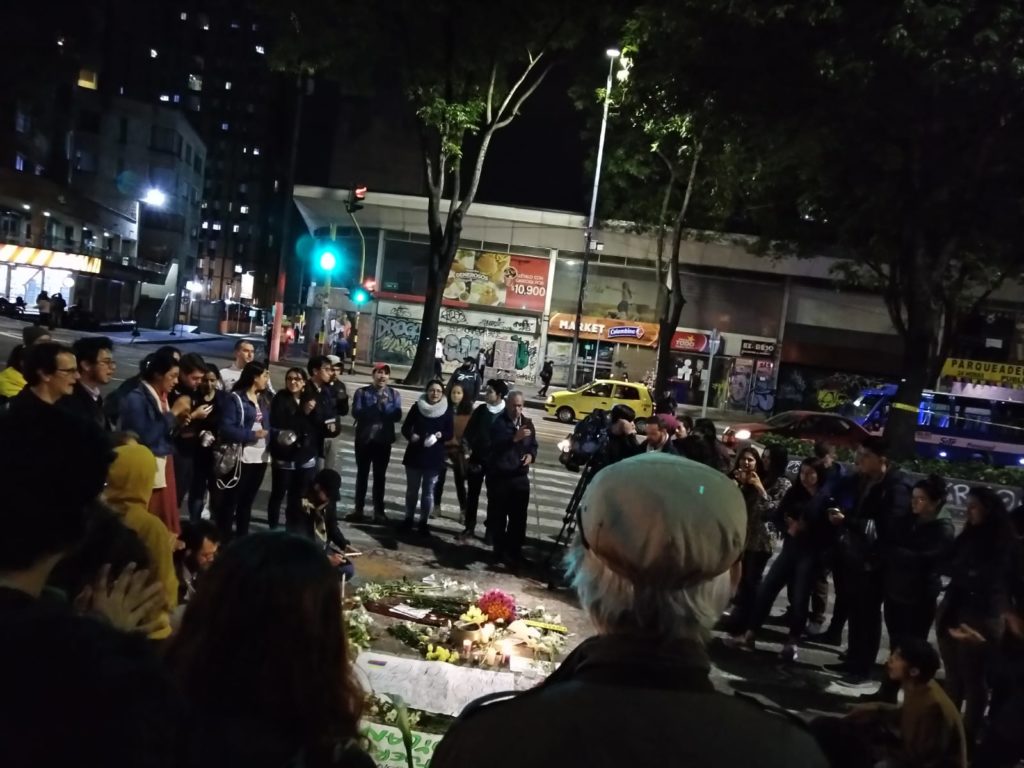 Yesterday should have been Colombian teenager Dilan Cruz's graduation from high school. He didn't attend. He was far from home in hospital at San Ignacio, with grave injuries which he later succumbed to. His injuries were not from a misjudgement of his or some terrible accident, they were entirely avoidable. He was killed by a person who was ostensibly there to protect the peace, but who instead recklessly killed a citizen he was sworn to serve.
He was killed in a callous fashion. This was no running battle or even a true heat-of-the-moment decision. Video footage is being widely circulated which shows Dilan moving away from the scene of the conflict. This was not a violent clash between protesters and police, just a clearing of the area by ESMAD. He didn't move as fast as his friends, and one of the ESMAD forces levelled his tear gas grenade launcher and fired a grenade directly at the young man from close range. It penetrated his skull and he fell immediately.
Dilan was on the streets of central Bogotá to protest for better access to educational opportunities. He wanted to study administration at university, nothing more. An ambition that many of our readers take for granted, but a dream that would have changed Dilan's life. That dream died on Monday, November 25.
It is not that the policeman intended to kill Dilan. Talk of deliberate murder is exaggerated. But he acted in a way that makes it clear he did not value the young protester's life. He took an action that no moral human being could possibly justify, an action that had catastrophic results and was entirely and absolutely unnecessary.
It is a testament to the peacefulness of the thousands of protesters who were on the streets when we learned that Dilan had died that the demonstrations continued peacefully. In many countries that would have been the spark that ignited the tinderbox.
Read more on Colombia's national strike:
Sin Violencia – A first person account to the protest
Strike leaders tell government to listen to people's demands

Follow all our coverage on the national strike
Dilan was not throwing rocks, he was not threatening the riot police. He was unarmed and did not have any protection. He was shot in the back of the head by a man clad head to toe in armour, who wanted to clear a crossroads for little discernible reason. This was not police responding to aggression, this was a complete and utter disregard for the lives of those that were in their way.
I'm not going to pretend that I knew Dilan; I didn't. But I know a lot of people like Dilan. When I see his face, I see the face of hundreds of students that I have taught and who I continue to teach. This week I will be in class with students exactly like Dilan, students who justifiably wonder if they can trust the country in which they live.
This death is a tragedy for a family, but it is a tragedy also for a country. Many people in Colombia know or are someone like Dilan. He may have been one student, but he represents a generation. A generation whose lives are not valued. A generation who feel they have no support. A generation who want to change the country. A generation who are being repressed for that desire. Where do we go from here?