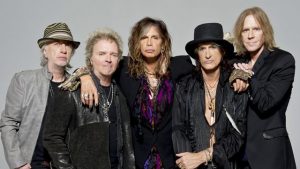 Bogotá rocks
The second half of 2016 sees a number of massive names coming to the capital, confirming Bogotá's place as one of Latin America's top destinations on the music circuit. Aerosmith will make their third trip to Colombia – after a five year absence – on September 29. The Latin American portion of what is likely to be their last tour, Rock N' Rumble, kicks off in Parque Simón Bolívar.
Masked alternative metal band Slipknot have just announced their first visit to the country in 11 years, with a concert on October 22. Further details are yet to be released.
October 6 will see aging punk rocker Iggy Pop celebrate a career spanning several decades at the Royal Center.
And for all of those '90s children, The Offspring will be taking to the stage on September 9, as part of the first Rock & Shout festival, which will also see Dead Kennedys performing.
Get your kit off
James Rodríguez has switched football for fashion as he becomes the latest sports star to model Calvin Klein underwear. Following in the footsteps of his Real Madrid teammate Cristiano Ronaldo, the 24-year-old cucuteño was filmed in a promo for the Autumn 2016 line talking about his first kiss at the age of eight and being in love. The advert was released a few days after he was photographed sporting a platinum blonde hair-do while holidaying in Miami with his wife Daniela Ospina and daughter Salome.
Sing for Orlando
Juanes is part of a star-studded group that participated in the recording of 'Hands', a tribute to the victims of the fatal shooting in Orlando's Pulse nightclub, as well as victims of other anti-LGBTI crimes. Organised by the Glaad organisation and Interscope, the song involves contributions from Britney Spears, Jennifer Lopez, Gwen Stefani, P!nk amongst others, and all proceeds will go towards helping the families of the victims. In June, Christina Aguilera released her own tribute, 'Change', with all the money raised from iTunes downloads going to the National Compassion foundation.
Hollywood diversifies
Colombian director Ciro Guerra is among the 683 people invited to join the Academy of Motion Picture Arts and Sciences as part of a massive spike in the number of invitations, designed to increase gender and ethnic diversity. This number more than doubles the record set last year, with those eligible to vote for Academy Awards now including Idris Elba, Ken Loach, Ice Cube, Rachel McAdams, Tina Fey and Emma Watson.
Topping the charts
At the time of writing, Colombian artists dominated the Billboard Charts. Shakira and Carlos Vives' recent collaboration, 'La Bicicleta', topped the Latin Pop Songs chart, also coming in at second place on the Latin Airplay chart. Sticking with Barranquilla's superstar, her old hit, 'Hips Don't Lie', has oddly spent three weeks on top spot on the Latin Digital Songs chart, after 339 weeks on the list. Medellín's reggaeton heavyweight J Balvin was in first place on the Top Latin Albums list with Energia, while his song 'Bobo' came in at second place in both the Hot Latin Songs and Tropical Songs charts.