Amongst the high-rise residencies lining the hills of popular Medellin barrio Poblado, the corridors of one special apartment block reverberated with the ambient sounds of guitar, clapping, foot stomping and a powerful vocal voice which echoed through the door.
What was being conjured inside were the passionate rhythms that tend to be deeply aligned with the traditions and sunshine of Southern Spain. Seated amidst a number of guitars and a Cajon (a form of traditional hand drum) the voice which had captivated the very essence of this music can be found coming from 31 year old Medellin local, Saralamar, who was deep in rehearsals with fellow artists.
Specialising in artisanal music, Saralamar is one of Medellin's only flamenco musicians and this year she is bringing the traditional music form into the Latin American spotlight by reviving it through her own interpretations. The outcome is wonderful.
'To dance and play flamenco is like to have another skin and another soul'.
What Saralamar does with the art form is enthuse the traditional musical rhythms with a series of other genres ranging from rock to pop. It is through her own artistic direction, lyrics and instrumental talents that will see this year mark the release of her first album KM.13, a work of over ten years of practice and development. Her new album also features collaborations with Colombian singer-songwriter and Grammy winner, Marta Gómez, and Medellin singer Naki Bailarin who had also been Saralamar's vocal guide since the start of her career.  The depth of this new album, consisting of songs tied to a variety of different styles are set to reveal this artists' intense creative diversity and as she puts in her own words, 'another soul'.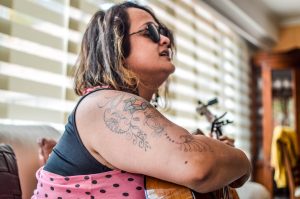 Having already practised guitar throughout most of her life, everything changed when she discovered the flamenco guitar at fourteen years old. Though the differences between the types of instruments might seem small bar a slight change in material and different measurements, the flamenco guitar is designed to cut through the sounds of the dancer's steps and create a unique and powerful combination of movement and music unlike any other genre.
Formerly playing in a local band, Saralamar first began playing her music to accompany dancers and singers before discovering that her true talents rested with a mixture of her own stylistic and musical creation. This was ten years ago, since which the captivating musician has developed a number of tracks in combination with other world music genres. Her inspiration is drawn from a number of artists which range from the well-known flamenco guitarist, Paco De Lucia, to lesser known experimental fusion band Ojos de Brujo to the everyday tracks you hear on the radio. It is this combination of musical styles that makes her work so diverse, interesting and collaborative.
The reality behind the music scene to which she plays within Colombia however is that, unlike Spain, there is very little flamenco produced here as the market plays more prominently to the Caribbean influences that created Reggaeton, Salsa and Cumbia. Though it is difficult to break a scene where so few people play, there's around five specialised flamenco guitarists in Medellin and even less teachers, that has been no setback for Saralamar.
'When you do something with passion and you're honest, it doesn't matter if there's not a huge  market. If people like you, then you build your own market and you create your own audience'.
Saralamar speaks fondly of the journey that has brought her to this pivotal moment in her career, the number of inspiring people she has supported and played with and the beauty of the music itself. The way this musician looks at the texture of flamenco highlights the complex balance required by the 'trilogy' of the guitar, singing and dancing. It is this symbiotic relationship that allows for the creation of the very spirit of the dance itself that shines so strongly throughout her new album.
"When the dancer comes out, the guitarist and singer not only need to give her music but they also need to give her the air."
For Saralamar, flamenco is 'la via' and it is this inspiring and heartfelt passion for music that certainly  transpires through the ten songs on her new album that will officially be released at the end of the year. The next few months will also mark her break-out into the Colombian music scene with the main aim of playing at live music events and festivals and have her tracks sound even better than the album recordings.
Alongside her formidable voice and guitar talents, Saralamar's perspective on music and her passion for life are also refreshing and inspiring. This year is set to be her most productive so far. With work already started on her second album, it's definitely time to look out for the new wave of flamenco music that will no doubt make it's headway through Colombia very soon.