Entrepreneurship in Colombia is booming. As more and more people take the plunge and follow their entrepreneurial dreams, we take a look at some of the challenges they face and speak to Mads Schmidt of the Founder Institute about how they can overcome them.
---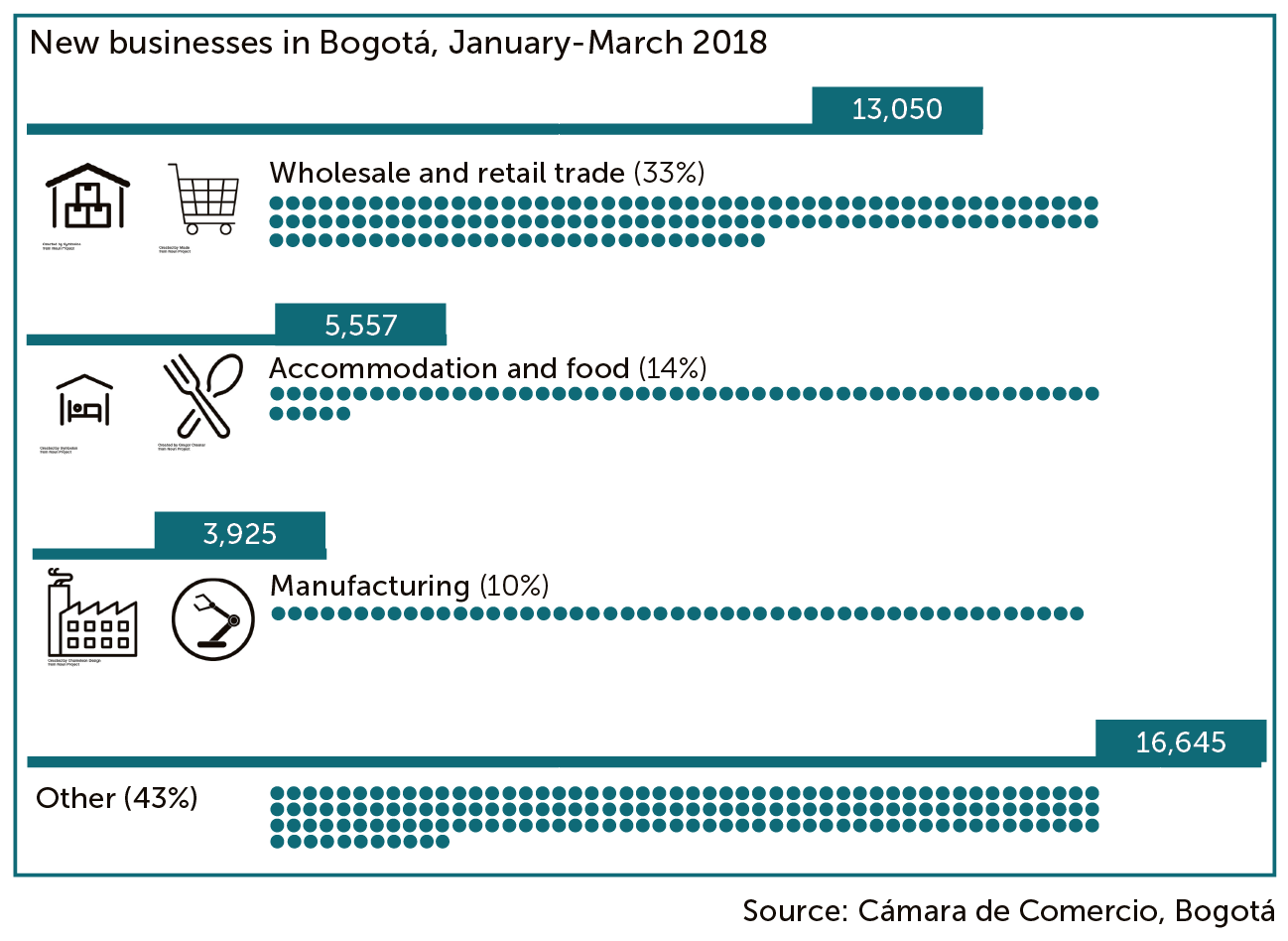 According to the Bogotá Chamber of Commerce, over 39,000 new businesses were created in the capital alone in the first quarter of this year. We sat down with start-up expert Mads Schmidt Petersen to talk about the potential of entrepreneurship in Colombia. Petersen is Program Manager of the Founder Institute in Bogotá, a start-up accelerator that mentors new entrepreneurs and helps them bring their ideas to market.
Petersen comments that "This industry is growing quickly: the Founder Institute teaches classes of 35 entrepreneurs every semester," meaning that on average over 100 new start-ups enter the Colombian economy every year from just this one accelerator program.
This year's World Economic Forum on Latin America and the Caribbean looked in great detail at the potential for, and problems faced by, start-up companies in Latin America. Organisers cited a recent World Bank report that shows that companies in this region are 20% less likely to produce a new product than those in countries with similar incomes in Europe and Central Asia, and said: "The objective is to help accelerate the development of the digital economy of the region, promoting inclusion, access to better quality services, education, healthcare and employment."
However, of the 50 leading start-up ventures invited to the convention, only three were Colombian, compared to 31 from Brazil. So just how viable is the start-up economy here, and what are the challenges new entrepreneurs face?
Potential for success
Petersen argues that "Bogotá especially has a lot of potential, with a young tech culture and a lot of ambition." He says that, "There are definitely obstacles to overcome, especially a lack of funding for new enterprises, but the most common problems are the same worldwide, when you start out, you lose hope several times throughout the process."
2017 data from the Global Entrepreneurship Monitor puts Colombia well above average compared with the rest of Latin America in 'physical infrastructure;' namely internet access, office space and the urban environment necessary to run a business. It also scores well in 'entrepreneurial education at post-school stage', a facet that Bogotá is sure to benefit from with the high density of universities.
To Petersen's point about the determination needed to persevere with a new enterprise, Colombia ranks highly in 'cultural and social norms that support entrepreneurship,' meaning that people here are slightly more cushioned against some of the bumps they will encounter along the way.
However, the country falls short in all categories relating to government support of new businesses. Unsurprisingly, Colombia achieves its lowest score overall of 2.03/5 in 'taxes and bureaucracy.' As an entrepreneur here explained to me, "Many employment and business laws don't differentiate between huge corporations and smaller businesses, making for a lot of red tape for start-ups. For example, the health and safety laws that make sense for a factory with a thousand staff hardly suit a workshop of two people." A severe lack of government funding for new businesses is also a challenge.
That said, success stories abound, especially among companies like TAPPSI that have become household names. TAPPSI achieved a net worth of over 500 million pesos in 2017, but with a range of sales between 5-10 billion pesos that demonstrates a significant market share. When asked if any particularly promising start-ups were working through the Founder Institute program currently, Petersen was keen to stress that: "What's important is that there are some very interesting people, we're more focused on the entrepreneur: one person with the right motivation can develop any number of great ideas." TAPPSI is a great example of this principle: the co-founders recently released a digital wallet app, TPaga, entirely independently of their other ventures.
The whole picture
For anyone hoping to launch their own company, whether in Bogotá or elsewhere, mentorship and accelerator programs are not hard to find. The Founder Institute run free events and paid workshop programs that guide new entrepreneurs from the inspiration phase right through to taking a product to market. The scheme exists solely in Bogotá at the moment, but they have plans to expand to Medellín in Autumn.
The country's Chamber of Commerce network offer a host of help to new businesses, including access to both physical and online courses, advice and information.
The WEF are also launching an online platform called UpLink in September 2018 that is designed to be the 'go-to' resource for entrepreneurship advice and mentorship. And what tips can Mads, who started his first business at age 17, share? "Particularly young entrepreneurs, they don't want to share their ideas, and sharing is so important. There are so many opportunities that can come about from telling someone about an idea, and they say 'Oh, I know someone who can help.' So there are a million reasons to share, and only one not to."
In a climate that's traditionally been so tough on new businesses, young entrepreneurs might be wise to heed Petersen's advice and work together to turn their start-up dreams into reality.