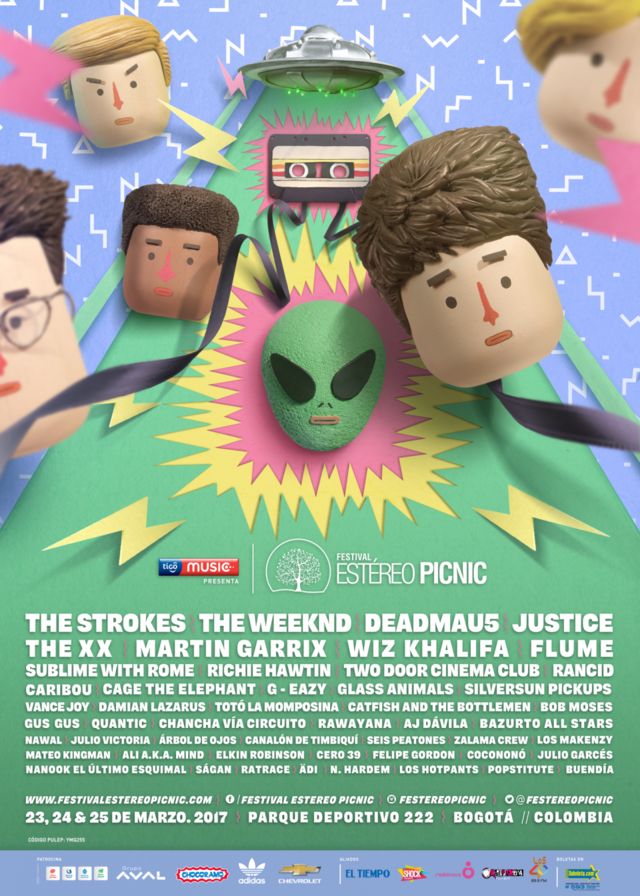 After seven successful editions, the much anticipated line-up of Estéreo Picnic 2017 has finally been announced. Linda Gómez talks about her favourite acts.
---
After the disappointing, tusa-provoking Lollapalooza fiasco, event organisers T310 have redeemed the national music scene which has been growing steadily – and in no small part due to their efforts and constant search for good sounds.
The next edition of the festival, which will be held from March 23-25 at Parque 222, will offer as the main course American indie rock band The Strokes, playing for the first time in Colombia. It'll also feature French electronic duo Justice, five years after their monumental first gig in Bogotá.
Another headliner will be Canadian R&B singer Abél Makkonen Tesfaye, better known as The Weeknd, who has had his fair share of hit songs in recent years including 'The Hills' and 'Can't Feel My Face'. Also, fellow Canadian DJ and producer deadmau5 will bring the electro house quota to the festival, featuring his fifth album 'We Are Friends'.
EDM star Martin Garrix will also be present alongside rapper Wiz Khalifa, who will notch up the energy level, whilst Flume will make the stage palpitate with their electronic tunes.
Acts like The XX, Two Door Cinema Club, Richie Hawtin and Caribou will return to Bogotá, this time bigger and brighter than before. Romy Madley y Jamie xx will also take part in the event with new material in their repertoire.
Colombian folk music will be present with Totó La Momposina, Bazurto All Stars and Canalón de Timbiquí. Other local acts Árbol de Ojos, Seis Peatones, Los Makenzy, Cocononó, Nanook el último esquimal, Los Hotpants, Elkin Robinson, Ságan and Cero39 are also part of the line-up.
As usual, and given the fact that there's basically no other suitable venue, the Parque de la 222 will make available its 115,000 square metres to host thousands of attendees that are expected to come from all over the country and overseas.
So, how much will all of this sabrosura cost? Well, the ones who were 'believers' and bought their tickets before the line-up was announced got a very sweet deal. However, the sceptics can still get their hands on the 3,000 tickets available for $495,000 plus the $63,000 service fee. For the final batch of tickets, prices will jump to $525,000 plus a $67,000 service fee. So… start counting your pesos now.
---
By Linda Gómez