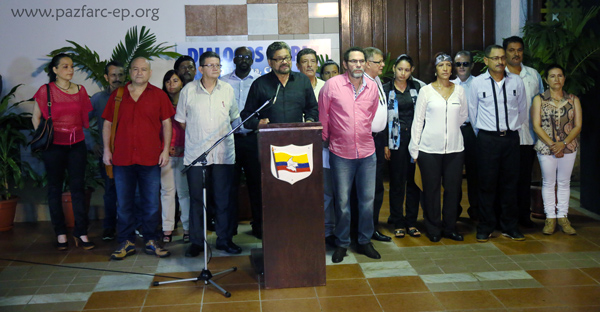 Negotiators in Havana to kick off new round of talks by exploring the option of a bilateral truce
---
President Juan Manuel Santos ordered his team of peace negotiators in Havana, Cuba to talk about the possibility of a bilateral ceasefire with their FARC counterparts amid a flare up in violence last week.
Santos' announcement last Thursday January 15 was welcomed by the FARC delegation the following day. But last Wednesday January 14 saw clashes between Colombian army troops and FARC fighters, according to media reports.
The leftist rebels said one of their units operating in Meta department was defending itself when it came under mortar attack by the army, and that it killed eight government troops in the process.
"As a result of the defensive response, we lament that eight military personnel lost their lives, unnecessarily," a rebel spokesperson said in a statement from Havana.
But Colombian military officials denied that any of its personnel were killed or injured.
"It's not true that 8 of our soldiers have been assassinated by #Farc in #Meta," the Army tweeted last Wednesday.
Following the President's statement, government peace talks negotiator and retired army general Oscar Naranjo said a lasting peace can only be achieved if the rebel forces lay down their arms permanently.
"In this process aimed at ending the conflict, it has never considered that it [would be] an agreement on the basis of an armed peace," Naranjo said last Wednesday.
Also last week, Colombian Army sources said a soldier died in a firefight on January 9 in the southern department of Caqueta.
The soldier, 23-year-old Edward Velasco Medina, was believed to be the first combat death since the FARC unilaterally declared a ceasefire on December. 20, according to an AFP report.
The rebels said a Colombian soldier was also wounded during a separate counter-insurgency operation in the northern Antioquia and Uraba regions, reports said.
On January 18, the Colombian government and FARC made a joint announcement revealing the upcoming key dates in the peace talks: the next cycle will start on February 2, and a week later, on February 10, the Historical Conflict and Victims Commission will present their report.  They also mentioned that during this cycle the negotiators will begin discussing the third point on the agenda: the definitive end of the armed conflict.
---
By Mark Kennedy