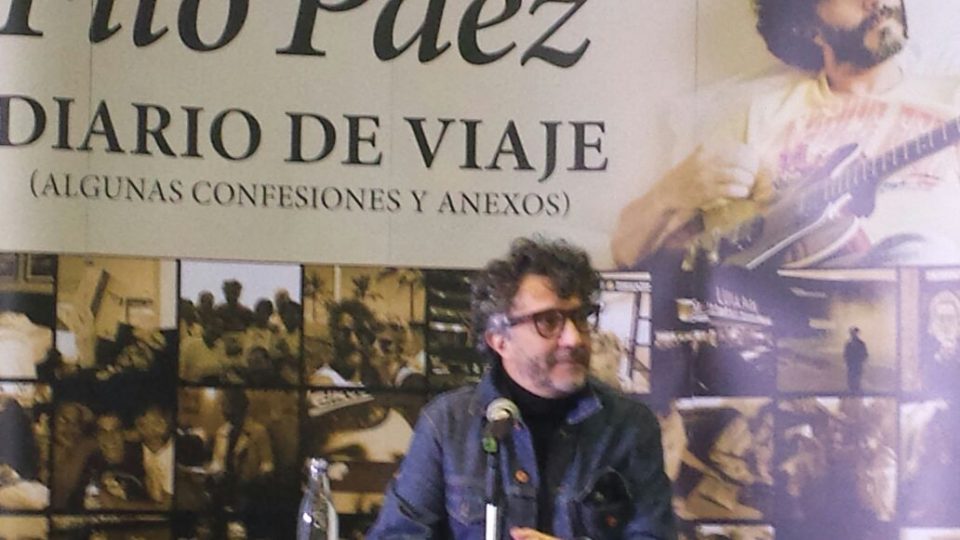 The multi-talented Fito Páez came to FILBo 2017 and spoke about music, films, books and more as Ángela Forero-Aponte found out.
---
Bogotá's 2017 International Book Fair has pleasantly surprised spectators of all sorts. This year, under the ¡Qué viva la música! portion of the fair, books, works, and some of the musicians themselves showed up at Corferias to share their creative process and tell their stories. Books will always be the stars of the fair, but having the chance to speak one-on-one with the creators of songs and stories doesn't hurt, does it?
The Bogotá Post had the opportunity to have that interaction with acclaimed Argentine musician, film director, and most recently author, Fito Páez, at a press conference last Wednesday. Fito made his literary debut  with La puta diabla four years ago, a novel that he worked on for three years, and whose title takes after the name of one of his songs. La puta diabla is the love and self-destruction story of Félix Ure and his eternal obsession with Casimira; a book Fito was quick to point out is not autobiographical.
At the press conference, Fito talked with a sharp tongue about his latest book, Diario de viaje, which includes colorful anecdotes like the one about an erotic dream he had on a trip to Puerto Rico, and the creative process behind songs like 'Mariposa Tecnicolor'. Fito is upfront and authentic. He has no reservations when it comes to talking about music, politics, family, love, and his excesses.
Fito gives a new meaning to what could be considered literature. When asked his opinion about the Nobel prize granted to Bob Dylan he said, "Dylan is not a musician making a leap into literature, Dylan IS literature, [literature] approached through folk music, but the great texts of Dylan are at the level of those of any other writer…they are texts presented in the manner of poetic songs, musical poetry if you will…it's also nice to see this prize ruffled some feathers…to soften the stiffness of the Nobel."
Fito is not pretentious about his literary production; he accepts that writing definitely demands a writer to be rigorous, but he is also happy he wrote a diary this time. "Of course there are things that can't be told, but the disease I suffered that year, my children, my dalliances…all of that is part of the diary," explains Páez. "The flexibility is extraordinary, there are no rules. It is full freedom: it doesn't matter if it is about erotism, drugs, your children. I don't have to explain myself to anybody, life is that insane!"
He acknowledged his writing is taken from whatever happens when "you go to the corner pub – great things happen there – in the rehearsal room, in a film set, in the life of a country. To me, it's like being a voyeur, sometimes obscene, sometimes an actor in the story."
Páez said that producing music, film scripts, and books are equally difficult, but "filming is the biggest ship to embark on as it is linked to the effects of the script which is sort of a magic trick, whose purpose is to engage spectators in the story." On music, his root as an artist, Fito wholeheartedly, and poetically explains, "Music is a whole different story, music takes you to the core of things, being in any corner of the world, with or without an instrument, and write whatever comes from your heart. Singing under the rain will do."
Fito Páez, proud of having included in Diario de viaje short annexes on the people who have defined him and his career in music, Charly García, Mercedes Sosa, Yupanqui, closed the press conference with a brief announcement of future projects. Páez will be producing a series of interviews with Charly García, recording a new album, and writing for a film titled Novella.
---