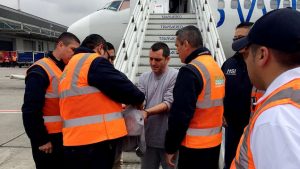 A Colombian warlord has been extradited back to his homeland after serving an eight-year prison sentence in the States for drug trafficking.
Hebert Veloza, who goes by the alias 'HH', arrived in Bogotá on Tuesday from Alexandria in Virginia, to serve the rest of his sentence, immigration authorities said. He will need to serve a further seven years for forced displacement, homicide and the recruitment of minors.
"The former paramilitary must answer to the Colombian justice system for the crimes of aggravated conspiracy, multiple homicides of protected persons, multiple aggravated homicides, multiple forced displacements and recruitment of minors," Colombia's immigration department said in a statement. Veloza was a member of the United Self Defense Forces of Colombia (AUC) – a paramilitary organisation that operated from 1997 to 2006.
According the the AFP news agency, he quit as paramilitary leader in 2004, but returned to the group in 2006 before being arrested in 2007. He was the first AUC chief to be sentenced under the Justice and Peace transitional justice system in 2013. The AUC was a paramilitary and drug trafficking group which fought against left-wing insurgents during the Colombian armed conflict. It was mostly made up of anti-guerilla groups and former members of Escobar's Medellín Cartel.