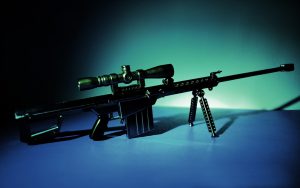 Between December 4th and 6th, the biannual exhibition Expodefensa took place at Bogotá's expo hall Corferias. In spite of protests and criticism over the planning of the event, the sixth edition of Colombia's International Defence and Security Expo rolled its way into the Colombian capital.
The three-day exhibit featured a multitude of products, services and technological solutions for the defence and security sector. The Weapons, Guns & Arms Show was hosted by a French company and backed by Colombia's Ministry of Defense as well as its military forces and national police.
'Expodefensa gives decision makers, big industries, military and police forces from all over the world an important space to do business,' said Luis Carlos Villegas, Colombian Minister of Defence who recently came under attack after claiming that the killings of social leaders in Colombia were "mostly related to womanizing and neighbours quarrelling".
Expodefensa had 269 exhibitors from 30 partner nations. International exhibitors made up 72 percent of the total number.
Colombia was the main deliverer of exhibitors of Expodefensa. The country's military-industrial sector is growing and, thanks to foreign capital and international transfers of technology, private and public companies in this sector are expanding.  
Since 2014 Indumil, Colombia's state-owned weapons manufacturer, obtained the patent for fabrication and exports, making it clear that Colombia is not just a buyer anymore, but also orientates towards exporting these weapons.
The changed political and military context within newly found peace in the country, along with the lowest homicide-rate in four decades,has led Colombian companies to focus on war technology that is globally deemed profitable.
"We are highly satisfied with the results of this sixth edition. Expodefensa was a success, not only because of the 12,500 visitors but because of the business deals that were made during the event," said Javier Pérez, deputy minister of defence for the Colombian Social and Corporate Defense and Welfare Group at the closing of the event.
But it wasn't all plaudits for the event. Outside the gates, the event had its detractors too. A Santa Claus was reported to have squirted a water gun and a harlequin with a military helmet handed out gifts. They symbolized the anti-military sentiments and protests of some activist groups that had gathered around Corferias.
"We have suffered the war for more than 50 years, we do not see why Colombia has to export that model of war. We are in a process of transition of the Peace Accords and it is absurd that the Ministry of Defense is strengthening as a company and has begun to export their services and products of war" said a member of a pro-Palestinian group called BDS Movement.
The BDS Movement was particularly vociferous in their criticism of Israel, a country notorious for exporting its war industry, which participated at the event with 18 exhibitors. Though an important ally of Colombia, its participation was protested against strongly.
BDS Movement calls for a boycott of Israel in solidarity with Palestine, stating that: "We blame Israel not only for making money from Colombia's war but also for exposing the products and technology that they have tested and used upon the Palestinians to militarize and control their lives".  
The Middle-Eastern country provides handguns to its police and army. In 2007, Indumil made a deal with an Israeli company for the purchases of guns worth over $500,000. In 2015, Colombia bought Israeli Sandcats, which are composite armoured vehicles.
With 29 exhibitors, the United States was traditionally the largest international participant. They strengthened commercial agreements with Colombia to produce equipment at lower costs.
Colombia's military expenses are high in comparison with other Latin American countries. All over the continent military expenses are generally decreasing, according to a recent Oxford Analytica brief. Only Colombia has seen a rise in such spending.
The announced 8% increase of the military budget was called "absurd" by opposing congressmen and civil society, as it contradicts the peace deal in Havana in which a significant decrease of military spending was agreed upon.
The Commission in charge of the Defense Budget pointed out a bigger cutback won't be possible in near future.