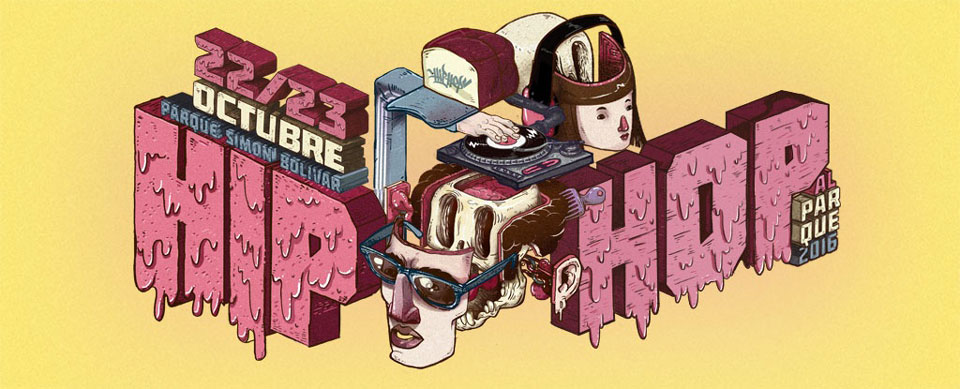 Linda Gómez takes a look at this year's line-up and explores how Hip Hop al Parque became the main exposure platform for local talent.
---
Under the slogan "20 years of harmony and art", Parque Simón Bolívar will again be the venue of Hip Hop al Parque, the biggest event dedicated to the lyrics and the beats of rap music in Colombia. October 22-23 will see top graffiti artists, breakers, MCs and DJs from Bogotá, Colombia and around the world fill the park. There will be 40 graffiti interventions throughout the event, as well as a breakdancing contest.
Idartes (the brains behind the event) will also present the winners of the Portafolio Distrital de Estímulos contest. There were more than 120 entrants to the MC category, of which 16 went through to the audition round, and a jury selected 10 winners: Alex Purry, Anónimo Pacto, Crham, El Complot, Feback, Mr. Molliere, NazoC2H, Rastro MC & The Smokers, Unexpected Boomz and Voces Presas.
In the DJ category, ten contestants submitted their entries, three of which will play at the festival: Dj Softkiller, Dj Dig and Dj Diex. Among the national guest artists there is Yoky Barrios, known as one of the best singer/songwriters on the local scene and Desorden Social, a band that stands out for the strength of their lyrics and their particular approach to social problems.
This year's line-up promises to be a window to what's going on within Latin American Hip Hop, which is why this year there's an entrepreneurship event called Distrito Hip Hop, that hopes to make cultural organisations more visible and give support to sustainable initiatives related to the music industry.
---
By Linda Gómez